Welcome to Black Writers Week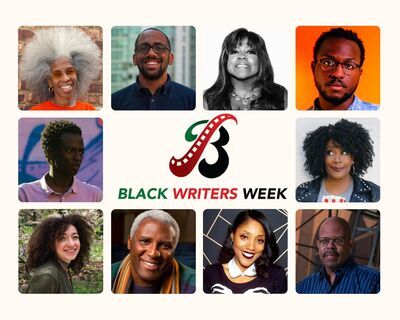 Welcome to Black Writers Week at Rogerebert.com, a celebration of storytellers in diverse fields for Juneteenth week.
Because I'm Black and my mother is Black and my father is Black and my sisters and brothers and friends and neighbors were Black, I grew up seeing no difference between them and say Jackie Kennedy or Sidney Poitier or President Eisenhower. I don't mean by race, but by competency or potential or beauty.
No girl in television was smarter or more beautiful than my sisters Martha or Adele, no men were more diplomatic than my brother Johnnie or my neighbor Clayton Mitchell. No science teacher was more brilliant than Mr. Weathersbee or more poised and regal than Mr. Caesar, my third grade role model.
These are people who I came to know very well, who I observed up close and personally and whose actions and words and deeds I came to admire. I was an avid reader at a young age and as I read books about famous people in the world I had examples right in my own home, or school, or neighborhood who could match those in the books trait for trait.
So what a rude awakening it was to me to learn that some of these people couldn't attend certain schools or drink from the same water fountain, or get hired for the same jobs because of their race. And it was even more shocking to learn that not that many years before some of these people, including myself, would have been slaves on some plantation in the south, considered someone's chattel property, and counted as 3/5ths of a person under the Declaration of Independence, one of the founding documents of this, OUR nation.
I write these words not in 1971, shortly after the passage of the Voting Rights Act of 1965, or the Loving v. Virginia Supreme Court decision of 1967 which allowed interracial marriage, but in 2021, fifty years after I expected all the talk about racial differences to have subsided. Fourteen years after we elected President Barack Obama as our first Black President, supposedly ushering in a post-racial age. One year after the whole world watched a Black man named George Floyd die under the knee of a white policeman who knelt on his neck for 9 minutes and 29 seconds until with his last breath he called for his mother whom perhaps was appearing to him as he slipped out of this world into the next.
I write these words not to settle scores but to celebrate all of the rich talent that I have always seen all around me, but who, for some reason was invisible in books, and magazines and on TV screens or at the movies. The talent that was not always nurtured or promoted but that thrived nevertheless, not needing permission or acknowledgment to do what they did naturally, even though not compensated commensurately for it.
This Juneteenth week we at RogerEbert.com are turning over our website to all Black film critics to read reviews from their perspective. All of our articles are being written by Black writers. All of our panels are being occupied by Black executives and thought makers and and communicators. We will celebrate with them Black scientists, musicians, filmmakers, media moguls and philanthropists, some whom you may know, some whom you may not know, but all of whom you will and should know. It is indeed a celebration and I invite you to come along to the party.
We are calling this week Black Writers Week to be in symmetry with our Women Writers Week that I started in 2013. What a surprise to learn that Twitter considered this title too controversial to promote because it violated their standards. I guess we could have called it Diversity and Inclusion Week but somehow that would have been watering down the fact that all of the participants are Black. It reminded me of a friend who was reluctant to say three little words: "Black lives matter."
You know the response: "All lives matter." Yes, but in light of the deaths of George Floyd, Breonna Taylor, Armaud Arbery, Sandra Bland and Philando Castile, and so many many more, can you at least acknowledge this point in history by saying those three simple words? Can't you feel the groundswell for change that came about with marches for social justice all over the globe? The moment of reckoning that awoke us from a complacent slumber? A moment that heralds a new chapter of hope and equality if we only open our eyes and see what is right in front of us and work together to make a new day, a new world?
Yes, Black – Lives – Matter! And so does representation in storytelling. So welcome to Black Writers Week at RogerEbert.com. Today, we are republishing reviews and features by elite Black critics as a prologue to what's to come.
Joining our staff of qualified professionals behind the scenes this week is a series of five talented Guest Editors: Robert Daniels, Odie Henderson, Sergio Mims, Danielle Scruggs, and Shawn Taylor.
Enjoy our five individuals highlighted in our Profiles in Courage series: Dr. Kizzmekia Corbett, Julieanna Richardson, Erica Ford, Dr. Kahil El Zabar, and Jeremy Joyce.
Watch our esteemed panelists: Afro-futurists Tananarive Due, Steven Barnes, John Jennings and Ytasha Womack discuss the evolution of Afro-Futurism. Our executives and producers Karen Horne, Jon Carr, Troy Pryor, JaSheika and JaNeika James, and Shawn Edwards dissect the progress in TV, film and theater.
Whose gaze should we consider when watching movies and how will Black film critics get paid? Watch the round table of film critics Gil Robertson, Carla Renata, Reginald Ponder, Tambay Obenson, Kathia Woods, Sarah-Tai Black and Emmanuel Noisette.
Other highlights of the week to come include:
Al Chambles tells us why it's so important to prepare our students for the sciences.
Taj Rani Chrisp chats with the legendary Mary J. Blige.
Robert Daniels gets to the bottom of the story of "Zola" with director Janicza Bravo.
Sherin Nicole writes about the powerful women of Wakanda.
Sergio Mims re-examines John Ford's 'apology Western' "Sergeant Rutledge."
Melissa Haizlip tracks the trajectory of her hit documentary "Mr. Soul!"
David Moses considers the legacy of Apollo Creed.
Ciara Wardlow reviews the new Apple TV+ show "Physical," starring Rose Byrne.
And so much more, including reviews of "Fatherhood," "Luca," "Rita Moreno: Just a Girl Who Decided to Go For It," and new films by Edgar Wright, Francois Ozon, and Abel Ferrara!