Troy Pryor's Creative Cypher On Way to Being Black Entertainment Giant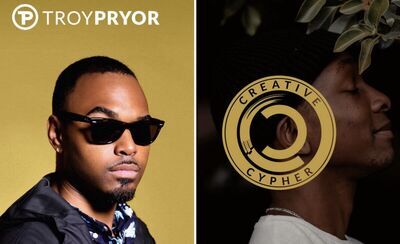 I have watched intrigued by Chicago native Troy Pryor as he was expanding his company over the last few years and thought he would make a great cover story for our Black Writers Week. He is motivated and works tirelessly to create opportunities in the entertainment industry for himself and others, especially African-Americans and other people of color. Creative Cypher, the multi-service entertainment company founded by Pryor is an essential platform for elevating underrepresented voices. According to its official site, The Cypher is a global family of creatives that began in The Windy City and has expanded across the map, empowering creatives with access to resources.
Pryor says the company's aim is to produce and curate content accessible across multiple platforms, run live events in the US and UK, operate several media entities, and also operate a charitable foundation. Its target demographic is comprised of Black and Brown creators as well as platforms seeking disruptive media. By establishing itself as a multi-service with four main divisions, The Cypher is able to elevate its brand in multiple ways. Each division serves as its own revenue stream and provides separate investment opportunities, including the selling/licensing of intellectual property, live event tickets sales, digital subscriptions, and sponsorships.
Pryor's resume also includes his stints as an American producer, host and actor whose stage, on camera and voice-over work has led to award-winning content on multiple platforms including collaborations with ABC, Warner Brothers, HGTV, DIY Network, TV One, and Aspire TV. He established Pryor Holdings in 2012 to include the brands: Troy Pryor Studios, Creative Cypher, Cypher Foundation, Chicago Film XLerator, The BLACC Company, and Dark Berry Productions. Pryor says this ecosystem aggregates hundreds of artists, connecting them to the resources and tools that enable new content production for major brands. Through these production deals, Pryor aims to support the expansion of Chicago's multi-million- dollar creative community footprint, globally.
Pryor was a mentor for President Barack Obama's White House project, the Call to Arts initiative. He collaborated with Oscar and Grammy winning artists, and their foundations, including Che "Rhymefest" Smith, Kanye West's Donda's House organization and Common's Common Ground Foundation. Pryor prides himself on big-picture, strategic thinking, and has won accolades as: Chicago Scholars 35 Under 35; Ariel Investments/WVON 40 Game Changer; Black Enterprise TCX Fellow; and ADColor nominated Innovator of the Year.
As a former collegiate athlete, he was a record-breaking powerlifter and linebacker for the University of Illinois. The youngest person ever to be elected to SAG-AFTRA Chicago's Board of Directors, his creative approach to content and partnerships have helped cement his role as a tastemaker with brands like TED Talks, Chicago Ideas, Soho House, Next Showcase USA, and Black Ensemble Theater.
<span id="selection-marker-1″ class="redactor-selection-marker"></span>
How do you describe Creative Cypher?
Def Jam meets Disney. Our global ecosystem of creatives is here to ensure authentic stories are told and artists retain ownership of their ideas.
Tell me a little about your background and growing up in Chicago. Is it true that you preached a sermon?
Yes, I've been in the pulpit since a young teen and I'm still there today. Growing up to be a leader in Church and community play a huge role in my endeavors today.
How did your chance encounter with Tyler Perry play a crucial role in shifting your focus from a career in sports to becoming involved in the entertainment industry?
From the very beginning, I saw Black man running the show. This was consistent with what I saw growing up so I knew it was possible.
What led you to form Pryor Holdings LLC, which encompasses your various companies and organizations?
Legacy. I wanted to build and organize something beyond my entertainment pursuits.
In what ways has the Black Lives Matter movement coupled with the past year affirmed the importance of your mission to elevate Black and brown voices?
It just shows how powerful having a platform can be when leveraged. You can make amazing strides using media.
Are there particular qualities that unite the diverse array of creatives that The Cypher empowers?
Teamwork, a hunger for positive impact, a quest for entrepreneurial endeavors.
What are some of the successes through Creative Cypher that stand out in your mind?
The creation of our team, the Chicago Film XLerator program, "Brothers from the Suburbs" being acquired by a major studio and the acquisition of other brands to become a partner company.
How did you become connected with Emmanuel Noisette, host of Eman's Movie Reviews, and what appeals to you about his approach to film criticism?
We went to college together, so we've known each of for long time.
To what extent has your own background as an actor and filmmaker enhanced your understanding of the needs of creatives?
I can speak the language and know what is needed.
What was it like serving as a mentor for Barack Obama's Call to Arts initiative, and why is it important for government agencies such as the National Endowment of the Arts to be preserved?
It was awesome because it was work through organizations that I was already a part of, SAG-AFTRA and Creative Cypher. It was a very organic experience for me.
In your view, how must the entertainment industry transform in order to be truly inclusive?
We need more inclusivity in the executive suites. This is a business so the chance has to happen where the decisions are being made.
What advice would you have for young creatives regarding why it is vital for them to have ownership over their own work?
When you own, you can control your message. You can also decide when you want to sell and if that's the case you can monetize your work forever.
What are your hopes for the future of Creative Cypher, and has the pandemic in any way altered its long term goals?
Creative Cypher will continue on it's Disney-like trajectory. Within the next 5 years, I would like to move into a Chairman only role and appoint a new CEO. The pandemic and lock down forced us to polish a few areas and trim some fat. We're 100x more effective now! STAY TUNED.