They Found Their Herd: Julianne Moore, Jake Gyllenhaal, Elaine Bogan and More on Making Spirit Untamed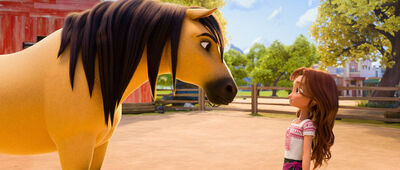 It has been almost 20 years since the hand-drawn animation film "Spirit: Stallion of the Cimarron," which was then followed by the 2017 Netflix series, "Spirit Riding Free." The new "Spirit Untamed" is not a sequel, and it is computer-animated, with more focus on the humans than the horses. But it is true to the, well, spirit of the original, with both human and equine characters who are loyal to their herds. In interviews, the people behind the movie talked about filming at home during the pandemic and creating a crew of "strong women telling a story about strong women."
Julianne Moore plays Aunt Cora, who brings her niece Lucky out west.
When you have to create a character using only your voice and don't even have another actor playing opposite, what do you do?
It's a lot of trial and error, especially because we did this all during the pandemic. We were locked down and I was in my laundry room with towels stuffed in the cracks of the doors and it's just a lot of trying to see if different things work.
Do you adjust a performance if it's a movie for children and their families?
Definitely not. As the parent of young adults now, I watched my share of animated movies and the ones I appreciated most were the ones that were not pitched to kids, that were pitched to everybody. Children have an appreciation for three-dimensional characters and you just want to make them real and identifiable. That's what I try to concentrate on.
Cora surprises us near the end of the film. That must have been fun to do.
Oh, yes, absolutely fun. That was something they intended, that they told me at the beginning but also something that I encouraged. Let's see where Cora goes! She's someone who has been living everybody else's life. She's been living in her father's house for a long time, she's been taking care of her brother's kid, she's been playing by the rules. Then all of a sudden, she's in a new environment and she finds herself. That was fun, really fun to do.
Jake Gyllenhaal plays Lucky's dad, still mourning the loss of her mother in a horseback riding accident.
It must have been quite a challenge to do this film after everything shut down.
I'd never done anything quite like it. We were doing it in our homes. You get pieces of scenes, then they change the scene and you get it again. Sometimes I would have no idea where I was in the scene and I was just saying lines. It was wonderfully freeing! We kept coming back to a number of scenes so I must have been pretty bad. But it was really fun to be able to say, "I don't know what this looks like. I don't know what it is going to sound like. I don't know the context." Sometimes I didn't know where I was going or where I'd come from, which is the first acting question for all actors. But I found it freeing, not anxiety-provoking. It was really fun.
Why was this film important to you?
I was so moved when I was first pitched this story. And the same thing that moved me as a grown-up was the same thing that would have moved me as a kid, maybe in a different way. I was so moved by all of these people struggling to connect. Whatever genre, whatever age, that is usually the kind of movie that I make, and the movies that I love. There was nothing to prepare for except to bring your heart and that is what the movie brings in spades.
Co-writer/director Elaine Bogan brought her love for horses to the film.
What is your history with horses?
It's been such an honor stepping into this project since I've been riding horses since I was very young. The only thing I can hope for is being able to tell a story from my life experience. Being a young woman growing up with horses in my life, having that communication with them, has helped me tell a really believable story and one that will be fun. Who doesn't love stories about majestic horses!
It's good to see a story about girls who are not competing with each other but support each other.
That was a huge, huge goal for us. We're in a time right now where these stories are so important. I was really excited to be part of telling a story that showcased three young women, all becoming a sisterhood and supporting Lucky to help her get where she needs to go instead of competing to get there first. It was about that bond. They found their herd with each other, just like it became Lucky's mission to get Spirit back to his herd. It's that camaraderie and the friendship that I hope will speak to the audience, because this is something all women go through in their young adulthood. It's hard and you need friends to help you realize your full potential.
And because that was the story we were telling, it became very important for us to replicate that behind the scenes with our crew so we were telling a story about strong women by strong women. It was a big mission of ours, with my producer Karen Foster and my production management. We crewed up in a way that helped us tell an authentic story with real voices.
What was it like to create this movie after everything shut down?
As if it wasn't challenging enough to step into my first feature film as a director! A few months in, everything shut down and we had to figure out how to finish the film from our living rooms. There were many different challenges and much hijinks and hilarity as we all had to become our own IT departments at home. At the end of the day the dedication that everyone had because of the story we were telling allowed us to collaborate and problem solve and we're all so relieved and excited about it.
Isabela Merced (Lucky), Marsei Martin (Pro), and McKenna Grace (Abigail) said making the film made them even more grateful for their friends.
ISABELA MERCED: You really are who you surround yourself with. Lucky is a shell of who she really is at first, and then as soon as she meets these girls she becomes not just herself but an enhanced version of herself, someone who is unafraid because she has the support of these two wonderful friends. Playing this role solidified for me the importance of strong women in your life, and how important it is as a young woman to have them as role models and surround yourself with them.
MARSEI MARTIN: It made me want to do adventurous things with my friends more often! I want to be like Pru, Lucky, and Abigail. It is important to have amazing friendships and to see them on screen. And it made me braver by making me want to ride a horse. Maybe it could be fun! But on a little trail, something safe, not like the dangerous rides in the movie!
MCKENNA GRACE: It shows how great friendships with girls can be. It inspired me to get closer to my girlfriends. It definitely made me want to go on more adventures with my friends, going outside more after being inside so long.