The Legend of the Underground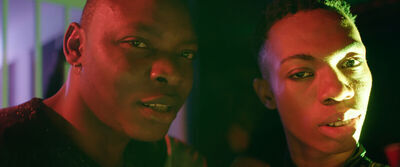 In Nigeria, gay intercourse is punishable with 14 years in jail. Oscillating between the deeply textured Lagos, Nigeria and New York City, Nneka Onuorah and Giselle Bailey's stylish documentary "The Legend of the Underground" steadfastly chronicles the trans-Atlantic effort led by several Nigerian LGBTQIA activists to stem the wave of discriminating homophobic lawmaking in the African country. Photographed to poetic degrees, "The Legend of the Underground" colors distressing stories and the tight-knit gay community's nurturing bonds for a resilient kaleidoscope of heels, dance, and strength.
To explore the political and cultural struggle in Nigeria, Onuorah and Bailey focus on a coterie of charismatic campaigners. Mikael Ighodaro, a gay Nigerian man living in New York City, left his home country to escape the violent wave of homophobia. There, not only is gay sex outlawed. So are meeting places for gay people, such as parties. To practice consensual sex in safety, the community often code switches: going to "the market" means you're hookin up; "TB" is another way to ask if you're gay; "Kitto" means you're scandalous. This community exists underground, forever in danger of the next police raid, the extended jail sentence, the succeeding death threat.
The African country, as the subjects explain, operates under a machismo culture wherein men are expected to stand, walk, and talk a certain way. Nigeria's LGBTQIA population, however, often challenges these reductive definitions of masculinity. In one sequence, a pageant called "Mr. Ideal Nigeria" featuring classically muscular men, upends such toxic standards of what makes a man. Other instances that accomplish the same feat include Mikael visiting a catwalk class, and the film's multiple lyrical dance sequences. Shot in slow-motion, enveloped in red and blue neon lighting, the men display a combination of powerfully assured movements and whiplashing gyrations that encapsulate their unflinching existence.
Especially James Brown. A flamboyant dancer and sharp crossdresser, in 2018 he was among 57 men arrested following a police raid on a hotel party. Brown became famous after his defiant phrase "they didn't caught me" went viral. Through the magnetic dancer, the directors explore the factions within Nigeria's LGBTQIA movement. Some activists wonder aloud if Brown is exercising his newfound fame constructively for the cause or recklessly under the guise of self-promotion for a fascinatingly relevant discussion of internet stardom. We also watch as Brown grapples with his roles as spokesman and the public enemy of homophobes. Onuorah and Bailey astutely raise the presence of classism: That is, with money and fortune, there's slightly more freedom to express one's individuality than if you're poor.
The director, furthermore, seamlessly melds both tragedy and triumph in equal measure. A few subjects recall how they were ostracized from their families and church for being gay, for being diagnosed with HIV. Others recount their long journeys to America for asylum, only to now exist under a different kind of erasure: The limbo of "alien" status. Onuorah and Bailey, therefore, offers a comprehensive outlook for the ways a country's unjust laws can cause a ripple effect of hurt. But in each tearful scene, arrives high art. An array of delightful, multi-patterned fashions proudly show the wearer's outness. High heels leading to captivating struts is the march of the undeterred. And the times editor Rabab Haj Yahya interweaves the varying levels of freedom between Nigeria and America's LGBTQIA movement, she imbues the film with a sense of serious play—where necessary messages exist in the parading scenes of jubilation.
Occasionally, creative choices hamper the directness of the Nigerians' call for action. Title cards animated with neon static artifacts, as though the footage is breaking, is an annoying contrivance, both visually and sonically. Also, using the Queer City's podcast's host, Timi, as a narrative device to inspect the country's anti-gay lawmakers and cops, especially when the director utilizes split-screens, never quite hits the mark. Rather the sequences read as clunky in the fleet 82-minute film. And I often wondered aloud why we didn't get a greater examination of the country's lesbian population.
These missteps do not subtract from the pathos teeming from this documentary. The myriad of emotional stories provided by Nigeria's LGBTQIA community are too powerful for any creative or in regards to the government, political decision to obscure it. "The Legend of the Underground" explains the heartbreak and resiliency in Nigeria's gay community for an uplifting expression of personal freedom.
On HBO Max today.