Short Films in Focus: Launchpad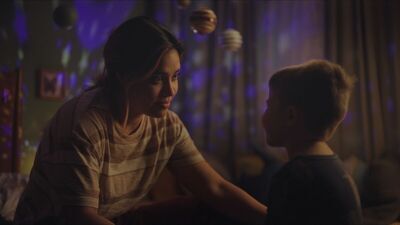 On May 28th, Disney+ released a new series of short films under the "Launchpad" banner. These shorts give underrepresented filmmakers a chance to share their voice and culture with young viewers who might not be aware of the Muslim holiday of Eid, the role of the Chupacabra in Latin American folklore, or how having a mixed identity can sometimes result in a culture clash that brings unwanted and difficult personal conflicts. The series creators promote the films as having the shared theme of "discovery," although "identity" would also be applicable in most cases.
With the exception of "Let's Be Tigers" (a fine film), these are shorts about young people coming to terms with their ethnicity, traditions, and gender stereotypes, all of them made by filmmakers who have something personal at stake and who have no interest in whitewashing their work (some of the films are subtitled). Yet, some might criticize the studio for doing what the white establishment in "Dinner Is Served" does for the Chinese protagonist, in which they use the boy's identity as a way of making themselves look good. Disney has long had a reputation for being a mostly white establishment and making films that have been awkward-at-best when trying to incorporate diversity.
With this series, some of their most recent features, and many PR moves related to their theme parks, Disney has been trying to hit the reset button on their decades-long reputation. This series of short films aimed at young audiences is one of many steps in the right direction. While most of them will not earn any points for subtlety, they all accomplish the collective goals, which is to give young viewers a foundation on acceptance, cultural awareness and a means for confronting difficult subjects.
Time will tell if the series will fly just above the radar to court controversy among the conservative pundits (as the Disney short "Out" did very briefly). More importantly, though, I hope parents will encourage their kids to take a look at these films and have discussions about them. If you're someone who reacts with instant skepticism over The Mouse's intentions (and I totally understand the cynicism), rest assured they plan to follow through with this endeavor, one that gives underrepresented filmmakers a chance to gain exposure and create something inspiring. Everybody wins here.
Disney+ is currently accepting proposals from aspiring writers and directors for Season 2. For more information on applying, go here.
"Dinner Is Served"
Directed by Hao Zheng
Written by G. Wilson and Hao Zheng
Xiaoyu (Qi Sun), a Chinese student attending Westmorland Boarding School, tries out for a maître d' position at the prep school's prestigious dining hall, but learns that his try-out has other purposes for those in charge. The final moment is a monumental middle finger to anyone who has hired or given awards out to anyone based solely on nationality instead of achievement.
"The Last of the Chupacabras"
Written and directed by Jessica Mendez Siqueiros
Tourists pass by Mexican-American Chepa (Mela Martinez, Ph. D) every day as she pushes her tamale cart up and down "the L.A. of yesterday!" She is presumed to be the last of the street vendors, but one night she unearths the spirit of the last Chupacabra, who exists to protect her. This lighthearted fantasy gives light to cultures that are fading away in our cities, especially as the last of those who carry out certain traditions become more endangered and less of a neighborhood cultural fixture.
"American Eid"
Written and directed by Aqsa Altaf
Ameena (Shanessa Khawaja), a Muslim Pakistani immigrant, learns that she has to go to school on the holiday of Eid. She starts a school-wide petition to try and make Eid a school holiday, much to the dismay of her older sister Zainab (Jenna Qureshi) who tries desperately to fit in in their new American school. While I doubt the outcome would be as simple as it is depicted here, it does give a much-needed overview of the holiday while keeping the story grounded in the relationship between the two sisters.
"Let's Be Tigers"
Written and directed by Stefanie Abel Horowitz
My personal favorite of the bunch. A babysitter named Avalon (Otmara Marrero) spends an evening with young Noah (Dash McCloud). The subject of death and the afterlife comes up as Noah notices that all is not well with Avalon. Horowitz brings the same quiet sensitivity that made another short I wrote about a couple years ago, "Sometimes I Think About Dying," so memorable. The best performances of the lot as well (that McCloud is a real find!).
"The Little Prince(ss)"
Written and directed by Moxie Peng
A Chinese boy named Gabriel (Kalo Moss) makes friends with a new kid in school, Rob (Ching Yin Ryan Hu). Gabriel likes ballet and plays with dolls. Rob's father has a problem with that and decides to intervene.
After reading the title and description of this one, I braced myself for something treacly and overly precious, but it does a fine job of disarming the viewer, thanks to Peng's assured direction and wonderful performances from the young cast.
"Growing Fangs"
Written and directed by Ann Marie Pace
In this charming comedy, Val (Keyla Monterroso Mejia) is a teenager in a family of vampires who has decided to tell her friend "from human school," Jimmy (Gilberto Ortiz), that she is half-vampire. Her family is dead set against it. Meanwhile, her doghouse in the backyard is a portal to the "monster school" where she is the new girl on campus (and half-human) and has a crush on the head cheerleader, which puts her in a predicament in which she has to confront her mixed identity.
The films run between 14-19 minutes each.