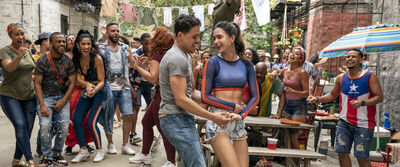 It's here! Jubilant, unapologetically massive, and bursting with a cozy, melancholic sense of communal belonging, "In The Heights" is the biggest-screen-you-can-find Hollywood event that we the movie lovers have been craving since the early days of the pandemic, when the health crisis cut off one of our most cherished public lifelines. A dazzling New York movie that honors the diverse Latinx communities of Upper Manhattan like its boisterous source—the multi-award-winning stage musical that put Lin-Manuel Miranda on the showbiz map before his fame exploded with "Hamilton"—this exuberant screen adaptation (with at least one delightful "Hamilton" Easter Egg) is ready to welcome you back into your neighborhood cinema with open arms, daring to light up that dark room in ways much bigger and brighter than you might remember.
Yes, it's simply an overwhelming experience, to float weightlessly during the nearly 145-minute running time of "In The Heights." And don't let that number scare you off—the whole thing passes breezily like a New York minute, dancing its way through one typically humid and sweaty summer of the urban island's Washington Heights, pitched on the brink of a soul-killing blackout. Sitting on a picturesque tropical beach and telling his tale to a company of adorable kids early on in the film (a smart, recurring narrative anchor that resolves to a satisfying conclusion), "The streets were made of music," says the movie's heart and soul Usnavi de la Vega. Here, he is played by your new favorite leading man Anthony Ramos, who revives Miranda's Broadway role in an irresistibly likable, instantly star-making performance after holding a number of memorable parts in the likes of "Monsters and Men," "White Girl," and "A Star is Born."
It's shrewd of the chief creative helmers, a trio consisting of virtuoso director Jon M. Chu, deft screenwriter Quiara Alegría Hudes (who also wrote the book for the stage musical and braids a number of well-constructed changes into this version) and of course, peerless creator Lin-Manuel Miranda (charismatically playing a street vendor selling icy fruity piraguas here), to emphasize the melodic nature of the barrio right at the start. This might sound like an obvious proposition for a production about a locale's complex and colorful rhythms that fuse rap, hip-hop, and various Latin sounds like salsa and merengue, with traditional musical theater. But it's also one that grants Chu with the spot-on set-up to declare, "Let me show you how!" and to flaunt the visual proof throughout with disarming disposition and jaw-dropping craft that coddles tight apartments, sunbaked alleys, scenic overlooks, fire-escapes and one gigantic public pool. Indeed, as a director who proved his kinetic muscles with the sophisticated romantic comedy "Crazy Rich Asians" (which is as close to a sense of choreographed musicality as a non-musical film can get) and is no stranger to dance in film, mostly thanks to his entries in the "Step Up" franchise, Chu might just convert even the fiercest skeptics of musicals that question the plausibility of a bunch of people launching into a random song-and-dance number.
To take it a step further, Chu grandly demonstrates that both the tenderness and the ideological vastness of "In The Heights" were always meant for the big screen in a way, rather than the confines of a physical stage. Your mind surrenders to Chu's logic and vision entirely, believing that it does make all the sense in the world when Usnavi, a lovable immigrant orphan from the Dominican Republic with immediate dreams of returning to the island he considers a paradise, spins a manhole cover like a turntable, snaps a gate latch into place in a tempo matched by a splashy hose, and reflectively watches from inside his bodega as his entire neighborhood sings and dances, greeting a brand-new day outside of his window. And this is only the opening number, a spirited introduction to an array of personalities that almost brought this Turkish immigrant critic (who called the geographically and culturally adjacent, similarly vibrant Hamilton Heights home for over a decade) to her feet, alongside the loud but calming swooshes of fire hydrants.
That same introduction familiarizes us with the concept of a sueñito, a little dream, that everyone with a major part in "In The Heights" dearly holds. For the bodega owner Usnavi, the dream is not only to return to the happy Dominican Republic of his childhood, but also, to finally ask the intimidating Vanessa out on a date. Played with such seductive verve by Melissa Barrera, the aspiring fashion designer Vanessa on the other hand dreams of leaving her dead-end beauty salon job working alongside the head-strong, mischievously gossipy ladies Daniela (Daphne Rubin-Vega), Carla (Stephanie Beatriz) and Cuca (Dascha Polanco), and moving downtown to pursue her passion career. There's also the smart college student Nina Rosario (an immensely powerful Leslie Grace), who yearns to reinstate her identity as a Latina on the heels of her dispiriting year at the white-dominant Stanford. Her plans to drop out of college disappoint Kevin (Jimmy Smits), her sacrificing father with high expectations of her, and surprise Benny (Corey Hawkins, impossibly charming), a strong-willed, energetic dispatcher working at Kevin's limo company. (You guessed it: he and Nina are in love.) Also in the mix, with a markedly more significant part than in the musical, is Usnavi's cousin Sonny (Gregory Diaz IV, effortlessly loveable), the kind of undocumented Dreamer unwelcome in the Trumpian trenches of the country. (Fans of the original musical will be quick to identify the instance in which Trump's name gets swapped with Tiger Woods. "When I wrote it, he was an avatar for the Monopoly man. Then when time moves on and he becomes the stain on American democracy, you change the lyric," Miranda recently said to Variety.)
These characters collectively paint a big, beautiful canvas that the Heights matriarch Abuela Claudia (Olga Merediz, absolutely heartrending in a revival of her famed stage role) seems to have taken under her wings since forever. Foreshadowing one of the movie's most affecting and inspired sequences involving wistful vintage subway cars and her past as a hardworking immigrant, "Paciencia y Fe" (patience and faith) Abuela optimistically says as she waves her newly bought lottery ticket in the air. We soon learn that investing in the lottery is a widely shared routine in her streets—once Usnavi is informed of a winning ticket sold at his deli, the musical's earth-shattering centerpiece "96,000" arrives. We try to keep up as hundreds of extras covet the big bad $96K prize, a hardly life-saving sum, but enough to make a fresh, life-changing start. Shot in the Highbridge Pool, this miraculous number (dexterously choreographed by Christopher Scott like the rest) of synchronized swimming and harmonic dancing in the tradition of Busby Berkeley brings the entire cast together with gusto, confidently reminding the audience the kind of movie that they are watching—a big motion picture that absolutely refuses to scale down its emotional scope and visual splendor.
It's thanks to that self-assured rejection to downsize on the outside and inside that the entirety of "In The Heights" works, both as an intimate ode to a tightknit community made up of individuals stuck in an in-between (a visceral state of being that will be deeply familiar to fellow immigrants), and a hard-hitting political statement that has something to say about all the rampant systemic injustices ingrained in a maddeningly white-normative society, from gentrification to casual racism. In unison, Chu's direction, Miranda's music and lyrics, and Hudes' script amplify an idea voiced by Abuela—about asserting one's dignity in small ways—and memorialize that notion of self-worth by seeing all the details that add up to it. Thankfully, it's evident that this ambition is shared by the entire cast (all exceptional singers, dancers and performers), Alice Brooks' dreamy cinematography, Myron Kerstein's snappy editing as well as production designer Nelson Coates and costumer Mitchell Travers, with the duo highlighting the diverse shapes and forms of a unique slice of Manhattan with dizzying imagination.
Survey the proud faces that shout "HEY!" during "Carnaval del Barrio," another one of the film's buoyantly inviting songs; hum along, perhaps quietly weep, when silky fabrics spill out of buildings like tears as Vanessa aches for a better future; inspect the lively, alluring moves of the hair parlor ladies as they vibrate to "No Me Diga" and even take notice of Nina's hair that quickly transforms from straight to beautifully unruly and curly, and you will be that much closer to grasping the kind of character "In The Heights" is out to seize inside a world many choose to deem invisible. A celebration of the idea of home, both self-made and born and carried in one's soul, "We are here," this movie affirms with cinematic majesty. What a magnificent sight to behold.
"In the Heights" will be available on HBO Max and in theaters starting June 10.