Hitman's Wife's Bodyguard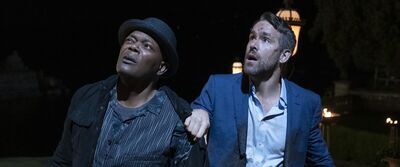 After more than a year of pandemic-induced stay-at-home orders, audiences are eager to hit movie theaters and reunite in a dark room with a larger-than-life big screen and booming sound. As theaters slowly open up, studios are gleefully releasing titles in preparation for what is hopeful to be a profitable and exciting big summer launch. Will "Hitman Wife's Bodyguard" kickstart the action?
In 2017's "The Hitman's Bodyguard," with his reputation destroyed after a painfully unsuccessful delivery of a distinguished Japanese client, triple-A protection agent Michael Bryce (Ryan Reynolds) was reduced to a second-class bodyguard for hire, accepting an offer from Interpol to escort an international assassin, Darius Kincaid (Samuel L. Jackson), from Manchester to the Hague. The mismatched duo were forced to put aside their grudges with comedic, action-driven results. However, with his beloved Sonia (Salma Hayek) now behind bars, Kincaid was willing to do anything for her release, even if it meant risking his own life.
As this film opens, Bryce is still brooding over losing his triple-A status, and is highly encouraged by his therapist (hilariously portrayed by Caroline Goodall) to put his guns away and go on a quiet, restful Italian holiday in Capri. As a bluegrass soundtrack bellows in the background, it become apparent his vacation will be short-lived when Sonia appears guns blazing, this time enlisting Michael to assist with rescuing Darius. Eventually, the trio are forced by Interpol agent Bobby (Frank Grillo) to track down a device possessed by a criminal named Aristotle (Antonio Banderas), who desires to thrust all of Europe into a blackout as revenge for sanctions on the Greek economy.
Not quite as straight-faced as hit franchises like those about Ethan Hunt or James Bond, "Hitman's Wife's Bodyguard" thrives on making fun of this entire international spy/hitman premise while utilizing the charm of three of Hollywood's most beloved stars: Hayek, Jackson, and Reynolds. All are immensely gifted at taking farce to a whole new level, one laden with four-letter words that make for a "mouth in need of an exorcism," mixed with immense physicality that makes Hayek look like an Avenger from the MCU, and witty dialogue that sounds more improvised than scripted.
Reynolds proves yet again why he thrives in satirical action-thriller flicks with the same command and comedic bravado that has given long-standing careers to the likes of Will Ferrell, Adam Sandler, and Ben Stiller. Jackson is an unsung cinematic legend whose ownership of cursing to the point of making it sound like a completely different language laced with a little sugar and spice is always entertaining regardless of what film and genre he's in. However, the real treat is watching an on-screen reunion between Banderas and Hayek. After more than 20 years, their chemistry is still just as palpable and thrilling as in Robert Rodriguez's breakthrough "Desperado." I could have just had the whole film revolve around their infused storyline.
Hayek's no-nonsense attitude in real-life melts into Sonia, making her a woman on-screen that is no one's damsel in distress. Her ability to hold her own with the boys, kicking butt and taking names in fight scenes, leaves you wanting more every time. The extra added twist of having Morgan Freeman as Bryce's dad (an award-winning bodyguard in his own right) be simultaneously dismissive with a fatherly vibe is also hysterical. There are also a few clever nods back to the original with the pair being surrounded by nuns, Sonia's use of the word 'cucaracha' referring to Darius, bullets flying every two seconds, and the Lionel Richie hit "Hello" as the theme song for the hitman and his wife.
Directed by Patrick Hughes, this comic book-energy spy adventure, gorgeously captured by cinematographer Terry Stacey and keenly scripted with barbed laden dialogue from Tom O'Connor, Brandon Murphy, and Phillip Murphy, is heavy on blood, guts, action, and star power. It really is time for a summer movie season again.
Available in theaters on June 16.