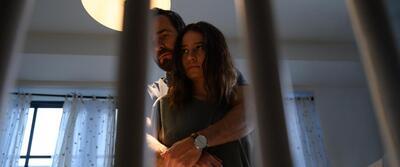 No fewer than half a dozen times throughout "False Positive," an urban tale about the horrors of pregnancy, you hear the grating phrase mommy brain. "It's a real thing," everyone says, claiming that your forthcoming motherhood means you no longer truly control your own mind and decision-making, but instead, operate under the intoxicating, logic-defying influence of expectancy. Along with co-writer/director John Lee, multi-hyphenate "Broad City" star and co-creator Ilana Glazer mines this cringey, condescending assumption that shrugs off a pregnant woman's struggles, examining the patriarchal industry through which the business of birth takes place and invalidates feminine autonomy. The result is a deftly made suspense film, but one that falls somewhat short of its aspirations, both as a satire and as a psychological thriller with a critical societal eye.
The issue isn't quite that Glazer, who's currently expecting and therefore experienced first-hand about the topic, and Lee (also hailing from "Broad City") don't have substantial things to say about the casual and calculated forms of misogyny that surround maternity these days. On the contrary, the duo seems to have a lot on their mind when it comes to womanhood, race, city life, corporate culture, modern medicine and of course, toxic masculinity. Except, they seem to only scratch the surface of their queries and narrative goals. The overall sentiment you're left with after "False Positive" is fierce admiration for a movie with bottomless ideas, and a sense of incompleteness that slightly overshadows it.
And yet, it's easy to forgive the deficiencies of "False Positive," simply because it feels so oddly unique. Lee's film reminds one that while contemporary horror is thankfully chock-full of masterful films like "Hereditary" and "The Babadook" about the terrors of motherhood, it is far less prolific a genre in dismantling the taboos of expectancy, perhaps save for a "Prevenge" here or there. It is then no surprise that Roman Polanski's "Rosemary's Baby" becomes the most obvious point of reference for Glazer and Lee in their New York yarn about a successful young woman struggling with fertility first, and then, an entire ecosystem of ruthless gaslighters that her husband might or might not be a part of.
She is Lucy (Glazer herself), an on-the-rise marketing executive about to get her big break in the business by finally leading a newly won account for her firm. But even though Lucy is technically treated as an equal to her male colleagues, you quickly sense that something is off—for starters, why is her harmless, seemingly supportive supervisor Greg (Josh Hamilton) always going to her and never one of the boys, to place an order for the team from Dig Inn? (This health-focused chain restaurant choice admittedly becomes an inspired running joke in the film.) Nevertheless, Lucy happily complies with her office's taxing demands by day, while stressing out about her unsuccessful attempts at pregnancy by night. So after a long period of failures, she and her physician husband Adrian (a suitably domineering Justin Theroux) finally knock on the door of Dr. Hindle (Pierce Brosnan, nailing his character's genial uncanniness); Adrian's former professor as well as a high-profile, highly in-demand doctor who's developed his own secret method of fertility. And before we know it, Lucy is given the good news—she's at last expecting. Though her condition is not without some tough complications that require a distressing but sometimes medically necessary process called selective reduction in order to increase her chances at a successful birth.
"False Positive" is frequently marked by hallucinatory mind games from here on out, with one too many distracting dream sequences that unsettle and confuse the viewer in order to get us into Lucy's headspace; one that can't assess the difference between dreams and reality. In due course, Lucy grows increasingly skeptical towards her surroundings, finding temporary sanity only in pregnancy support groups that she reluctantly joins once she suspects that evil things are happening inside her body without her consent. Not helping the matters is an entire canvas of players, all projecting their unrealistic, dismissive expectations onto the lonely young woman. "But you are glowing," some say in denying her reality. "This is supposed to be a joyful time," others patronizingly remind her in mind-numbingly sterile clinics, apartments and office buildings. In one of the film's more obviously metaphoric scenes in this vein, Adrian creepily locks Cartier's famous love bracelet around Lucy's wrist, almost claiming her fate as his own. (The frequent and annoying"we"s that he uses in saying "we are pregnant" only reinforce this entitlement.)
Sporting an impeccable updo and an impossibly slender, side-buttoned pale pink dress uniform, Dr. Hindle's right hand nurse Dawn (Gretchen Mol, the film's mysterious MVP) plays a particularly important role in these acts. She reigns over Lucy in a hushed, passive-aggressive manner that brings to mind both the apathy of Nurse Ratched and the polite coldness of Serena Waterford in "The Handmaid's Tale." In fact, Lee subtly plays with clever Handmaid's-like visual and atmospheric cues in a number of segments, alongside "Hereditary" and "Midsommar" cinematographer Pawel Pogorzelski. Pogorzelski's sharply unnerving, crisp images seize Lucy's growing isolation in a world that demands she embrace her so-called womanly destiny. He films Lucy's loss of self with a clear vision, chillingly capturing the unease and nervous laughs in the air, both when Dr. Hindle suggestively meddles with his intimidating medical tools and Adrian authoritatively stands over his wife's body by a stretcher, becoming one with her pregnant torso.
Lee proves less successful in his critique of the likes of Lucy, affluent, well-meaning but still somewhat clueless city dwellers that need to check their own privileges. So when the script introduces Grace Singleton (Zainab Jah), a famed black midwife in favor of natural birth methods and earthy office decors into the story, its efforts to call attention to Lucy's casually racist assumptions about this woman she calls "magical" feel painfully half-baked. Also vaguely considered is a bonkers, blood-splattered final act, making you wish that this otherwise shrewd, stylish little genre exercise had leaner thematic ambitions.
Now playing on Hulu.