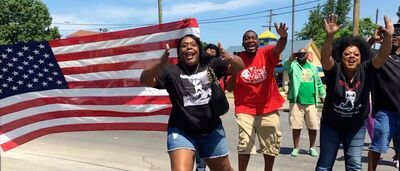 Fans of the late Muhammad Ali will love director Graham Shelby's "City of Ali," a documentary about how the city of Louisville, Kentucky came out to honor its favorite son after his passing. It's full of pure, unadulterated love for "The Greatest," so much so that the viewer can't help but get enveloped in its adoration. But your mileage will vary based on your feelings for its subject. In the interest of full disclosure, my stance on the famous boxer and humanitarian is one of undying admiration and affection. In fact, I wrote his tribute on this site. So, like many of the onscreen interviewees, I found myself tearing up several times, even when I knew the film was taking quick jabs at my tear ducts. It was a small price to pay to hear friends, family, and a wide variety of people from all walks of life speak about my childhood hero.
"What kind of place made him the Greatest?" is the question posed as images of Louisville appear in the opening scenes. We see the house at 3302 Grand Avenue where young Cassius Clay, Jr. grew up, followed by his gravesite covered with flowers from visitors. His daughter, Rasheda Ali, tells the story of a recurring dream her father had. In it, all the locals have come out to see him run down Broadway for his daily training ritual. They root for him so fervently that he eventually takes flight from the power of their cheers. This same story is repeated at the end of the film. The dream itself seems egotistical until one realizes its symbolism—this is the wish of a local boy who "wants to do good." The world isn't on the sidewalks of Broadway, it's just Louisville's born and bred. Anyone who loves where they're from can identify with Ali's vision.
"City of Ali" is broken into several chapters, or "rounds," each introduced with a drawing by LeRoy Neiman. The first round makes a good introduction to Ali's life, even though it documents the day he died. There's a montage of news broadcasts from around the world on June 3, 2016, showing how widespread the fighter's fame was. Through the news reports, there's mention of the Parkinson's Disease that afflicted Ali for 30 years, his tenure as a three-time heavyweight champion and his conscientious objection to the Vietnam War, a decision that would cost him several years of his career. Each of these details gets fleshed out in subsequent "rounds," providing necessary information for the uninitiated.
The news clips are followed by commentary from several of Ali's children, each of whom describes his last day in the Phoenix hospital where he'd been admitted. Sportswriters and pundits also speak of June 3rd, with former talk show host Dick Cavett saying "it's like Mount Rushmore fell down" and LA Times sportswriter Bill Plaschke recalling how devastated he felt. In this segment, several of the people who will guide us through the film are introduced, from childhood neighbor Lawrence Montgomery to Louisville's mayor Greg Fischer and Natasha Mundkur, a student who speaks at Ali's funeral. By starting with his death, the film gives a macro view of how global Ali's influence was.
But the bulk of "City of Ali" is devoted to how Louisville set about planning the memorial. "We always knew that he belonged to the world," says Fischer, "but he only had one hometown." Ali had a fraught relationship with the town that, through redlining, forced his family to live in the Parkland neighborhood of West Louisville. Coming back from his gold medal win in the 1960 Olympics, he faced the disrespect and racism of the still-segregated South. The myth of Ali angrily throwing his medal into the Ohio River is dispelled, but as a historian notes, the sentiment made the legend worth printing.
The past and the present merge numerous times here. Planning for Ali's homegoing service and celebration occurred during the most tumultuous time of the 2016 Presidential campaign. Anti-immigrant, racist, and anti-Muslim rhetoric was rampant, and the film highlights the numerous similarities between the time of Ali's ascension to fame and the current era. Though he may have been famous enough to fight Superman in a comic book and have his own cartoon TV series, Muhammad Ali was still a Black man and a Muslim, two characteristics that courted trouble in America. There's talk of how best to protect the city and its denizens during the big event, and whether there will be any threats of violence pertaining to the honoring of an outspoken, often controversial figure.
I like movies about process, so the planning sections fascinated me, particularly the story of the woman responsible for the thousands of rose petals spread out on the road at the end of Ali's funeral procession. Even more, I was moved watching the fruits of everyone's labor come together in the enormous tribute. "City of Ali" acknowledges that the biggest moment of the processional occurs when Ali is driven one last time through his old neighborhood, where the streets are lined with residents beaming with pride over one of their own. Coming from a neighborhood like this, I could easily imagine what those people were feeling.
Because the admiration for Ali spread across multiple religions, countries, and races, "City of Ali" tries to inject a message of uplift and hope that everyone can come together as powerfully as they did while honoring a hero. I wasn't buying that, so the film lost its magical hold on me. I certainly was not in the mood for any kind of kumbaya messaging, no matter how admirable its intentions. Thankfully, my own weary worldview was given voice by one of the interviewees, who said he felt little faith in things changing during his lifetime.
Despite my cynical complaint, I found much to enjoy here. One thing that will stick with me forever about the man whose heart was as big as his mouth is a story told by a friend about a boxing match he and Ali attended overseas. They sat in the front row, and when the American boxer won, Ali gave his congratulations. Then he asked to see the guy who lost. "I didn't give the loser a second thought," said the storyteller. But he tagged along anyway. They found the dejected young man sitting on a stool in an empty locker room. When Ali entered, the kid lit up like Times Square. The two playfully sparred, and Ali gave him a pep talk. The other guy may have won the fight, but the loser got an audience with The Greatest.
Stories like this go a long way to humanize a legend, bringing him down to Earth for us mere mortals. He may have been bigger than life, but deep down, Muhammad Ali remained the guy who simply wanted to do his hometown proud. "City of Ali" shows Louisville's acknowledgement that he did.
Now playing in virtual cinemas.