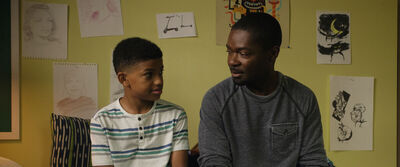 Madeleine L'Engle, author of A Wrinkle in Time, said once, "If the book will be too difficult for grown-ups, then you write it for children." I thought of that quote often while watching David Oyelowo's very moving directorial debut. "The Water Man," with screenplay by Emily A. Needell, is about tough subjects, subjects even adults find hard to face, but it's geared for children and families, and it's told from the child's point of view.
Eleven-year-old Gunner Boone (Lonnie Chavis) lives mostly in his head, riding his bike, visiting a local bookstore to pick up yet another collection of Sherlock Holmes stories, and working on his own graphic novel about a detective investigating his own death. His family just moved to town, and he is the new kid. He has no friends. But Gunner's escapist tendencies come from a deeper place. His mother Mary (Rosario Dawson) has leukemia, and his father Amos (Oyelowo) is a Marine, who spends long stretches away from home. When Amos is home, he cannot connect to Gunner. He's gruff, abrupt, sometimes even harsh.
Gunner trips over a local legend about a ghostly being called The Water Man. Local kids hand over their allowances to a blue-haired girl named Jo (Amiah Miller) who brags that not only has she seen The Water Man, but she's got a scar on her neck to prove it. Gunner isn't an Arthur Conan Doyle fan for nothing. He tracks down a paranoid passionate undertaker (Alfred Molina) who believes The Water Man may hold the key to immortality. Gunner then pays Jo (a practiced grifter) to take him up to the ridge where she saw The Water Man. With knapsacks full of food and supplies for the journey, the two children head into the dark forest.
This is the story of a quest, a hero's journey. "The Water Man" leans in to its fairytale trappings (the bookstore Gunner frequents is called Once Upon a Time), with Gunner and Jo a Hansel and Gretel duo, neglected by their parents, striking out on their own, creating their own world together. The forest is full of astounding and not-easily-explainable things: howls and moans in the distance, stampeding wild horses, dark shining rocks hung at intervals (bread crumbs through the forest), a raging river of beetles, and at one point it snows, even though it's July. The children have no way of knowing that a forest fire is raging out of control on the other side of the ridge, and they are trudging right into the conflagration. Along the way, the children bicker, problem-solve, and finally bond.
This all may sound trite or simplistic, but it's not, especially with the deeply felt performances from all four leads. There's one moment where Dawson, sitting at the kitchen table, bursts into spontaneous tears, and the scene shows Oyelowo's sensitivity to the rhythm of a performance. He lets it play out. Both Chavis and Miller are extraordinary in what is very difficult terrain, moving from a purely transactional relationship into a deep and caring friendship. This is heavy material, and both of them are more than up to it. And Oyelowo is completely believable as an emotionally stopped-up man, feeling the shame at his failings as a father.
Yoruba Saxon, the production company Oyelowo created with his wife Jessica, produced the film (with a little help from Oprah Winfrey's Harpo Films). Jessica Oyelowo and Asher (their son) wrote and performed the song that plays over the end credits. This is a family affair. The special effects are simple but work well, and the addition of Gunner's sketch books and comic books "coming to life" as he tries to wish his way into a magical world where a watery immortal being can save his mother is very important. The sketches coming to life (animation by Chel White) propel us into Gunner's point of view, and also glide us over the awkward expository monologues. Make sure to watch through the end credits to see the finished version of Gunner's graphic novel (created by Dan Schaefer). It's a perfect button to all we have just seen.
"The Water Man" affected me so much partially because my family just experienced a similar loss, and the implications are still reverberating through our lives. Nothing will be the same again. "Everything happens for a reason" won't cut it with children who just lost a parent. What really stands out throughout is the complexity of these characters, and the nature of their specific struggles. Everyone gets to be human. Humanity is not just our good impulses. Humanity is where we fall short, too. "The Water Man" is about characters who have failed one another, through lying, denial, or just plain neglect, and who then try to make things right. Each character lies at some point, or at the very least withholds information. Mary doesn't want Gunner to know how sick she is. Gunner lies to his parents and sneaks out of the house, throwing the whole town into a panic. Jo lies about everything. She has her reasons. And Amos, a grieving man, lies to his wife about Gunner going missing, an unforgivable and yet totally understandable decision. To quote Harriet the Spy, a book written for a similar age demographic: "Sometimes you have to lie." When is lying okay? When do we have to lie? When is lying an appropriate coping skill? When do we come clean?
Things are not necessarily black and white. This is the realm where "The Water Man" really shines. Children absorb everything, good and bad, all the stresses, heartbreak, anxiety of the adults around them. Children can handle the difficult things. Oyelowo knows this and respects it.
Now playing in theaters.