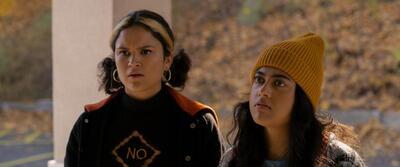 Raunchy teen comedies can only be as sincere and big as the size and nature of the heart they dare to wear on their sleeves. Sure, its sex-centric jokes can be hilarious, but can you imagine loving "Superbad" without the disarmingly sweet friendship of Jonah Hill's Seth and Michael Cera's Evan at the film's core? It's exactly because of that bromance that deepens and struggles over the course of a booze-soaked night where "I love you man"s and nose-boops get exchanged, that we affectionately adore that movie. Natalie Morales' "Plan B" seems to agree, as it is the same spirit the actor-turned-director revives in her feisty and hilariously foul-mouthed debut feature. Here, we follow two high-school-aged girlfriends, a sharp, witty, motor-mouth pair with enviable platonic chemistry and harmony, on an overnight road-trip as they seek an emergency solve to a probable accidental pregnancy within South Dakota's conservatively anti-choice confines.
In that regard, Morales' movie walks in the footsteps of various recent female-centric pictures—the top-shelf studio comedy "Blockers" with a fiercely sex-positive message, the delightfully vigorous "Booksmart" and to a degree, even the devastating "Never Rarely Sometimes Always" with its fearless plunge into America's shameful anti-abortion leanings. And it does so with such energy and singularity, thanks in large part to the leading duo—two undeniable stars-in-the-making. One is the exceptional Kuhoo Verma, whom you might recall from her brief yet memorable scene in "The Big Sick" as an arranged match to Kumail Nanjiani. ("The truth is out there!") She plays the straight-laced Sunny, whose hobbies include masturbating to male bodies in her anatomy book and trying to live up to the high expectations of her successful mom while steering clear of her culture's prying eyes that she calls "The Indian Mafia."
Her flaky bestie Lupe is played by the peerlessly charismatic Victoria Morales ("Teen Wolf"), who is the exact opposite of Sunny in every way—she recklessly vapes, purposely aggravates her traditional single dad with her rebellious clothing choices, and doesn't care all that much about schoolwork. We get introduced to the duo in a "Thelma & Louise" style parallel montage, scored to "Every 1's A Winner" by Hot Chocolate (perhaps just to throw in a "Frances Ha" reference in there in solidarity with female friendship movies) and get to understand just how dissimilar they are. Still, as soon as they come together in school corridors, there's a palpable bond between these two misfits, which they seem to have sealed against the squarely popular kids and customary meanies of their class.
But when Sunny's mom goes out of town, the girls decide to throw a party for all anyway, just to have an excuse to invite their crushes over. Sunny's is called Hunter, played adorably by Michael Provost who perfectly personifies a high-school jock, but one with depth and smarts. When her plan to seduce him goes off the rails, Sunny throws herself into the arms of the amicably well-meaning religious recluse Kyle (Mason Cook) as a misjudged consolation, a spur-of-the-moment miscalculation that necessitates the morning-after pill. But with the town's pharmacist refusing to sell it to them (using the state's maddening "conscience clause" as a justification), the girls hit the road to the nearest Planned Parenthood.
Their trip predictably presents various speed bumps and potholes, but Morales and droll screenwriters Joshua Levy and Prathiksha Srinivasan refuse to slow their ride down, even when they overindulge in conflicts and certain superfluous detours. But through it all, the film's tenderness and adventurous soul remains in tact, with Morales honoring both female friendships and the individuals that generously gift their own meaning, reality and character to a lasting womanly relationship. In that, it's simply a joy to laugh alongside Sunny and Lupe, as it is to witness their growth into their cultural and sexual identities with a little loving help from each other and their supportive families. While "Plan B" is not a perfect teen movie, it's one with a defiantly good heart and a vibrant, colorful atmosphere crafted by a talented director. On those grounds alone, this is a ride worth hopping on.
Now available on Hulu.