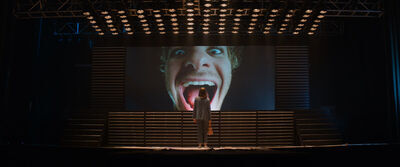 Somewhere between its opening silent-film interstitials and the scene where "Stranger Things" actress Maya Hawke vomits emojis into a sink, Gia Coppola's "Mainstream" assumes misshapen form as a social-media satire attuned less to the fast-moving currents of the influencer economy than to the moral panic it often foments in audiences over 25.
That's a shame, given that Coppola—whose debut, 2013's "Palo Alto," meditated more sensitively on a generation of disaffected youth—has assembled the kind of starry young cast well-equipped to dig into a more incisive story than the one she's chosen to tell. At the center of this cautionary tale is Hawke's Frankie, an aspiring artist who spends her days aimlessly strolling Los Angeles with work friend Jake (an underused Nat Wolff), making videos to entertain her minuscule YouTube following. But once Frankie encounters Link (Andrew Garfield), a manic anti-establishment type who doesn't even own a phone, she's enthralled by his magnetism. (The rakish good looks don't hurt either.) Link turns heads at the mall, and she starts filming, soon partnering with Jake to produce videos starring Link as "No One Special," an Everyman celebrity who can rail against the vacuity of the very platforms he's trending on.
Whereas "Palo Alto" was cautiously observational, only commenting on its characters with what amounted to a subdued sympathy, "Mainstream" can't help but knowingly wag its finger as these three self-styled rebels rise to fame, blunting what little existed of their edge along the way. Link finds an increasingly massive audience, and a kitschy celebrity ego emerges along with his new roles as game-show host and idiot philosopher. Inevitably, he breaks Frankie's heart as well, shortly thereafter escalating into a full-blown megalomania that Garfield performs with repulsive, near-religious fervor. This doesn't bode well for our central three, but it's especially bad news for meeker audience members (one's played by "Euphoria" star Alexa Demie), whom Link makes a nasty habit of thrusting into the spotlight.
In directing a spree of music videos in the years since "Palo Alto" (including for Carly Rae Jepsen and the French singer-songwriter SoKo), Coppola has made clear her fascination with the optics of external performance, the elusiveness of emotional reality, and questions of where art exists between the two. But in "Mainstream," armed with such a moralistic narrative, this career interest curdles into a more outmoded contempt.
Coppola has been open about her debt to Elia Kazan's 1957 classic "A Face in the Crowd," which foregrounded Andy Griffith's iconically obnoxious performance as Lonesome Rhodes, a Carolina drifter turned demagogue. Frenzied and forthright, Kazan's film explored the parasitic bonds between celebrity, mass media, and American politics; perhaps needless to say, it's since been afforded the power of prescience. But a similar fate seems unlikely for "Mainstream," which rolled cameras in 2019 and already feels passé, particularly given its yesteryear focus on YouTube as opposed to more relevant competitors like TikTok and Twitch. (This extends to the stunt casting of vloggers like Jake Paul, whose social-media moment has so long since passed he's rebranded as an amateur boxer.)
"Palo Alto" drifted on the strength of its stylistic cohesion, the emotional vacancy of its adolescent leads heightening an amorphous quality in its surrounding atmosphere. "Mainstream," a more forcefully material object in every sense, drills down hard into its subject, jettisoning Coppola's previous restraint in favor of a more confrontational and graceless hyperactivity.
Reteaming with many of her "Palo Alto" collaborators, Coppola's film is stylistically assured, even if some of its bigger swings fail to connect. "Mainstream's" commentary and Garfield's outsized performance may be what audiences remember most walking out of the theater, but cinematographer Autumn Durald Arkapaw is wonderfully precise about traversing a spectrum of neon tones, elsewhere conjuring a haunted ambience that settles over the film's Los Angeles like a thick fog.
Complicated slightly by the casting of Hawke—who despite playing an ingenue holds the screen with a movie star's ease, and has never so evocatively resembled her famous mother, Uma Thurman—the film's quieter compositions possess an old-Hollywood glamor that's both nostalgic and eerie, befitting Coppola's decision to split the settings of her finale between a cemetery and a stage. On the score, British composer Devonté Hynes (aka Blood Orange) laces his romantic arrangements with similarly palpable menace.
As with "Palo Alto," which set its accounts of careless youth to Mac Demarco's slacker anthem "Ode to Viceroy," Coppola's music choices remain razor-sharp. Given the film's other failures, it's ironic that Coppola's strategies as both a stylist and a storyteller gel best during "Mainstream's" most jarring scene: a centerpiece rags-to-riches montage set to Grimes' brightly demonic "Kill V Maim." First released five years ago, the song orchestrates art-pop Armageddon on a scale only one of our most reliably unhinged party-monsters could mount. Knowing that Grimes is more famous these days for dating Elon Musk than making such vertiginously energy-drunk electronica adds a meta-layer to its inclusion.
As needle-drops go, this one is perfectly placed: as Link rockets toward mega-fame, Coppola goes berserk in time to the track, littering the screen with emoji-fied heads, pop-up ads, and blurry swaths of pixels. It should go without saying this all amounts to visual overload (if not necessarily overkill), capturing the apocalyptic fervor of teenagers uploading themselves into oblivion. But the sequence is also a blast to watch: overrun with messy, colliding ideas and a mad scientist's zealous energy in visualizing them.
It's that kind of mid-film energy spike that makes "Mainstream"'s larger shortcomings all the more regrettable. Beyond grating the nerves with its sanctimony, Coppola's story feels anachronistic, out of step with her style. You can see what she's driving at with this tale of another generation falling into time-old traps, but such messages come across as unconvincing platitudes. Two films in, it's clear that Coppola is enamored of some dreamy, dislocated past, but that kind of preoccupation makes her a poor fit for this kind of critique. "Mainstream" may be up-to-date on stylistic grounds, but its narrative could use refreshing.
Now playing in select theaters and available on VOD and digital platforms.