FILM FESTIVALS ARE BACK!!!???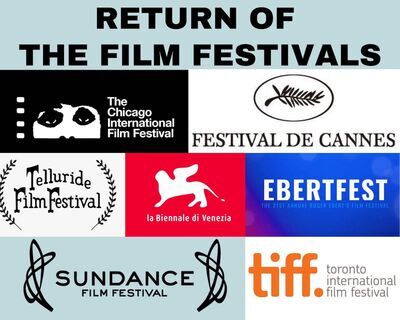 As the world gradually begins to reopen thanks to vaccinations and the new No-Mask guidelines from the CDC (Center for Disease Control), film festivals are starting to release their dates. But questions remain—will they or won't they be in-person events, or will they become a selection of hybrid models with some films and programs presented remotely. Or, horrors of all, could a third or fourth wave of coronavirus variants emerge, causing cancellations like in 2020? We each have to make an individual decision about whether we are comfortable enough to venture out in crowded screening rooms and movie theaters domestically and internationally to join in the festivities. Rumors abound that some big American companies are not planning to attend the international festivals because of a slow rollout of vaccines in other countries, and a failure to control the numbers of hospitalizations and deaths from the virus.
Most festival directors are steering bravely ahead, however, inviting films and filmmakers and sending out enticements to the press and audiences to support their efforts. They are all careful to say they are following hygienic protocols that may involve vaccinations, or mask-wearing and physical distancing. And some are planning even further precautions to keep festival-goers safe. There are many film festivals across the globe, but this article deals with only seven of them: Cannes, Venice, Telluride, Ebertfest, Toronto, Chicago and Sundance. So far, all are planning some form of in-person film screenings and guest programs.
Let's take them in chronological order. The Cannes Film Festival pushed its dates for 2021 from its usual month in May to the middle of the summer, running from Tuesday, July 6th, through Saturday, July 17th. As of this date, my telephone conversations with the Press Office confirms those dates. However, they just moved their Press Conference from May to June. And the US State Department advises all travelers to avoid all travel to France, since even vaccinated people could be at risk for getting and spreading COVID-19 variants.
But the budding line-up for Cannes is pretty exciting with Spike Lee tapped to head the Film Festival Jury to choose the winner of the top prize, the Palme D'Or. Scheduled to open Cannes this year is Leos Carax's highly intriguing musical, "Annette," starring Adam Driver and Marion Cotillard.
<span id="selection-marker-1″ class="redactor-selection-marker"></span>
The Venice Film Festival, one of the only major festivals to be held in-person in 2020, will return this year from Wednesday, September 1st, through Saturday, September 11th. At the 6:12 mark in the video embedded above, you can watch the divine Tilda Swinton accept the Golden Lion for Lifetime Achievement at last year's socially distanced festival.
The Telluride Film Festival gleefully announced a return to an in-person event for it's Labor Day weekend-long event in Colorado, from Thursday, September 2nd, through Monday, September 6th. It had to cancel it's festival in the glorious mountains last year due to the Pandemic.
Ebertfest 2018 Retrospective from Shatterglass Studios on Vimeo.
Two days later, our long-awaited new edition of Ebertfest (Roger Ebert Film Festival) with the University of Illinois will return to the Virginia Theatre in Champaign, Illinois, running from Wednesday, September 8th, through September 11th. But even we had to wrestle with concerns about safety, and the audience's willingness to return. We are holding a Zoom session tonight (Wednesday, May 19th) to connect with our audience and to address any issues.
The Champaign Park District is currently following public health guidelines as issued by the State of Illinois and Champaign Urbana Public Health District.
<span id="selection-marker-1″ class="redactor-selection-marker"></span>
The Toronto International Film Festival will be returning with an in-person and digital hybrid model from Thursday, September 9th, through Saturday, September 18th. Above you'll find the official welcome video for last year's TIFF festival.
The Chicago International Film Festival is set to return the following month, running from Wednesday, October 13th, through Sunday, October 24th. "We're planning for a hybrid edition of our festival that will combine the best from the traditional in-person festival experience with the many positive outcomes and increased accessibility from the online and outdoor/drive-in screenings from last year," said Mimi Plauché, Artistic Director of the Chicago International Film Festival. "The different components will all take into account the most up-to-date safety protocols to ensure a fun, memorable, and safe experience for all of our audiences. Details will be announced later in the summer." Movie lovers across the U.S. can enjoy the festival's summer screening series currently being held on Wednesdays through September (click here for more info).
Last, but certainly not least, according to an official statement from the Sundance Institute, next year's edition of the Sundance Film Festival will be held both in-person and online from Thursday, January 20th, through Sunday, January 30, 2022. (This year's festival was all remote.) "We are in the process of designing a safe and accessible festival where our audiences and artists can come together to celebrate and discover new work, and each other," stated the festival team, while assuring that screenings and other events will return to Sundance's signature locations of Park City and Salt Lake City, Utah.