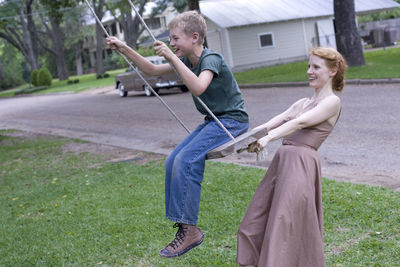 Terrence Malick's "The Tree of Life" is a film of vast ambition and deep humility, attempting no less than to encompass all of existence and view it through the prism of a few infinitesimal lives. The only other film I've seen with this boldness of vision is Kubrick's "2001: A Space Odyssey," and it lacked Malick's fierce evocation of human feeling. There were once several directors who yearned to make no less than a masterpiece, but now there are only a few. Malick has stayed true to that hope ever since his first feature in 1973.
I don't know when a film has connected more immediately with my own personal experience. In uncanny ways, the central events of "The Tree of Life" reflect a time and place I lived in, and the boys in it are me. If I set out to make an autobiographical film, and if I had Malick's gift, it would look so much like this. His scenes portray a childhood in a town in the American midlands, where life flows in and out through open windows. There is a father who maintains discipline and a mother who exudes forgiveness, and long summer days of play and idleness and urgent unsaid questions about the meaning of things.
The three boys of the O'Brien family are browned by the sun, scuffed by play, disturbed by glimpses of adult secrets, filled with a great urgency to grow up and discover who they are.
I wrote earlier about the many ways this film evoked my own memories of such time and place. About wide lawns. About a town that somehow, in memory, is always seen with a wide-angle lens. About houses that are never locked. About mothers looking out windows to check on their children. About the summer heat and ennui of church services, and the unpredictable theater of the dinner table, and the troubling sounds of an argument between parents, half-heard through an open window.
Watching the film, I remembered Ray Bradbury's memory of a boy waking up to the sound of a Green Machine outside his window — a hand-pushed lawnmower. Perhaps you grew up in a big city, with the doors locked and everything air-conditioned. It doesn't matter. Most of us, unless we are unlucky, have something of the same childhood, because we are protected by innocence and naivete.
As I mentioned the O'Brien family, I realized one detail the film has precisely right: The parents are named Mr. O'Brien and Mrs. O'Brien. Yes. Because the parents of other kids were never thought of by their first names, and the first names of your own parents were words used only by others. Your parents were Mother and Father, and they defined your reality, and you were open to their emotions, both calming and alarming. And young Jack O'Brien is growing, and someday will become Mr. O'Brien, but will never seem to himself as real as his father did.
Rarely does a film seem more obviously a collaboration of love between a director and his production designer, in this case, Jack Fisk. Fisk is about my age and was born and raised in Downstate Illinois, and so of course knows that in the late '40s, tall aluminum drinking glasses were used for lemonade and iced tea. He has all the other details right, too, but his design fits seamlessly into the lives of his characters. What's uncanny is that Malick creates the O'Brien parents and their three boys without an obvious plot: The movie captures the unplanned unfolding of summer days, and the overheard words of people almost talking to themselves.
The film's portrait of everyday life, inspired by Malick's memories of his hometown of Waco, Texas, is bounded by two immensities, one of space and time, and the other of spirituality. "The Tree of Life" has awe-inspiring visuals suggesting the birth and expansion of the universe, the appearance of life on a microscopic level and the evolution of species. This process leads to the present moment, and to all of us. We were created in the Big Bang and over untold millions of years, molecules formed themselves into, well, you and me.
And what comes after? In whispered words near the beginning, "nature" and "grace" are heard. We have seen nature as it gives and takes away; one of the family's boys dies. We also see how it works with time, as Jack O'Brien (Hunter McCracken) grows into a middle-aged man (Sean Penn). And what then? The film's coda provides a vision of an afterlife, a desolate landscape on which quiet people solemnly recognize and greet one another, and all is understood in the fullness of time.
Some reviews have said Mr. O'Brien (Brad Pitt, crew-cut, never more of a regular guy) is too strict as a disciplinarian. I don't think so. He is doing what he thinks is right, as he was reared. Mrs. O'Brien (the ethereal Jessica Chastain) is gentler and more understanding, but there is no indication she feels her husband is cruel. Of course children resent discipline, and of course a kid might sometimes get whacked at the dinner table circa 1950. But listen to an acute exchange of dialogue between Jack and his father. "I was a little hard on you sometimes," Mr. Brien says, and Jack replies: "It's your house. You can do what you want to." Jack is defending his father against himself. That's how you grow up. And it all happens in this blink of a lifetime, surrounded by the realms of unimaginable time and space.