The Beautiful World of Native Comedy: Michael Greyeyes on Rutherford Falls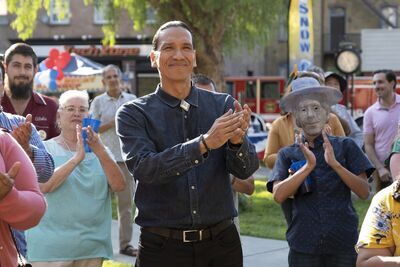 Michael Greyeyes (Nêhiyaw from Muskeg Lake Cree Nation) is just one of many impressive talents that grace the credits of the new Peacock series "Rutherford Falls." While many will recognize Greyeyes from projects like "Fear the Walking Dead," "True Detective," or his recent Sundance film, "Wild Indian," his first venture into comedic work is evidence that he is capable of just about any role.
Greyeyes spoke to RogerEbert.com via Zoom about embracing work during a global pandemic, working with other Native creatives, and introducing the globe to a new kind of Indigenous storytelling that debuts with "Rutherford Falls."
Several of your projects including "Blood Quantum" and "I Know This Much is True" came out right in the height of the pandemic. "Rutherford Falls" was filmed during COVID-19 and is now being released while we are still in these new times. What has this been like?
Well, it's wistful, that's for sure. There was no hint of this reality when I was making those shows except, of course, for "Rutherford Falls." Universal and Peacock spent a lot of money to take care of us. We were tested every day. I felt very, very, very safe when we were filming. So, you know, I owe a debt of gratitude. I was away from my family for a number of months and I was in Los Angeles where numbers weren't good.
But we made the show and it was beautiful that there you were in the middle of this horrible thing. Yet, you could come to work and enjoy this beautiful world where our humor was celebrated, where our communities were celebrated, where the kind of families that I grew up with are part of the script. And I was also surrounded by my community.
Very often, I'm the only Native person on the set or in a narrative and I'm very used to that. With this show, that was not the case. I was part of a community. And there was an immediacy and a joy to that kind of work experience that I won't soon forget.
You've worked with some talented Native filmmakers like Jeff Barnaby and Lyle Mitchell Corbine Jr. With "Rutherford Falls," there were directors like Sydney Freeland. As you mentioned, you're often the only Native person on set but how does working with these directors differ?
I think I want to speak to directors and also our showrunner, Sierra. As an Indigenous person, I understand the world from my own shoes. And I understand how we can understand our history to the extent I've studied it and experienced it. And so it informs literally everything I do.
When I'm working with a director like Sydney Freeland she doesn't have to explain. We don't have to spend a lot of time going over common ground. There was one moment in the show, you didn't see this episode, but the lawsuit with Rutherford Inc. blows up. There's this vicious lawyer from New York, a Manhattan lawyer that comes and I do battle with him. Sydney says, "Okay, you're right near the end, would you lean in close to him?" She said, "This is the moment we've always hoped for, when they throw rules at us and jargon and regulation. And this is the moment where you can turn it back on them."
She didn't need to say who 'we' was. The 'we' and the 'them' was unarticulated. But I knew exactly what she was talking about and I understood it too. She was asking for righteous anger.
What an incredible experience that really adds to the collaborative process. And with Sierra Teller Ornelas as the show runner, were there similar moments?
A really important thing that Sierra and I talked about is that beyond the filming, there are lots of choices that are made afterwards by executive producers. When that production entity has an Indigenous voice of authority, mistakes are avoided.
For example, in something like the sound mix. How many times have we heard the egregious use of animal sounds, or nature sounds when we're there? I remember Sierra asked, "What's with the sounds in the background? We're not in the middle of the woods." She's like, "Where's all the dogs, you know, the road packs of dogs roaming around?"
Because she has experience [as an Indigenous person], she was able to go, "Let's be truthful about this moment." The writing, the performance, the direction, the post production [of "Rutherford Falls"] are all informed by Indigenous perspectives and the world we recognize.
And that is very evident in the end product, or at least what I've been able to see so far. Your character, Terry Thomas, is very different from some of the roles you've taken on in the past.
I love Terry Thomas. I mean, I have never had a chance to play a guy like this and I get great roles. I fight for them, no one just offers them to me. But with this one, I was tripping over myself to get into that room and win it because our communities have never seen a person with this kind of power and this kind of charm and this kind of intelligence on television.
How did you mentally prepare for Terry compared to Makwa, a very dark character, from "Wild Indian"?
I'll say that they're actually similar. Okay, so let me explain. First of all, they're both successful men. On the one hand, Terry's success is based in love of family and his ambition. Whereas with Makwa, his success and his ambition is rooted in something else. He's hiding his pain from himself and from everyone around him.
So, they look like the same guy. Yeah, they're in beautiful suits and they're powerful but they're so tragically different. I love playing characters that are empowered and although Makwa's empowerment comes from rage and pain, he's still a powerful person. I reject the trope of Indigenous people as powerless or that we're victims. I think it's important for an actor in my position to ensure that the people I play match up to the people that raised me and the people in our communities that raised us. Then, when our youth watch these shows, they can be inspired by seeing their true selves and not ghosts of themselves.
What do you hope audiences get from watching "Rutherford Falls"?
I'm very, very hopeful that when global audiences watch the show that we will be perceived as contemporary citizens. They'll be like "Oh, these are my neighbors. These are my co-workers. These are people that are not separate from me. They're integrated into the fabric of my town, my city, my community."
I think that's a super important thing that "Rutherford Falls" can articulate. I'm hoping also that there's a new sophistication to the kinds of stories that we're telling. As you know, Indigenous stories are very complex and nuanced. We often get a binary kind of storytelling that says "this is good and that's bad." I think the characters in our show are beautifully human. I think that's a hallmark of Mike Schur's comedies and universes. We remember these characters, we remember these people.
"Rutherford Falls" will be available on Peacock starting April 22.