Home Entertainment Guide: April 2021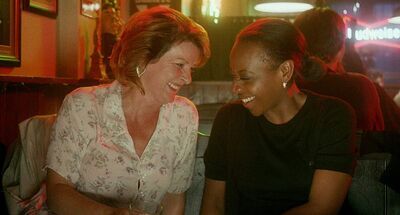 10 NEW TO NETFLIX
"At Eternity's Gate"
"Croupier"
"Get on Up"
"Insidious"
"Legally Blonde"
"My Fair Lady"
"Philomena"
"The Pianist"
"Savages"
"Saving Private Ryan"
10 NEW TO BLU-RAY/DVD
"Barb and Star Go to Vista Del Mar"
Josh Greenbaum's comedy was delayed thanks to COVID but found a very receptive following when it was released on VOD earlier this year (and you really must read Sheila O'Malley's gift of a review, linked above). It feels destined to become even more popular now that it's more widely available, including this very strong Blu-ray release. Some of the PVOD era pandemic releases have been given relatively minor physical releases, probably because studios are pushing more to pure digital plans, so it's nice to see the wonderful characters of Barb (Annie Mumolo) and Star (Kristen Wiig) given a lavish Blu-ray treatment complete with a commentary and deleted scenes. People love this movie and that love is only going to grow.
Special Features
Audio Commentary with Director Josh Greenbaum, Writer-Actor Annie Mumolo, and Writer-Actor Kristen Wiig
"Barb & Star: Making Life a Little Brighter" Featurette
"Barb & Star: Casting in Paradise" Featurette
Bloopers
Deleted Scenes
"Barb & Star Go to Vista Del Mar Fashion Show" Piece
Now streaming on:
---
"Defending Your Life" (Criterion)
I miss Albert Brooks. The wonderful writer/director/actor isn't nearly as active as he used to be (his last film was 2005's "Looking for Comedy in the Muslim World" and he's only directed seven in total), but he leaves a nearly unimpeachable resume, including classics like "Modern Romance" and "Lost in America." I would hold this 1991 gem up against any of his films. It's a brilliant imagining of what happens after we die that's honestly encouraging and uplifting about how to live better lives before we do. Brooks is great as a guy who discovers that the afterlife features a sort of purgatory wherein one has to examine and defend the choices they've made. It's funny and ultimately powerful stuff.
Special Features
New 4K digital restoration, approved by director Albert Brooks, with 2.0 surround DTS-HD Master Audio soundtrack on the Blu-ray
New conversation between Brooks and filmmaker Robert Weide
New interview with theologian and critic Donna Bowman about Brooks's vision of the afterlife
New program featuring excerpts from interviews conducted in 1991 with Brooks and actors Lee Grant and Rip Torn
Trailer
English subtitles for the deaf and hard of hearing
PLUS: An essay by filmmaker Ari Aster
Now streaming on:
---
In 2014, the film world was shattered to learn that Studio Ghibli would halt production on original films. Following the release of Hiyao Miyazaki's masterful "The Wind Rises," it felt like the end of an era. Much like the retirements of Michael Jordan or Steven Soderbergh, this one was short-lived. Hiyao Miyazaki is working on a new feature, and his son released what is canonically the first SG film since 2014 last year in his third film, "Earwig and the Witch." The first 3D-CGI film in the Ghibli library, it was met with pretty mediocre reviews, but that hasn't stopped GKIDS from giving it a nice Blu-ray release. Being a huge Ghibli fan, I'm conflicted on "Earwig," torn between the part of me that can see its notable flaws and the one that is just so happy to have the Totoro brand back in business.
Special Features
Feature-Length Storyboards
Creating "Earwig and the Witch"
Interviews with Japanese Voice Cast
Trailers & Teasers
Now streaming on:
---
"Gattaca"
In 1997, audiences didn't really know what to do with Andrew Niccol's "Gattaca." It had major stars in it like Ethan Hawke and Uma Thurman, but it felt more like an arthouse drama or even an old-fashioned noir than a blockbuster. Critics mostly liked it, and some fans found it before long on VHS and DVD, but it feels like a film that has become timelier and more beloved over the nearly quarter-century since it came out. This month, it's dropping in a 4K steelbook edition that's a beauty (look at that cover art!), and remastered from the original negative in a way that really enriches its smart, deep color palette. I forgot how gorgeous this film is, using shadows and light in a way that blends its science fiction and noir sensibilities in a riveting manner. I'm not sure the ending lands, but there's so much to like here, and it seems like a film that was truly ahead of its time.
Special Features
NEW 4K RESTORATION OF THE FILM FROM THE ORIGINAL CAMERA NEGATIVE
HDR PRESENTATION OF THE FILM
ENGLISH DOLBY ATMOS AUDIO TRACK
Deleted Scenes
Blooper Reel
Welcome to Gattaca Featurette
Now streaming on:
---
"Godzilla"
Fans of the new Monsterverse are falling in love with the big guys over the title in "Godzilla vs. Kong," now in theaters and on HBO Max for a couple more weeks. It's actually the fourth film in this series, which rebooted back in 2014 with Gareth Edwards' "Godzilla," still my favorite of the modern flicks (although I like "Kong: Skull Island" and "GvK" too; not so much "King of the Monsters"). There's something to the grandeur of Edwards' approach that hasn't really been matched in the kitschier sequels, and it's even easier to appreciate the way Edwards plays with perspective and light in this new 4K release. Let's hope "GvK" gets a 4K release as strong as this one down the line too (although a few more special features would have been nice).
Special Features
HDR PRESENTATION OF THE FILM
DOLBY ATMOS AUDIO TRACK
MONARCH: Declassified
The Legendary Godzilla
Now streaming on:
---
The latest from "Resident Evil" director Paul W.S. Anderson was released to a surprisingly receptive audience in December of last year, a great example of people just needing something mindlessly fun at the end of the longest year ever. I get that. I don't agree that "Monster Hunter" does that kind of escapism well, but I would never take that kind of fun away from people who need it, especially in 2021. And so here's the 4K release of a movie that definitely should be watched in the highest HD quality possible. Do with it what you will.
Special Features
HDR PRESENTATION OF THE FILM
DOLBY ATMOS AUDIO TRACK
Deleted Scenes
The Monster Hunters: Cast and Characters – Featurette
Monstrous Arsenal: Weaponry in the Film – Featurette
For the Players: From Game to Screen – Featurette
Now streaming on:
---
It may be on Shudder now but this is the kind of fun indie horror movie that I really enjoy watching find a bigger following and so thought its upcoming physical release deserved a shout-out too. Ryan Spindell wrote and directed this horror anthology flick that owes more to '80s masters like Peter Jackson and Sam Raimi than most films of the age of "elevated horror." With some remarkable practical effects, Spindell merges classic cautionary tales with modern sensibilities. It's just fun, and the Blu-ray is pretty loaded, including over a dozen featurettes, a commentary, and deleted scenes.
Special Features
Director's Commentary
14 Extensive Behind-the-Scenes Segments
In-Depth Conversations with Director Ryan Spindell, the Actors, and Crew
Deleted Scenes
And More
Now streaming on:
---
Paul Greengrass directed this four-time Oscar nominee that was released in theaters briefly back in December before a PVOD release and now gets a physical one (these cycles are getting so incredibly small and one wonders if they will return to "normal" or if this is the way it is now). Tom Hanks is phenomenal (as usual) as a Civil War veteran who travels the country reading the news to locals. He stumbles upon a girl who had been taken by the Kiowa and tries to return her to her family. Riveting and elegiac, it is one of the best films by Paul Greengrass, and that's saying something.
Special Features
FEATURE COMMENTARY WITH CO-WRITER/DIRECTOR PAUL GREENGRASS
DELETED SCENES
PARTNERS: TOM HANKS & HELENA ZENGEL – Witness the successful (and very fun) working relationship of movie veteran Tom Hanks and newcomer Helena Zengel.
WESTERN ACTION – Explore the creation of NEWS OF THE WORLD's most exciting and challenging scenes.
PAUL GREENGRASS MAKES NEWS OF THE WORLD – A look at how director Paul Greengrass assembled the very best filmmaking team to realize a lifelong ambition of making a western.
THE KIOWA – Filmmakers explain why the authentic representation of the Kiowa was so important to them.
Now streaming on:
---
"Secrets and Lies" (Criterion)
One of my favorite Roger Ebert statistics is the fact that he gave Mike Leigh ten 4-star reviews out of a possible 11 times. That's a stunning accomplishment, and the best track record for any filmmaker I can find. One of those 4-star reviews was for his 1996 drama that arguably became his most popular movie, landing a nomination for Best Picture. Roger loved the film so much that he put it in his Great Movies collection only a few years after it was released, writing, "'Secrets & Lies' (1996) reveals a filmmaker who works with the most delicate precision to achieve exactly what he desires." It really is a perfect distillation of the way Leigh works, with actors that never feel anything less than genuine, blending Leigh's storytelling with the notorious freedom he gives his ensembles to build characters. It's a joy to see it join the Criterion Collection, and I hope more Leigh films follow. Roger would likely agree.
Special Features
New 2K digital restoration, approved by director Mike Leigh and director of photography Dick Pope, with 2.0 surround DTS-HD Master Audio soundtrack on the Blu-ray
New conversation between Leigh and composer Gary Yershon
New conversation between actor Marianne Jean-Baptiste and film critic Corrina Antrobus
Audio interview with Leigh, conducted by film critic Michel Ciment in 1996
Trailer
English subtitles for the deaf and hard of hearing
PLUS: An essay by film programmer and critic Ashley Clark
Now streaming on:
---
"Soul"
The film that seems destined to win the Oscar for Best Animated Feature (even if my vote would go to "Wolfwalkers"), Pixar's latest has had a unique journey in that it barely got a theatrical release and has been available on Disney+ for months now at no extra cost. With the Mouse House pushing so much to their streaming service, I was worried that they would cut ties with their incredibly strong legacy of physical releases with top-notch video/audio quality and special features. Luckily, that doesn't appear to be the case yet as this month's excellent 4K release of "Soul" proves. Commentary, deleted scenes, and a 4K quality that's simply better than streaming. This is the way to watch this movie.
Special Features
Deleted Scenes
Audio Commentary
Not Your Average Joe
Astral Taffy
Pretty Deep for a Cartoon
Into the Zone: The Music and Sound of Soul
"Soul," Improvised
Jazz Greats
Now streaming on: