Women Take Top Prizes at Critics Choice Awards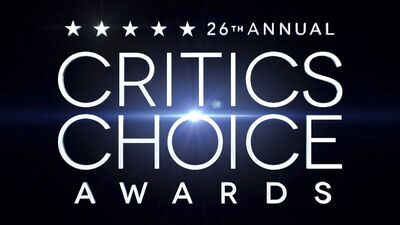 Women took home top honors at the 26th Critics Choice Awards on Sunday, March 7th, 2021. Chloe Zhao's "Nomadland" not only won Best Picture, but she was also awarded Best Director and Best Adapted Screenplay. Emerald Fennell's "Promising Young Woman" took home the Best Original Screenplay award as well as Best Actress for Carey Mulligan. At the same time, Ann Roth was the winner of Best Costume Design for "Ma Rainey's Black Bottom." In the television awards, "The Queen's Gambit" won in the Best Limited Series category, as did its star, Anya Taylor-Joy.
Yes, the show did go on. Hollywood's finest in film and TV were honored at the 26th Critics Choice Awards show in Los Angeles, California, via an in-person/virtual hybrid format. Taye Diggs hosted for the third year and began the evening by joking about the stars wearing formal on the top and comfy on the bottom due to Zoom's headshot format. All acceptance speeches were conveyed in this format worldwide—from private living rooms, home offices, and hotel suites.
The highlight for me was meeting Anya Taylor-Joy, in the winners press room, the Best Actress Award winner. Taylor-Joy plays Beth Harmon in "The Queen's Gambit," which follows her life in an orphanage in the mid-1950s as a burgeoning chess prodigy and continues into the 1960s, following her drug and alcohol addiction through to her recovery. Based on the 1983 novel by Walter Tevis of the same name, the seven-episode series was written and directed by Scott Frank, who created it along with Allan Scott.
Anya Taylor-Joy appeared wearing lovely deep red sheer gloves that matched the striking color of her strappy, floor-length gown. She answered the first question by a critic who said, "Many people feel that Beth Harmon's story isn't over, are there plans to continue?" She answered by saying that she appreciates that people want to spend more time with a character that she also loves, yet the series was always intended to be limited. She ended with a glimmer of hope, replying, "Never say never."
In speaking with her next, I praised her for her wonderful performance while informing her that I taught chess to my students as a former teacher. She said, with a look of surprise followed by a big smile, "Really?" I asked her, "What has chess taught you about the world?" She replied, "Oh goodness, it's such a beautiful metaphor, you can have a plan that you will be able to adapt, you have to be able to pivot and to think on your feet, it's important to know when to attack and when to defend, and you have to learn when to do both. You also know that you need all of the pieces on the board; it's not just the Queen running around. You need every single one of them. I would say those are a couple of things that I learned from chess."
If this were a typical show, I would have followed up by talking about the implications her female character has had on the game of chess for girls and women of the world. As most know, chess competitions have a history of boys and men leading the sport. The series reflects men's unwillingness to treat females with respect in the game of chess and beyond. Her smart, hard-working character presents a bird's-eye view of female perseverance, realizing individual rewards and breaking barriers.
As a side note, my father, Richard Knight, taught me to play chess in high school as I believe he wanted someone to play with, although it afforded me quality time with him as I was the oldest of five siblings. He bought me books by chess masters, we worked on openings, various pre-set boards, strategies, etc. I'll never forget the day I finally won a match—I ran through the house cheering in jubilation. Years later, I taught gifted children and utilized chess to teach life lessons and critical thinking skills. I do thank my father for teaching me the game and miss him dearly.
For this reporter, in my seventh year of covering the awards, the Red or rather Blue Carpet moments with talent were sorely missed. Sharing these moments with talent is what brings a production full circle in my profession. Also missed are the unexpected pleasures of seeing familiar faces from past events and reconnecting one to one. Lastly, in terms of delving deeper into a film or television series, those moments can happen by chatting with a wide variety of cast and crew, as in producers, songwriters, costume designers, makeup artists, and visual effects supervisors.
There was a void this year, of talent looking you in the eyes, and vice versa, telling you first-hand stories. A few years ago, when talking to Brooklyn Prince—who later won the award for Best Young Actor/Actress for "The Florida Project"—I reassured her not to be nervous that if she wins, whatever she says during her acceptance speech would be just fine. No doubt, I would have perhaps chatted with eight-year-old Alan Kim of "Minari," this year's winner of the award, to ease him into the evening. As a former teacher, I've always made it a point to speak with the children and teens that walk the carpet. It turns out, his speech made headlines with news outlets, and became a favorite of the evening. Kim gave a heartfelt speech while crying through most of it, as Prince did in 2019.
In past Critics Choice Awards shows, talent and critics are seated in the same room during the live telecast broadcast on The CW, while providing yet another opportunity to chat casually with talent and again meet new talent or reconnect. During my first awards show, I was seated next to Sir Ben Kingsley, who presented the Best Picture Award for the evening. We chatted about past roles—"Gandhi" in particular—his knighthood ceremony at the Palace by Queen Elizabeth, his life in both London and Beverly Hills, and his philosophical view of future roles. During last year's awards, I was seated next to Rita Moreno, which became a reconnection. In 2009, I interviewed her and conducted a Q&A with her, George Chakiris, and Russ Tamblyn before a theatrical screening outside of Chicago of "West Side Story." During a commercial break, Rita asked me if I would watch her purse as she'd like to speak with Quentin Tarantino, who was seated at a table over from ours. The commercial breaks in which talent and critics mingle were also missed.
This year, the press checked in early via Zoom and were given instructions that winning talent would become available throughout the evening. Each individual or group was given five minutes to answer questions. We could not submit questions, nor did we know who would be arriving until usually a few minutes before they were logged into the press room. When talent did appear, we were to click the raised hand icon if we had a question, and our moderator called on critics to ask questions. Of course, these questions were short, with no follow-up questions. The system worked fine, without any glitches, and it was thrilling to see what the talent was wearing, even if it was only from the waist up. Interviewing the winners provided a celebratory atmosphere for all.
While watching the show and simultaneously working in the press room, critics were able to hear talent's acceptance speeches. Focusing on the women winners: Chloé Zhao became the first Chinese film director and writer to win in the respective categories for her film "Nomadland" based on Jessica Bruder's 2017 book Nomadland: Surviving America in the Twenty-First Century. Her third feature is set in the aftermath of the Great Recession and tells the story of Fern (Frances McDormand), a woman who moves into her camper van and travels across the American West to find work.
Zhao's speech for her Best Director Award included a dedication to the film's production sound mixer, Michael Wolf Snyder, who passed away recently. "The best moments of our day were with the whole crew watching Wolf, and he would say, 'Alright, everyone get ready to go to your Zen place.' And we did. Thank you, Wolf, we honor you, and we will see you down the road," said Zhao.
The SeeHer award, established in 2016, is always a favorite moment in the show. The goal is to recognize a woman who embodies the values set forth by the SeeHer movement. It's given to women who "push boundaries, defy stereotypes, and acknowledge the importance of authentic portrayals of women and girls across the entertainment landscape."
Zendaya, a 24-year-old singer, dancer, and actor is the recipient of the 2021 accolade; she spoke about gratitude. "Thank you to the Critics Choice Association for this incredible honor. This means so much to me. I think, as I was thinking of things to say, the only real thing I can think of is, is gratitude.
"This word keeps coming to my mind, especially with the year that everyone has had to continue to be grateful for every single moment, big and small, to be grateful and for the people in our world and in our life, that make the work we do possible, to continue to make sure we hold on to our loved ones a little bit tighter, make sure we call them to acknowledge them and tell them we love them.
"And, I take in moments like this, and I absolutely would not be here if it weren't for the incredible women that have paved the way for me to be here, so I'm also extremely grateful for those women." Past recipients include Viola Davis, Gal Gadot, Claire Foy, and Kristen Bell.
She also acknowledged that the award is "very, very special" to her.
Best Actress and Actor awards were given to Carey Mulligan for "Promising Young Woman" and the late Chadwick Boseman for his performance in "Ma Rainey's Black Bottom," respectively. Boseman's widow, Simone Ledward Boseman, accepted the award on his behalf. She said, "He would have thanked God, along with his mother and father. He would always acknowledge those that came before him, those who charted the path, those who gave him their gifts." She continued with a profound quote, "Societies grows great when old men plant trees knowing in whose shade they may never sit." Ending with, "I know our society is a far cry from great, but I know the seeds you (referring to Chadwick) planted will grow into a forest."
The film "Promising Young Woman" is an edge-of-your-seat black comedy that centers on a woman, Cassie Thomas (Carey Mulligan), who sets out to avenge her medical school college friend's sexual assault. In Carey Mulligan's acceptance speech, she touched on the fact that International Women's Day was on the horizon, March 8, and that she's so honored to be nominated amongst all of them as influencers. She thanked writer/director Emerald Fennell for her guidance as well as producer Margot Robbie and others.
Michelle Buteau, of "Michelle Buteau: Welcome to Buteaupia" tied for Best Comedy Special. In the press room she was asked, "What would you say to that little girl who is watching?" She replied, "I would say, you are enough, you are always enough, we always feel like we need to do more, we need to look this way or buy this thing when you start living in your own skin, that's when you fit into your own world and what the definition of being a winner is all about."
Upon reflection, it was an admirable effort to continue the Critics Choice Awards tradition during the current pandemic, and I appreciate all of the work that went into making the show possible. Our diverse group of over 400 members appreciates the work of film and television industry, and we also enjoy honoring them. The excitement and gratefulness were evident; I'm hopeful all will be back to normal for next year's show.