Two by Louis Valray: La Belle de Nuit and Escale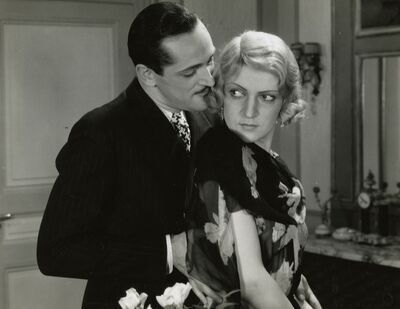 "Quite simply, the ancestor of the New Wave": That's how director and former Cahiers du cinéma critic Paul Vecchiali described French director Louis Valray, who "shot outdoors, produced and edited his films himself," years before the likes of François Truffaut and Jean-Luc Godard made their names while doing the same.
You say you've never heard of Valray? That's not surprising. He made two full-length features—"La Belle de Nuit" in 1934 and "Escale" in 1935—and, after a stint in radio, essentially disappeared. Valray made his movies with low budgets and like the New Wave auteurs, used that to spur creativity. Unlike the New Wave, Valray's box office results were unimpressive, and good reviews didn't help. When Vecchiali was investigating Valray for a book about 1930s French cinema, all he could find was that the former filmmaker worked for the Péchiney SA aluminum conglomerate after the war and died in 1972. Asked why Valray and others have been forgotten, Vecchiali replied, "Because we live in a world without roots. And film people … have a culture of forgetting."
But sometimes all it takes is fresh and discerning eyes to discover an artist—it's hard to say Valray has been rediscovered when he appears to have been driven from the business by sheer indifference. Valray's films were already highly regarded by the likes of Bertrand Tavernier and Pierre Rissient, but the key breakthrough came a few years ago when Serge Bromberg of Lobster Films chanced to see a battered print of "La Belle de Nuit." Enchanted, Bromberg became determined to restore it. This he was able to do after locating the camera negative at France's Centre National du Cinéma, where "La Belle de Nuit" had sat for decades, waiting for someone to care enough to ask for it.
The two features were screened in January 2020 at the 17th annual To Save and Project, the film-preservation annual event for the Museum of Modern Art. Those who missed their chance to see "La Belle de Nuit" and "Escale" have another: The films are streaming now through March 18 at the MoMA Film website.
The films center on sexual betrayal by women and the reactions of jealous men, but Valray adds a number of twists to that age-old structure. "La Belle de Nuit" begins in a Paris theater on opening night, a whimsical choice for a film that unspools with blithe disregard for how a French film of the period was supposed to move and sound. The central couple consists of Maryse (Vera Korène), the elegant blonde star of the play, and Claude Davène (Aimé Clariond), the playwright who writes his heart out for her. Into this domestic—but apparently not legally wedded—bliss slithers Jean (Jacques Dumesnil), Claude's best friend, ready to do what best friends in cinema do, which is seduce their pal's girl.
Claude discovers the betrayal, and thereafter Valray's full individuality asserts itself. The Paris scenes are primarily set-bound, though they are backed with imaginative sound and implement off-kilter angles and a variety of looking-glass shots that would have fascinated Douglas Sirk. Dressing-room mirrors show three Maryses combing their hair; a mirror reveals the hand of Maryse's friend palming a telltale calling card; Claude discovers Maryse's illicit kiss with Jean when he chances to see it reflected. But after he dumps Maryse, Claude heads south for the Riviera, and La Belle de Nuit gives way to a tour of dockside red-light districts.
The narrow streets illuminated only by the light spilling from various dives, the shadowed doorways and the variously exhausted and embittered faces strongly recall the photographs of Brassaï in the same era; but the film also looks forward to the high style of film noir a decade later. Valray keeps his camera on certain people for such a long time that you may be fooled into thinking, for instance, that a darkly attractive prostitute with an unusual black-strapped dress is surely a character; she is not. Claude is instead fated to encounter Maïthé, another sex worker and an uncanny double for the faithless Maryse (Maïthé is played also by Korene). But rather than plunge into an affair, Claude hires the cynical, fatalistic Maïthé to wreak revenge on Jean. More than a third into the movie, Valray thus introduces us to the most complex and emotionally involving character; Maïthé's fate is the one that resonates most.
"Escale" (literally, a stopover) eliminates Paris and heads straight for Marseille. Naval officer Jean (Pierre Nay) falls in love with Eva (Colette Darfeuil) one night at a cafe, even though she's the mistress of Dario, a gangster and bootlegger (Samson Fainsilber, who recalls the look and manner of pre-Code Ricardo Cortez). Eva runs away with Jean to a tropical island but is unable to keep from resuming her old ways, and her affair with Dario, when Jean goes back to sea.
The intense feel of sunlight, shadow, and wind that so entranced Vecchiali is much in evidence; the characters in "Escale" meet with trouble almost as soon as they step indoors. Inside there's a world of restless boredom and double-crosses at best, and drugs and degradation at worst, most memorably in a climactic traveling shot as Jean searches for Eva through the dives of Marseille.
Jean's servant Zama is played by the Senegal-born Francois "Féral" Benga, a renowned and strikingly beautiful dancer at the Folies-Bergère (where he sometimes partnered Josephine Baker) as well as a frequent model for the artists of the Harlem Renaissance; a nude statue of Benga by Richmond Barthé recent sold for a record price. Zama's childlike affect and devotion to his employer are distasteful colonial tropes, though the character's final action is not one an American movie would have been likely to permit at the time. "However demeaned, [Benga's] presence gives the movie added historical import," J. Hoberman wrote recently; "Escale," a part as the "Black Angel" in Jean Cocteau's "Blood of a Poet" (1930), and "Quand Minuit Sonnera" (Leo Joannon, 1936) appear to be the only films Benga made.
I can't find evidence that "La Belle de Nuit" was ever released in the U.S., but "Escale" was, under the title "Thirteen Days of Love," in 1942. It screened at Manhattan's 55th Street Playhouse in Manhattan, to terrible reviews. The New York Times called it "languidly sentimental trash." The zero-star Daily News writeup complained that there was no one to care about, and the film "bears evidence of antiquity" (the notion that old movies don't hold up goes back a long time). Some people evaluate a film like a novel—theme/character/plot—and bypass visuals, no matter how striking. MoMA is betting that modern audiences will appreciate the strange beauty of Louis Valray.