The Smoke Gets In Your Eyes Cinematic Universe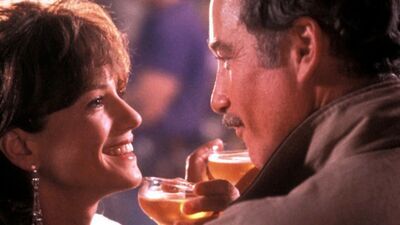 There are some songs that elicit a nostalgia so powerful it overwhelms the senses. To use a "Smoke Gets In Your Eyes" needle-drop in one's film is to reference an entire cinematic universe onto itself, filled with moments of slow dances, disintegrating romances, and delusion.
"Smoke Gets In Your Eyes" is a show tune written by Jerome Kern and Otto Harbach for the 1933 musical Roberta. It appeared in the 1935 film version of the musical and its 1952 sequel "Lovely to Look At." In 1958, The Platters recorded a version for their album Remember When? Kern's widow disliked the Platters' version, believing it was too melodramatic, to the point of taking legal action to prevent it from being distributed; Harbach felt they revived it with taste. It became a number one hit on the Billboard Hot 100 list in the United States and United Kingdom.
The song opens with the singer pondering,
They asked me how I knew my true love was true
The singer merely recalls a knowing feeling, unable to place it. Friends warn of the rising smoke that clouds your vision when your heart burns for another. The lover does not believe them, he laughs in their face. In the second half of the song, the singer's lover leaves and their friends ridicule them.
When a lovely flame dies smoke gets in your eyes
Harbach's lyrics recall how the love, the smoke, blurred the lovers' vision. The dissipating smoke from a distinguished candle or finished cigarette that stings your eyes is a sign that the love was real all along. It is a perfect encapsulation of how the value of something or someone does not fully sink in until it's gone. The Platters' lead tenor Tony Williams' voice is equal parts strong and smooth. While the song describes varying levels of infatuation and grief, their voices are all in harmony. The technical excellence of the song contrasted with its narrator's naïveté creates a breathtakingly bittersweet tune, making it the perfect song for moments of loss and love between partners.
Since then, The Platters version of the song is heard often in films, appearing in more than 15 including George Lucas' "American Graffiti," Hou Hsiao-hsien's "Three Times," Andrew Haigh's "45 Years," and most recently Isabel Sandoval's "Lingua Franca." It perfectly scores any scene in which lovers find themselves disconnected, their vision blurred by the smokescreen of love. While the song spans decades of cinematic history, every use recalls the delicate, loving nature of the original version. For films set in modern times, the song creates a sense of old-style love that feels out of reach in our age of smartphones and swiping.
Here are some of the top moments in the "Smoke Gets In Your Eyes" cinematic universe.
In 1935's "Roberta," John Kent (Randolph Scott) goes to Paris with his friend Huck Haines (Fred Astaire). After suddenly inheriting his aunt's dress shop there, John must put on a fashion show with the help of his love interest and the shop assistant Stephanie (Irene Dunne). In Paris, Huck runs into a woman known as "Countess Schwarwenka," whose real identity is Lizzie Gatz (Ginger Rogers), Huck's hometown sweetheart. Irene Dunne sings "Smoke Gets In Your Eyes," and Fred Astaire and Ginger Rogers only dance to it after they sing "Lovely to Look At."
The dance between Huck and Lizzie happens during the fashion show, with Rogers entering the scene slowly and moving in a way flattering to the gown. The choreography is uplifting, full of love. At first, the two walk in step, and then sway until their arms extend out and it truly begins. Astaire and Rogers glance at each other as though they're discovering the dance in real time, similar to falling in love. Their swift, delicate steps only intensify during the bridge, the point in the song that conveys doubt. The horns swell and Ginger is dipped. By the end, the two decide to get married and a lost flame starts to burn once more.
"Lovely to Look At," a 1952 remake of "Roberta," swaps Astaire and Rogers for Marge and Gower Champion. The two stand up and begin dancing around a quaint restaurant. Once they kiss, they are transported to outer space to dance among the stars. Clarisse (Marge Champion) is dipped at the beginning this time, this performance slower and more intimate. After all, these characters aren't performing for a crowd like Astaire and Rogers. The two are completely removed from their context, following dialogue early in the scene when Jerry (Gower Champion) describes dancing as the only way a man can have a woman all to himself in a crowded room. Champion's dress has a tulle skirt, flaring in and out more than Roger's dress. The view becomes distant before focusing back on their faces as the dance ends as it began, with a kiss.
Fassbinder's "The Bitter Tears of Petra Von Kant" is the first film to feature the Platters' version of the song, released in 1958. Based on Fassbinder's own play, the movie is set almost entirely in designer Petra Von Kant's (Margit Carstensen) home. After marriages that end in death or divorce, Petra only has fellow designer/assistant Marlene (Irm Hermann), whom she treats poorly. The song appears around ten minutes into the film as Petra plays the record in her room. In a beautiful, white robe, she puts on a curly wig and looks at herself in the mirror. As Marlene walks by, Petra takes her in and the two begin to slow dance. Marlene wears a sleek, black dress with a short hairstyle reminiscent of Ginger Rogers.
Marlene dances with her boss, and it is rather awkward. Petra is looking off into the distance as if remembering former and failed loves. Suddenly, Petra tells Marlene to hurry along and check the mail. This brief moment of forced intimacy reveals Petra and Marlene's dysfunctional relationship and hints at Petra's longing for women.
George Lucas' 1973 coming-of-age comedy "American Graffiti," uses the song in a more humorous context. Steve Bolander (Ron Howard) just broke up with his girlfriend Laurie Henderson (Cindy Williams) before leaving for college. At the school dance, he asks her to dance with him and is strongly rejected. Unfortunately for Laurie, the emcee calls the two to start the snowball dance given that Steve was class president and she the head cheerleader. The Platters' version begins to play and while they dance, Laurie reminds Steve of how much she fought for him because he was too scared to make the first move. He rejects this notion at first, claiming he asked her out. After going on to describe all the ways she made every first move, Laurie cries into Steve's shoulder. "What's wrong?", he asks. To which she promptly responds "Go to hell," before she grips tighter and wraps her arm around him. Similar to the arc of the song, Laurie is coming to terms with the reality of her and Steve's relationship as they dance. Even though she realizes it wasn't as rosy as she thought, she finds herself afraid to let go. The smoke lifts and she sees all the effort she put into the relationship
"Smoke Gets In Your Eyes" is used twice in Steven Spielberg's "Always" (1989). The first time is during Dorinda's (Holly Hunter) birthday party with her boyfriend Pete (Richard Dreyfuss), in which Dorinda wears a white dress and a wig similar to Fassbinder's Petra. Dorinda is angry Pete forgets "their" song. After a few moments of arguing, Pete says they should try the "point to the band" trick, because "it always works in the movies." When he points to the band, they begin playing "Smoke Gets In Your Eyes" with the lead vocals by J.D. Souther. This is reminiscent of "Lovely to Look At," when the band in the restaurant scores their dance. Pete, an aerial firefighter, is surrounded by all his friends and they each take turns dancing with Dorinda.
Later, Pete dies at work and becomes a spirit and begins guiding new pilot Ted (Brad Johnson). Emerging from a year of mourning, Dorinda and Ted begin to fall in love. Pete's ghost tries to interfere with their budding connection, and soon realizes he is meant to say a final goodbye to Dorinda. In the second scene featuring "Smoke Gets In Your Eyes," Dorinda plays the Platters' version while wearing the same white dress. She begins to dance alone, holding out her arms as if swaying with Pete. Pete's spirit then joins her, moving alongside without touching her, they smile at one another. At the end, he's disappeared and she finishes dancing alone before effortlessly leaning against the wall and blowing out a candle, extinguishing their flame once and for all. After this, Dorinda moves forward with Ted and Pete ascends to heaven.
Unlike the more romantic scenes that preceded it, Franco Zeffirelli's 1999 film "Tea with Mussolini" uses "Smoke Gets In Your Eyes" in a more historical context. At the top of the scene, Elsa, a wealthy American socialite portrayed by Cher, yells, "Where is my goddamn Picasso!" at her art dealer Cesare (Mino Bellei). After he says he'll get it for her, all is forgiven. She embraces him, melodramatically proclaiming her love. He then signals to the pianist to begin playing, and the music eventually turns into "Smoke Gets In Your Eyes." Elsa is dancing with a young Italian man. As Cesare recounts Elsa's Broadway career, she walks over to Connie (Tessa Pritchard) and takes her cigarette and says, "You're not gonna need that Connie," before she beautifully starts to sing, "When laughing friends deride …" Before the final line approaches, she walks over to the Italian man with a glass of champagne and blows smoke in his face. She sings the titular and final line and turns to walk towards the piano. The man follows her asking, "Are all American women as exciting as you?" She exhales smoke once more, slightly obscuring her own face, and with what can only be described as "Cher energy" replies, "Alas, no."
Not used in the context of a dance scene between established partners, this scene feels more lighthearted than its cinematic counterparts on the surface. Yet, it represents the collective delusions of the British and American elites living in Italy at the beginning of World War II. They think the state of the country won't impact them. Elsa is one of the last to come to terms with lover Vittorio's (Paolo Seganti) embezzlement scheme. Instead of romantic love, the smoke in their eyes is the collective faith that Mussolini will keep them safe and their privileges will save them. Unable to comprehend the history that is about to engulf them, the smoke rises from their expensive cigarettes, a blinding indulgence.
Hou Hsiao-hsien's "Three Times" (2005) opens with "Smoke Gets In Your Eyes" playing in a pool hall. This triptych stars Shu Qi and Chang Chen as three different couples in three different eras (1966, 1911, 2005) of 20th century Taiwan. During this first meeting in a pool hall, the song plays in the background while May (Shu Qi) stares at Chen (Chang Chen) with noticeable hunger. The two are on an even playing field from the start, in a kind of dance as they move around the table. The three parts, titled "A Time for Love," "A Time for Freedom," and "A Time for Youth," are portraits of unfilled loves full of distance and longing.
Hou himself has a distinct memory of playing pool with a fragmented memory of "Smoke Gets In Your Eyes" playing. While Hsaio-hsien himself does not fully understand this memory, using the song in the film encapsulates moments of loving and longing and never quite reaching one another. The nostalgia the characters have for one another is sometimes stronger than the love itself, a force that exists beyond time. Just as "Smoke Gets In Your Eyes" gracefully fits within any era of film, the three love stories in "Three Times" all reflect one another despite their temporal differences.
The pilot episode of "Mad Men" is titled "Smoke Gets In Your Eyes," yet the song does not appear within it. (Set in 1960, the episode takes place only two years after the chart-topping Platters version was released.) Don famously pitches the "It's Toasted" slogan for Lucky Strike, and the advertising world itself is a smokescreen, selling an American dream that does not truly exist. Along with the countless cigarettes smoked throughout the series, the title is a nod to more than just the show's aesthetic. The characters move through the '60s, always a sense of slight mismatch between when they experience cultural changes and when those shifts are consciously understood. This is one of the show's greatest strengths, illuminating how we are products of history and ultimately unable to understand the current moment until it's a distant memory, even those selling the moment.
In the season one finale, Don does a pitch for a Kodak wheel slide projector. Don describes nostalgia as a "twinge in your heart far more powerful than memory alone," reimagining it as a carousel instead of a wheel. Instead of just moving from photo to photo, a carousel is a complete cycle, like the way a child travels, "around and around and back home again." Rebranding it as a carousel plays on peoples' nostalgia for returning to idealized moments of the past and not the past itself. In J.D. Salinger's The Catcher in The Rye, Holden hears "Smoke Gets In Your Eyes" as his little sister Phoebe rides around and around on the carousel in Central Park. Holden cries as if smoke is in his eyes, watching Phoebe chasing the golden ring. Similarly, Don presents a carousel of memories unreachable in the current moment, a pure invention sold to elicit nostalgia as we realize the gaps between our golden-coated memories and reality.
"What do you think of that Platters song?" is the first question Kate (Charlotte Rampling) asks her husband Geoff (Tom Courtenay) in Andrew Haigh's drama "45 Years" (2015). "Smoke Gets In Your Eyes" is Kate and Geoff's wedding song, and is set to be played again during the first dance at their upcoming 45th wedding anniversary party. When Geoff gets a letter stating the remains of his ex-girlfriend Katya were found in the Swiss alps where she died decades earlier, Kate becomes curious about their relationship. As the night of the party approaches, Kate is struck by the lack of photos of her and Geoff around the house, their lack of children, and even their taste in music. When Kate discovers her and Katya's resemblance as young women, insecurity begins to cloud her thoughts and she tries to calculate how much of Geoff's attraction to her was merely a result of Katya's death. Looking through slide after slide in the attic, Kate sees the life she wishes they had in the photos of Katya's lost life.
A few days before the party, Kate's friend theorizes that men are more emotional during big events like weddings and anniversaries compared to women, because women already know how much these events mean beforehand. This theory manifests itself when Geoff breaks down crying while giving an earnest yet awkward speech at the party, while Kate, brilliantly portrayed by Rampling, forces a smile on her face. Later during their first dance, as The Platters' lead tenor Tony Williams' voice pierces the scene, Geoff smiles for what feels like the first time and Kate's facade finally shatters. Instead of being laid over the scene, the song lives within it—guests' voices are mixed with the recording, loudly singing and dancing along as the lyrics hit their emotional peak. During the song's final note, Geoff lifts Kate's hand which she immediately lets drop and we are left with her quivering lips and downward gaze as the credits roll. It is not clear whether the flame of Geoff and Kate's marriage is completely dead or not, but being left in Kate's moment of doubt makes the choice of song that much more appropriate and painful to end on.
"Lingua Franca" (2019) bears witness to the journey of Olivia (Isabel Sandoval), an undocumented Filipina trans woman working as a caregiver to elderly Olga in Brooklyn. Directed by Sandoval, the sensuous film is a social commentary on US immigration policies, in which political issues are explored through Olivia's desire to obtain a green card by marriage. She pays American-born Matthew to be her boyfriend, taking enough photos together as a couple to be convincing. When Olga's grandson Alex (Eamon Farren) moves in with her, Olivia's marriage of convenience takes a back seat to her sudden connection with Alex.
As the two grow closer, Olivia confesses her fears of being deported to the Philippines and they become romantically involved. During a trip to Atlantic City, the two take on aliases—Josh and Isabel—pretending to be strangers for the night as they meet in a dimly lit bar, reminiscent of the pool hall in "Three Times." They begin to slow dance, the two of them in the dark surrounded by few others, as a moving instrumental of "Smoke Gets In Your Eyes" plays in the background. In a moment of spontaneity, Alex says, "I'll marry you." They continue to dance before Olivia confesses she has to tell him something, as she has yet to disclose her trans identity. Unbeknownst to Olivia, Alex already knows and quickly responds "Doesn't matter." He is caught up in the moment, the fire of his heart filling the space between them. A smile beams across his face so bright it's visible in the darkness of the dance floor.
Sandoval's Olivia dances to an instrumental version of the song in a moment where her attraction to Alex begins to fade, the fantasy falling away. Without the vocals, the depth of the strings mirrors its swelling lyrics. Sandoval successfully references the song's cinematic imagery while creating a moment separate from that history. As always, the dim and colorful lights of night turn to the revealing light of morning. The two depart.
I recently spoke with Sandoval about her inspiration for using "Smoke Gets In Your Eyes" in "Lingua Franca." She reflected on her history of hearing the song in film:
I've heard of it a few times before and definitely from "45 Years" and also "Three Times" by Hou Hsiao-hsien. I just remember when I saw it in "Three Times," it came out about 14 years ago now, that it was in the pool hall scene that opened the film. It really made quite an impression on me. To be honest, listening to songs, I don't necessarily pay attention to the lyrics, but I can listen to the feeling or emotion that the melody evokes in me. I already thought of it before in "Three Times" and about how it conveys romantic yearning and longing. It's quite emotional and poignant without being cloying or overly sentimental. There's something that's also very grand and operatic about it. Especially it opens a film like "Three Times" which is three different love stories. That impression that I have of "Smoke Gets In Your Eyes" crystallized because of that film. A few years later, I saw it first in the trailer for "45 Years." It's about a love that resurfaces, bringing up jealousy and insecurities. The way it was used in the trailer made it quite compelling.
While there was no song playing as the scene was shot, Sandoval was pleasantly surprised when the instrumental version proved itself to be in sync with the characters' rhythm and movements. Admittedly, Sandoval used that version as it would be easier to secure the rights for compared to the Platters' take. She continues, "Consciously, I was trying to channel the repository of feelings … it's kind of a wink to cinephiles that I used 'Smoke Gets In Your Eyes.'"
Just through the ubiquity of its usage in cinema alone, "Smoke Gets In Your Eyes" has its own aesthetic lineage. As Sandoval noted, that "repository of feelings" can be recognized more consciously or can swell alongside the strings eliciting a more subdued recognition. For a filmmaker to use "Smoke Gets In Your Eyes" is to channel Astaire and Rogers, Fassbinder, and Hou in the same record while also conjuring the audience's nostalgia for long lost loves or those they never met. The more you move through cinema, the more these loves feel part of images in your own projector, stories merely witnessed like memories of the life you meant to live.