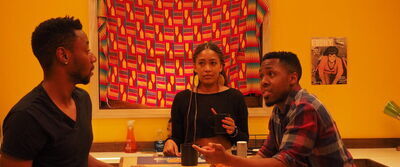 For the most part, an "inheritance" left to you by an older relative or loved one is considered a personalized, even intimate, gift. An heirloom, perhaps, or a collection of items, or maybe even a certain amount of money, or a home—some sort of one-to-one relationship between the person doing the giving, and the person doing the receiving. And Ephraim Asili's feature-length debut film "The Inheritance" begins with that setup: a young man inherits a West Philadelphia rowhome left to him by his grandmother. But "The Inheritance" deliberately and thought-provokingly shifts from that singular definition of "inheritance" to a broader, more inclusive one that speaks to generational struggle, collective sacrifice, and the Black American experience. Asili experiments with cinematic form as he considers "inheritance" as legacy, heritage, and tradition, resulting in an engrossing, challenging film that allures and confronts you in equal measure.
From 2010 to 2017, Asili produced a five-part series of short films he titled "The Diaspora Suite," which paired American and international locations in an exploration of the African diaspora: Hudson, Harlem, Ocean City, and Detroit; Ethiopia, Ghana, Brazil, and Jamaica. His 2013 film "American Hunger" featured Philadelphia, and that's where Asili returns here. A film shaped by Asili's own time in a Black liberationist group, "The Inheritance" introduces a scripted frame story about 20something Julian (Eric Lockley), who inherits his grandmother's home in West Philadelphia. The place is a treasure trove of books, records, films, artwork, posters, magazines, and all kinds of other cultural relics related to the African diaspora and the Black American experience. Asili deliberately shares the names of these authors, artists, and activities by composing shots in which these books and records are centered alone in the frame: Malcolm X, James Baldwin, Charles Mingus, Alice Walker, Stokely Carmichael, Ruby Dee, Angela Davis, W. E. B. Du Bois, Max Roach, Nikki Giovanni, Margaret Walker, Calvin Hernton, Sonia Sanchez, Ursula Rucker (the latter two women appear in the film, as well)—and those aren't even half of whom "The Inheritance" references.
You could build an entire curriculum out of this "archive of Black thought," as Asili says in the film's press notes, and that is essentially what Julian does. In a telling moment, his first conversation with girlfriend Gwen (Nozipho Mclean) includes his praise of Russian director Andrei Tarkovsky's 1986 film "The Sacrifice," which didn't interest her in the least; when Julian digs into the work of so many Black artists, though, Tarkovsky doesn't come up again. And with so much space on their hands, Gwen makes a suggestion: What if they open the home's doors to roommates who are also interested in living collaboratively, in dividing up expenses, and in devoting their lives to furthering awareness of and appreciation for the works of so many pivotal Black thinkers? Doesn't the community deserve a space like this? Don't they, as a group of Black Americans interested in the past that helped shape them, deserve such a place, too?
So they spruce up the space (which was actually built on a black box studio in Troy, New York, with every element of the rowhome handpicked by Asili) and then invite people in. The house, now dubbed the House of Ubuntu, is brightly decorated, with each room painted a different primary color, African-patterned fabric hung up as window curtains, and the living room transformed into a community library. In a nod to Jean-Luc Godard's 1967 film "La Chinoise," a poster for the film—about a group of young Maoists in Paris—hangs in the House of Ubuntu's kitchen. And "The Inheritance" follows these characters as they attempt to live together communally, despite sometimes-clashing personalities. Julian allows his skeptical friend Rich (Chris Jarrell) to move in, but Rich and Gwen can't stand each other. Stephanie (Aniya Picou) and Gwen become closer friends while living together, with Stephanie complaining to Gwen about a recent date she had with a white woman who expected Stephanie to be impressed by her interest in Black art ("It's so funny how hurt white people are when they love a Black movie and you say you don't like it"). Musicians Old Head (Julian Rozzell Jr.) and Jamel (Timothy Trumpet Jr.) mostly jam together, which can sometimes irritate others—like Jamel hogging the bathroom because he likes how the acoustics sound when he plays trumpet—but also inspires, as it does housemates Patricia (Nyabel Lual) and Janet (Aurielle Akerele) to learn more about music.
Each of these conversations furthers a goal for Asili, whether it's to underscore the indelible impact Black musicians have had on so many genres of American music, to mine the differences between those who sympathize with the collective and those who wonder at its real-world practicality, or emphasize the difference between real and artificial allyship. And yet there's lightness to this material that results in a variety of extremely funny moments, in particular when the house argues about wearing shoes indoors. Julian has made the rule, and he would like everyone to stick by it, and didn't they reach consensus on this during their last collective meeting? Would people be more responsive if, instead of saying "No shoes allowed," he turned the statement around to, "We are a shoeless home"?
Asili treats this rigorous discussion with light comedic remove, and other dialogue also makes for funny moments. Julian sincerely saying, "I'm not trying to be a counterrevolutionary or anything," or defending his messy eating of a mango with "This is how native people eat it!" Stephanie's snappy response when Old Head can't remember that that acronym RPRR stands for "Revolutionary People's Reading Room," and his eyeroll at her correction. Rich scoffing "Cost-share, Costco," in response to Julian's reminder that he owes a portion of the rent.
It's difficult to wrap one's head around a lifestyle change like this, and Asili honors the difficulty of that with these self-effacing moments. Although some of these conversations feel more forced than others, and some performances are noticeably green, Asili's intent is always clear, and his ensemble cast is always game. If "The Inheritance" were just a navigation of how a room full of people discusses and decides upon these topics in a productive, respectful way, that would itself be a fascinating social study. But Asili levels up to a grander approach by placing these characters who want to live by their own set of standards and rules in a lineage of other Black Americans who also pushed against the status quo. By weaving in archival photos and video footage, fourth-wall-breaking theatrical performances, and documentary-style presentations from members of the Black liberation group MOVE, who formed in Philadelphia in 1972, "The Inheritance" rejects traditional narrative structure.
Instead, there's a more naturalistic flow here that feels like Asili chasing one idea after another. Gwen wears a Shirley Chisholm for President sweatshirt, and Asili switches to footage of her on the campaign trail in 1972 ("You women better wake up if you want to change America"). Old Head and Mike (Michael A. Lake) perform lines from Aimé Césaire's play A Season in the Congo, delivering their increasingly frenzied line readings directly into the camera, until Asili zooms out and reveals that they're practicing a house production with Patricia and Gwen. Julian and Gwen pace back and forth in front of the camera, reading the same passages out loud from Ujamaa–Essays on Socialism by Julian Nyerere, trying to puzzle out his definition of "modern African socialism." And, most climatically, Asili devotes a large portion of the middle of the film to the group MOVE, which was led by the revolutionary figure John Africa. Three members of MOVE—Debbie Africa, Mike Africa Sr., and Mike Africa Jr.—stand before the collective, share their ideological beliefs, and recount how police harassment led to the 1985 police bombing of a MOVE house, the destruction of 61 homes in that neighborhood, and the murder of 11 MOVE members, including children. Because this is a story about America, you can probably guess what happened to the police vs. what happened to MOVE, and Asili gives Debbie, Mike Sr., and Mike Jr. time to tell their stories, only interrupting them to incorporate news footage from the 1970s and 1980s about the group.
In doing so, Asili forces us all—not just the film's cast, but also us as viewers—to bear witness. To acknowledge what the criminal justice system did to MOVE. To acknowledge the names of Black artists, writers, activists, musicians, scholars, academics, and politicians whose ideas and creations deserve our attention. To acknowledge that we too could make changes like this if we wanted—join a group of like-minded individuals, commit ourselves to a cause, and work toward a better tomorrow. To leave for our descendants an "inheritance" of our own that continues the gifts we were given. All of this is captured in one of the movie's in-real-time sequences, during which Julian, after an event honoring the work of poets Sanchez and Rucker, cleans up the room that was used for the community gathering. He puts sculptures and artwork back in their original spots. He folds tapestries that were hung on the walls. He rearranges chairs and other furniture. A dog wanders in, sees that Julian is busy, and wanders out. Julian is doing the work to make the room ready for the next day, and the day after that, and the day after that. That kind of essential work—unglamorous as it may be—is the investment required for a better tomorrow.
Now available in virtual cinemas.