Enter the World of Wong Kar Wai with One of Criterion's Best Box Sets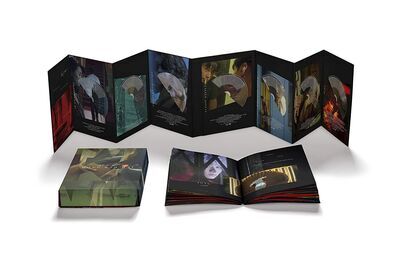 "A filmmaker is like a conductor—you have to set all the instruments to one tone." – Wong Kar Wai
One of the most refined and acclaimed conductors of cinema is the focus of Criterion's latest Blu-ray box set, joining acclaimed filmmakers like Ingmar Bergman, Federico Fellini, and Agnes Varda, all of whom also received must-own collections in the last couple years. "The World of Wong Kar Wai" is one of the best Blu-ray box sets in the history of the form, an assemblage of seven films from 1990 to 2004 (and one notable short from his collaboration "Eros") by the Hong Kong master craftsman. Some of his biggest films are missing ("Ashes of Time," "The Grandmaster," "My Blueberry Nights"), but this is still an incredibly comprehensive look at one of the most influential modern directors that allows further appreciation of his work with restorations that make some of them into very different experiences. Wong returned to all seven films to restore them last year and made some notable changes along the way, deepening and even changing some color palettes, and even altering the aspect ratio on one movie. An eternal perfectionist, Wong decided to refine his art instead of just polishing it, leading to some controversy in cinephile circles, to which Wong quotes Heraclitus in response: "No man steps in the same river twice, for it's not the same river and he's not the same man."
Wong's films are a river, always moving, and a bit different every time you step into them. The longing for connection that may be reflected in that river when one views these movies in their youth feels more elegiac in middle age. What's fascinating about watching the seven works in this collection is how much they speak to each other. There are direct connections between certain films in that some actually serve as sequels (often more spiritual than literal) with the same actors and character names, but the tonal impact of collecting these seven movies is more powerful. Each Wong Kar Wai film feels in conversation with the ones that came before it, and the power of this box set comes in feeling that process as each film makes the one that came before even richer. All seven of these movies are good—at least two are masterpieces—and each has not only been restored by Wong himself but is accompanied by special features, listed below, after brief thoughts on each film.
"As Tears Go By"
Wong Kar Wai (and we're going with the name approved by the filmmaker for this series instead of the common Wong Kar-wai) was born in Shanghai in 1958 but moved to Hong Kong when he was only five—that displacement would impact a great number of his films. He worked in soap operas before making his film debut with this 1988 thriller that feels heavily influenced by Martin Scorsese's "Mean Streets." Like that movie, it's the story of a wild young man causing trouble for his level-headed friend. Screened during the Directors' Fortnight of Cannes, the film stars future Wong regulars like Andy Lau and Maggie Cheung, who play cousins who fall in love. It's a vibrant, energetic debut that lacks some of the refinement of later Wong works, but can also easily see the potential master that would emerge in the '90s. Somewhat interestingly, it was one of Wong's most financially successful films, a box office hit that gave the director the cachet to make a more personal, poetic piece as his follow-up, a movie that would really define his style even as it stymied audiences looking for another shoot-'em-up.
"Days of Being Wild"
Wong Kar Wai's sophomore effort in 1990 was anything but a slump. Deeply personal and powerful, it's a film that shaped not only his future work but that of the many filmmakers who followed. Wong's trademark themes are present here, including what Manohla Dargis would later describe in her review of "2046" as a refusal "to be enslaved by traditional storytelling." The stunningly natural and charismatic Leslie Cheung plays a smooth talker who is clearly seeking the connection with the women he meets that he can't have in his emotional life because he's searching for his birth mother. The opening scene, in which he meets a woman (Maggie Cheung) with whom he will become romantically involved, is a stunning short film within itself. Watch the way Wong frames his two gorgeous stars as they flirt and develop their interest in one another, one minute at a time. From there, Wong must have frustrated audiences seeking a traditional love story as "Days of Being Wild" unfolds in an elliptical style, ending with a scene with Tony Leung for a sequel that never really happened (although it draws the connection from this film to "In the Mood for Love" and forms a loose trilogy with that work and "2046"). "Days of Being Wild" also marks Wong's first collaboration with Christopher Doyle, the cinematographer who would help define his style. The transfer here is stunning, a dreamy green-blue color palette that gives the entire piece the feeling of twilight. Note: There's an alternate version of the film available here for the first time.
Wong Kar Wai's international breakthrough came with this 1994 masterpiece, a two-sided look at life in Hong Kong in the '90s that would become one of the defining works of its era. Takeshi Kaneshiro and Tony Leung play Hong Kong cops looking for love and connection in one of the world's most crowded cities. The vibrant streets of Hong Kong are a character in this film that Roger Ebert felt recalled a time when the French New Wave was a bigger part of the American moviegoing experience. It's interesting that Roger never gave a Wong film over three stars, and his review of this one is particularly fascinating in that it almost seems to criticize the movie for not appealing to average American audiences. He writes, "This is the kind of movie you'll relate to if you love film itself, rather than its surface aspects such as story and stars. It's not a movie for casual audiences, and it may not reveal all its secrets the first time through." He goes on to say, "Many of today's younger filmgoers, fed only by the narrow selections at video stores, are not as curious or knowledgeable and may simply be puzzled by 'Chungking Express' instead of challenged." While he was right that Wong would never be for casual audiences, he underestimated the way his reputation would grow and develop from this movie, finding film lovers who want to be challenged and even respect being puzzled. Like his other flat-out masterpiece, "In the Mood for Love," this film gets richer with each viewing. It had already been released on a Criterion Blu-ray but it's now available in this set with the new 4K digital restoration approved by WKW with a new 5.1 surround DTS-HD Master Audio soundtrack.
When WKW conceived "Chungking Express," it was originally a triptych, but the third story grew so much that he essentially spun it off into its own film. He says on one of the special features here that he believes "Chungking" and "Fallen Angels" should be watched as a double feature to fully appreciate the experience as he intended it. Again, Wong experiments with overlapping narratives, but this film is largely remembered for its visual style, a frantic, wide-lensed experience that drew comparisons to music video culture of the '90s. It's a darker flip side to "Chungking," chronicling a hitman (Leon Lai) and the woman (Michelle Reis) who cleans his apartment, even though they rarely connect. Night lives and day lives that don't intersect, connections that aren't physical, brutality countered with dreamy romance—this couldn't be mistaken for a film by anyone but Wong, which actually led to some criticism that he was already becoming self-indulgent. It's worth noting that this is the film in this set that feels like it's been changed the most drastically in the restoration process because Wong has altered the format to CinemaScope, which he originally intended. It gives the film an even wider, broader feeling, and makes its characters feel even smaller amidst the chaos and lights of Hong Kong at night. This disc includes one of the best special features in the set, an "interview" in which Wong answers ten questions from filmmakers around the world, including Sofia Coppola and Rian Johnson. (Note while we're on aspect ratios: "Chungking Express" and "In the Mood for Love" were released theatrically in 1.66:1 and converted to 1.85:1 on video, but have been returned to their original ratio here.)
"Happy Together"
If "Fallen Angels" felt a little too detached for some viewers, Wong Kar Wai bounced back in 1997 with one of his most emotionally resonant films, a romance starring Tony Leung and Leslie Cheung as a couple traveling through Argentina. Wong has long been fascinated by the Hong Kong handover to China in 1997 (it surfaces in other works too), and so he uses the emotion of that giant event about change on a broad scale to examine change on a more intimate one, looking at how the country's LGBTQ community faced an unknown future. Christopher Doyle's cinematography here is some of the best of his career, and the lead performances from Leung and Cheung stand among some of the best in the entire Wong oeuvre. There's a deep humanity in "Happy Together" that reflects the more romantic side of Wong's work, pulsing with passion and emotion. During a fire in 2019, some of the original negative of "Happy Together" was destroyed, which means that this version is actually shorter than the theatrical, and some of Tony Leung's monologues have been trimmed.
"In the Mood for Love"
Wong Kar Wai would usher in the new millennium with an old-fashioned film about longing and connection that would be widely hailed as his masterpiece. Set in Hong Kong in 1962, "In the Mood for Love" stars Tony Leung as Chow Mo-Wan (technically the character he plays in the epilogue of "Days of Being Wild") and Maggie Cheung as Su Li-Zhen (the same as the character she played in "Days" as well). They play two strangers who meet when they happen to move into neighboring apartments on the same day, and they begin a quiet flirtation that may not have amounted to anything at all if they didn't discover a secret about their spouses that connects them. Wong reached the apex of his ability to "set all the instruments to one tone" with this film, blending Doyle's dreamy cinematography with unforgettable costume design and music choices that almost feel like they're emerging from the characters themselves. It is both dreamlike and grounded in relatable human emotion. "In the Mood for Love" is a flat-out masterpiece, and while it was previously available in the Criterion Collection, it's particularly rewarding to see its place in this seven-film set. It feels even more like a culmination of the Wong films that came before it, the top of an artistic mountain he was climbing all through the '90s.
"2046"
Wong Kar Wai has often been accused of being elliptical in a way that defies simple explanation. This is most true of the final film in this collection, a closing chapter to a trilogy formed by "Days of Being Wild" and "In the Mood for Love," although that makes "2046" sound more literal than it is. Sure, characters return, played by the same actors, but time and space fold in on each other in this challenging film, one that Roger didn't particularly like after an incomplete Cannes screening but that grew a critical following when it was eventually released. Watching it now, especially in the context of this set, feels more rewarding than when it came out. With each of the Wong films fresher in memory, it plays out more like the dream one would have after watching the other six movie, a perfect closing for a perfect box set.
Special Features
New 4K digital restorations of Chungking Express, Fallen Angels, Happy Together, In the Mood for Love, and 2046, approved by director Wong Kar Wai, with 5.1 surround DTS-HD Master Audio soundtracks
New 4K digital restorations of As Tears Go By and Days of Being Wild, with uncompressed monaural soundtracks
New program in which Wong answers questions submitted by authors André Aciman and Jonathan Lethem; filmmakers Sofia Coppola, Rian Johnson, Lisa Joy, and Chloé Zhao; cinematographers Philippe Le Sourd and Bradford Young; and filmmakers and founders/creative directors of Rodarte Kate and Laura Mulleavy
Alternate version of Days of Being Wild, on home video for the first time
Extended version of The Hand, a 2004 short film by Wong, available in the U.S. for the first time
Hua yang de nian hua, a 2000 short film by Wong
Interview and "cinema lesson" with Wong from 2001
Several programs featuring interviews with Wong; actors Maggie Cheung Man Yuk, Tony Leung Chiu Wai, Chang Chen, Faye Wong, and Ziyi Zhang; and others
Program from 2012 on In the Mood for Love's soundtrack
Deleted scenes, alternate endings, behind-the-scenes footage, a promo reel, music videos, and trailers
PLUS: Deluxe packaging, including a perfect-bound, French-fold book featuring lavish photography, an essay by critic John Powers, a director's note, and six collectible art prints