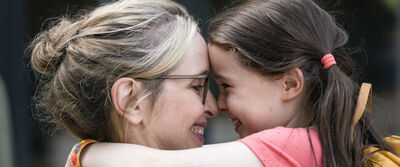 Julie Delpy seems to always be the life force for any film that she stars in. In Richard Linklater's romantic "Before" trilogy, her Céline was the sun; in her own projects as a writer/director/actor, she's embodied the slight screwball that can emerge from real-life situations, whether they involve electric relationships ("2 Days in Paris," "2 Days in New York") or romps about a jealous adult son's sabotage ("Lolo"). And because it's Delpy determining the energy, the movies are grounded in their own unique space, somewhere between "only in the movies" and "just like real life."
In "My Zoe," her latest film as a writer/director/actor, Delpy's character Isabelle is the mourning blue of its melancholic story, which presents a mother and ex-wife grieving over her daughter Zoe (Sophia Ally) falling into a coma, while clashing with her ex-husband James (Richard Armitage), and opting for a futuristic way out of her pain. Delpy handles this in such a raw, aching, trusting fashion. It is stunning then, to see Delpy claim in the film's press notes that it's not a personal story, so much as inspired by a fear of losing her own son. This is more about Delpy's imagination about such a horror, and yet it has the compelling stream of consciousness of watching someone write a journal entry. It's a strong testament to her emotional boldness as a storyteller, in front of and behind the camera.
There is a great deal of slowly building sadness in this story for Delpy's Isabelle, starting with the failed marriage that we get glimpses of in numerous spiteful conversations. Before Zoe is in a coma, the film's biggest problem is about the couple sharing custody of their daughter, trading days and finding some balance, her job as an immunologist often getting in the way. James is vengeful about how the marriage ended, even though there's a clear urgency within him to try to salvage it. Isabelle broke it long ago, and though she hugs him when he asks for it after a fight early into the movie, she does so with her eyes wide open.
One morning while staying with Isabelle, Zoe does not wake up. Her comatose state, brought by an aneurysm after a playground accident the day before, is a nightmare that the film slowly slinks into. Inside a Berlin hospital, Isabelle and James wait for answers and volley their angst, while Stephane Fontaine's cinematography sometimes catches their spats from a distance, always with an icy blue sheen. With dialogue that's sometimes clunky with backstory about their complicated past, they seem to only find a break when Zoe's latest news proves too much bear. Blame about Zoe's condition becomes the only type of resolve that seems in grasp. The news gets worse and worse, and Delpy and Armitage show the natural, quiet wear these developments would have on a parent.
Grief can be freeing, in one small way: it makes one realize what normalities do not matter in the bigger picture. That sense comes in a stolen moment in which James sits next to a similarly broken Isabelle, and slightly reaches for her hand—the desperation to choose peace and comfort instead. And it comes in a major development in Delpy's gradual storytelling, when Isabelle goes to Russia, alone, to see a controversial embryo doctor named Thomas (Daniel Brühl) who might be able to help clone Zoe. "I want to smell her little head again," Isabelle pleads.
Like a lot of facets in this movie, you go along with Delpy's emotional propulsion, the same with its more subtle scientific touches (like the world-building that comes from Isabelle's large wristband that turns into a large, flat phone). Thomas is initially hesitant to help, but he sees the pain in Isabelle and agrees, leading to conversations with his own wife Laura (played by Gemma Arterton), who disagrees with human cloning. Though its placement in the story is intriguing, this subplot can show the weakness of Delpy's ease, as Thomas and Laura almost put too fine a point of how Delpy the writer/director is embodying this story simply so that others can understand why Isabelle is being so audacious.
But "My Zoe" always comes back to Delpy on-screen, and the way that the movie wants us to process Isabelle's experience right alongside her. The film's energy is her restrained performance, her heavy emotions expressed with muted urgency; the movie switching between scenes of Isabelle's pain swallowed, and then Isabelle's lone determination to do the scientifically improbable. For whatever "My Zoe" lacks in story momentum, it largely makes up with Delpy's transparent, sincere dedication to presenting such an unfathomable experience. "My Zoe" dares to lead with its feelings, and that fearlessness provides a striking spectacle itself.