Mike Nichols: A Life is a Must-Read Memoir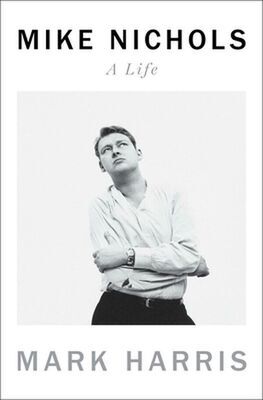 The brilliant Mark Harris (Pictures at a Revolution, Five Came Back) returns this month with the release of his already bestselling Mike Nichols: A Life. It's a memoir that avoids all of the trappings of its genre by being so remarkably nuanced and humanist that one feels like they know not only its subject better but the people who came up around him. Memoirs often struggle through anecdotal recounting of events. Someone who knew the subject recalls what he was like as a young man, and the author then shapes that into something entertaining, but often comes up short in that department merely through the required repetition of "Then this happened, then this happened, then this happened, and so on." Harris packs an amazing amount of information into each paragraph of this lengthy volume (over 600 pages with notes), but he avoids the dry nature that often comes with such research and hearsay. As cheesy as it may sound, he brings the details to life, which perfectly fits a subject who had an incredible gift at finding relatable humanity through his remarkable craftsmanship. This is a must-own for all movie fans, even those who have never heard of Mike Nichols.
Mike Nichols: A Life takes a chronological approach to its subject, but what really elevates it is how much it never loses its focus on the second half of its title. Many writers would have approached Nichols' life as a sequence of projects—a chapter on his landmark comedy work with Elaine May, a chapter on his Broadway production of Barefoot in the Park, a chapter on "Who's Afraid of Virginia Woolf?," and so on and so on—but Harris very keenly presents how Nichols' art emerged from his personal life and interests instead of starting with the art first. He never loses sight of the man himself, which happens in memoirs that can be so enraptured with the final products of artists that they focus more on the art than the people who made it. Harris' approach never falters in that regard, whether he's recounting the personal dramas that played out on stage for May & Nichols or even how that dynamic then fed into Nichols' approach to the Albee play that would change his professional life.
Harris is also just gifted at the kind of subtle turns of phrase that undoubtedly would have impressed Mike Nichols. Again, it's that fine line between dry chronology and writing that calls too much attention away from its subject, which Harris never does, and yet he has crafted a memoir that is as easy to read and enjoyable as any in years. He understandably takes a chronological approach to the life of Nichols but he doesn't just place events on a timeline as much as he details how one chapter in this influential life fed into the next. Nichols came alive when he discovered his talent to direct on Barefoot in the Park, and the greatest compliment one can pay this book is that it continues that same kind of life and energy that its subject found when he was behind the camera.
Rather than go on and on about a must-read, we thought it might be fun to look at some of the things that Roger Ebert has written about Mike Nichols over the years. Pick up your copy of Mike Nichols: A Life here.
""Carnal Knowledge" is clearly Mike Nichols' best film. It sets out to tell us certain things about these few characters and their sexual crucifixions, and it succeeds. It doesn't go for cheap or facile laughs, or inappropriate symbolism, or a phony kind of contemporary feeling."
From Roger's notoriously mixed review of "The Graduate"
"Is "The Graduate" a bad movie? Not at all. It is a good topical movie whose time has passed, leaving it stranded in an earlier age. I give it three stars out of delight for the material it contains; to watch it today is like opening a time capsule. To know that the movie once spoke strongly to a generation is to understand how deep the generation gap ran during that extraordinary time in the late 1960s. There were true rebels in movies of the period (see "Easy Rider"), but Benjamin Braddock was not one of them. I wonder how long it took him to get into plastics."
"Silkwood"
"When the Karen Silkwood story was first being talked about as a movie project, I pictured it as an angry political expose, maybe "The China Syndrome, Part 2." There'd be the noble, young nuclear worker, the evil conglomerate, and, looming above, the death's-head of a mushroom cloud. That could have been a good movie, but predictable. Mike Nichols' "Silkwood" is not predictable. That's because he's not telling the story of a conspiracy, he's telling the story of a human life. There are villains in his story, but none with motives we can't understand. After Karen is dead and the movie is over, we realize this is a lot more movie than perhaps we were expecting."
"By the time we get to the last scenes, the movie plays like a thriller, and that's all the more effective because we weren't exactly bracing for that. "Working Girl" is Nichols returning to the top of his form, and Griffith finding hers."
"Wolf"
"Like many Nichols movies, "Wolf" gains by surrounding the story with sharply seen places and details. The publishing house inhabits a classic old architectural landmark with an open atrium (ideal for a wolf who wants to eavesdrop), and other action takes place at the millionaire's estate, with its vast lawns and forests, its Gothic main house, and its rambling outbuildings and guest cottages. The atmosphere adds to the effect; it would be difficult to stage a werewolf story in a condo."
"Primary Colors"
"The director, Mike Nichols, and the writer, his longtime collaborator Elaine May, have put an astonishing amount of information on the screen, yes, but that wasn't the hard part. Their real accomplishment is to blend so many stories and details into an observant picture that holds together. We see that Jack Stanton, the presidential candidate in the film, is a flawed charmer with a weakness for bimbos, but we also see what makes him attractive even to those who know the worst: He listens and cares, and knows how to be an effective politician."