Dominique Fishback on Judas and the Black Messiah, Portraying Akua Njeri, and More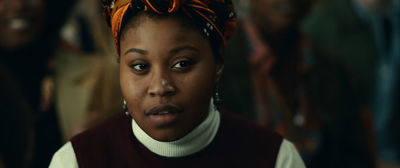 The title might say "Judas and the Black Messiah," but there's a third integral figure in the Chairman Fred Hampton biopic directed by Shaka King. Her name is Akua Njeri, nee Deborah Johnson, and she was the fiancé to Chairman Hampton. She's played in the film by the indomitable Dominique Fishback, a young actress whose already stellar career includes a role in the crime series "The Deuce," as well as larger performances in affecting films like "Night Comes On" and "The Hate U Give." While William O'Neal (Lakeith Stanfield) gives us a window into the political life of Hampton (Daniel Kaluuya), it's Johnson's character who offers viewers the softer personality at the heart of this passionate black leader.
Fishback, who spoke to RogerEbert.com by video, is as assured, multifaceted, and vibrant as the historical woman she portrays in King's crime suspense film. In an interview, she spoke about building chemistry with her co-star, writing poetry, and the hope of seeing a film about a black woman revolutionary.
As I understand, you worked with Mother Akua (formerly Deborah Johnson) to build Deborah's character.
I feel really fortunate because although Chairman Fred Jr was on set most of the time, if not every day, Mama Akua wasn't. She allowed me to develop the character. When we went to the family house in Chicago, right before filming, there were only two things she mentioned. She said that the Panthers were very disciplined and they didn't speak out of turn. Also there were certain things she would never say to Chairman Fred that my character says in the movie. Mama Akua is so fiery and expressive. She speaks her mind. So I had to open myself up and say, "Okay. If she feels strongly about these words, how can I try to avoid saying them in the way she might be sensing from reading them?"
Then I realized that Chairman Fred won the trust of the people on both a public and a personal level. And when you learn how to trust people in that manner, you don't have to be defensive or on guard. So when I learned how to trust Daniel, and everybody who was beside me, I understood how a woman as fiery as her, and like myself, could flow with this, could vibe with this. That influenced me in terms of how I wanted to express myself to Daniel in the scenes. She also shared how when the FBI assassinated Chairman Fred, she did not cry right. That was very important.
But for the rest of it, I just journaled as a character. Like I asked Shaka if I could have the journal she carries in the movie. In it I made poems about every moment they had, such as their first kiss. I named his dimples in some of the poems. So I really went into the emotional world of the characters. So even though we don't get to see all of those poems, or hear the journal entries, we know that there's a world inside of her when she looks at him.
I find how young Chairman Hampton and Deborah Johnson were, 21 and 19 respectively, to be wild. Did their youth ever enter into your mind?
I think Daniel and I knew that obviously the speeches are for everybody; they're online. But we don't know the intimate moments. We wanted to bring in the fact that they were 19 and 21 years old. And although he's this powerful speaker, especially regarding political matters, when it comes to matters of the heart, maybe he's not. We can see the youthfulness in the moments when they want to kiss, but they don't know how to say it. And no one wants to be too forward and make the first move. We really wanted to see them in those private moments laughing and being jovial.
How did you build your chemistry with Daniel?
Fortunately it happened naturally. I mean, when we went to Chicago to meet Mama Akua, formerly known as Deborah Johnson, and Chairman Fred Hampton Jr, that was our first time getting to know each other. With Ryan Coogler and Charles King, we were all sitting around a table for over seven hours explaining why we wanted to do this film. So when we were questioned at that level, and we had to go in heart-first, then we got to know each other on a different level. I remember Daniel telling his story and how he galvanized me in that moment. I was seeing how I wanted to rise to the occasion to be that Debra Johnson to his Chairman Fred.
I had to do reshoots for "Project Power" for a month. So they started filming and doing rehearsals without me. Then I had to fly from New Orleans to Cleveland and become Deborah. But while they were doing rehearsals, I was speaking to Daniel on the phone and he would relay my thoughts to Shaka. He became an advocate for me and my spokesperson when I wasn't there. So I think we just had a level of trust for one another. We knew why we were doing this story. And we just had fun. I remember just watching him take up space. I would share some of my poems with him that I wrote as Deborah. As a cast, we went bowling and went to the movies. Just to see what it would be like, I would try to make sure that each time we did some of those things, I sat next to him.
And from my understanding, you wrote the poem that you read aloud in the film. What was the writing process?
It actually happened really early on in the process. Shaka met with me and asked me to read the script and let him know my thoughts. One of the first things she says to Chairman Fred is "Do you like poetry?" But then we never hear a poem. I told Shaka, I think we're missing an opportunity if we don't hear a poem. He said I think you're right. "Do you want to take a shot at that poem?" I was not expecting that at all. I didn't even know if she was going to be the one to recite it.
I think I was on set in the hair and makeup trailer, later, and I got an email from him asking how the poem was coming along. I hadn't even written it. I think that was a bit of self-sabotage. I think I was a little bit nervous. But once I started putting my head down to paper, I finished it in one sitting. I just thought about what would a mother want to see? I remember Chairman Fred's dimples. Of course you want the baby to have a dimple. Daniel has a twinkle in his eye. I wanted the baby to have a twinkle. Shaka also wanted the poem to be paired with the idea that they're in a war. So I really tried to think about the dualities of being a mother and bringing a kid into this world.
Along with poetry, you're also writing a book. Have you ever thought about moving behind the camera for writing and directing?
So funnily enough, right before I got the email from Shaka about this movie, I was reading A Taste of Power by Elaine Brown, who was a Black Panther in the Oakland chapter. I wanted to write my own Romeo and Juliet version of the Black Panther party. I wrote it as a pilot, in fact, for an anthology series. So writing and acting have always gone hand-in-hand for me.
When I was on "The Deuce," I asked if I could be in the writer's room during season one. But they didn't want us to know what was going to happen to our characters, so they suggested that I shadow a director. I shadowed a director and I thought I wasn't that into it. But when I went to Sundance for the first time with Jordana Spiro, who co-wrote and directed "Night Comes On," she was like, "You say you don't want to be a director, but you're always asking about camera setups and lenses." Then when I saw all of the amazing women directors at Sundance, I thought maybe I do want to do that. I got to shadow another director on the second season of "The Deuce," and that time I really paid attention to all the aspects.
There are more than a few films about black male revolutionaries, but almost none pertaining to women. What black women revolutionaries would you like to see receive the cinematic treatment?
Assata Shakur and Angela Davis. I was reading a book. And there was a line that talked about when she was on the run, how the police would pull women over anybody who had a big Afro under the suspicion of being Angela. I always thought that was a great title—"On the Suspicion of Being Angela."
You've gotta copyright that!
I kinda exposed myself. I'm gonna go email it to myself. A poor man's copyright. You know? [laughs]
To read Robert Daniels' interview with Daniel Kaluuya and Chairman Fred Hampton Jr., click here. To read Odie Henderson's review of "Judas and the Black Messiah," click here.