2021 Rotterdam International Film Festival Highlights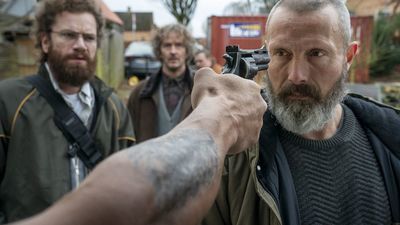 The 2021 Rotterdam International Film Festival kicked off its all-virtual 50th anniversary edition on February 1, running through a brief week to February 7, and presenting three trademark sections of adventurous work. Showcasing emerging directors has endured as the festival's signature. Among other notables, Rotterdam was championing films from Asia and the Middle East long before it was a given on the world festival scene. Launched in 1972 by Netherlands native Huub Bals, who died suddenly in 1988, the festival has remained faithful to its founder's passionate dedication to non-traditional, non-mainstream cinema.
Once upon a time, attending an international film festival in a foreign location would mean the bonus of social and cultural discoveries beyond the theater doors. The city of Rotterdam, nearly bombed into oblivion in WWII, unfolds a gleaming landscape of postwar space-age architecture, punctuated here and there by brick-and-mortar remnants of a pre-war city. In past years, the wintery Rotterdam city center would be alive with crowds packing the festival's premier location, the huge steel box of the Pathé multiplex, which always seemed to be on the verge of levitating on the massive cloud of cigarette smoke that filled the cavernous multi-level lobby from morning till night.
Clicking through festival press screenings on a home screen can hardly compare, except that this year's Rotterdam festival still has the quirky energy, the air of discovery, and the taste for the occasional in-your-face weird film that makes this festival unique. Featured in the non-competitive Limelight lineup of the festival, and a hit in Denmark now making its international premiere at Rotterdam, the opening night film "Riders of Justice" by Anders Thomas Jensen, set a distinctive offbeat tone for the week to come.
In "Riders," as in Jensen's demented 2015 comedy "Men & Chicken," Mads Mikkelsen stars in a role split between farce and fierceness, the flip side of the dapper alcoholic schoolteacher he plays in his current Golden Globe-nominated hit "Another Round." The loony satirical plot mixes strains of Hong Kong action, Three Stooges-like slapstick, and quasi-comic family revenge, with an underlying theme of DIY grief therapy.
An explosive train derailment leaves a woman dead and her young teen daughter Mathilde motherless. In the aftermath, an uneasy alliance of convenience forms between a trio of clownish data analysts, one of whom was also a survivor of the wreck, and the girl's dad Markus (Mikkelsen), a hardened active-duty military man with a shaved head and a hair-trigger temper. The obsessed analysts move in with father and daughter in their remote rural home, and work to prove their theory that it was statistically impossible for the tragic event to be an accident. Suspicion falls on the members of a notorious motorcycle gang whose motive was to eliminate a witness in an upcoming trial.
Analysis of the apparent crime leads naturally to mayhem, which includes novelty kills and a mounting rate of revenge slaughter engineered by Markus, who unleashes his alter ego as a homicidal maniac, reminiscent of roles Mikkelsen played in films including "Pusher" and "Valhalla Rising." It's a volatile fairy tale with a wink-wink factor, all leavened by a contrasting deep-dive into pathos, and a finale that reconstitutes family values for a family of a new order.
Rotterdam's Big Screen Competition, "bridging the gap between popular, classic, and art house cinema" tempted and intrigued with a selection of fifteen films representing thirteen different nations. The ultimate prizewinner in this category, announced on closing night, February 7, is the Argentinian film "The Dog Who Wouldn't Be Quiet" by Ana Katz. Significant attention was garnered in the film's just-prior world premiere at Sundance, marking it as a sure lasting presence on the international festival circuit. "Dog" is a pleasingly meandering tongue-in-cheek saga of a hapless illustrator whose life events come to be bookended by catalysts including a paradoxically silent pet and a wayward meteor.
Overlooked by the jury, but a world premiere film with crowd-pleaser written all over it is "Sexual Drive" by Japanese director Yoshida Kota. Droll and highly suggestive, while depicting no actual sex, this compact triptych with a foodie angle is a delightful tease that features graphic images of some iconic Asian dishes. The comedian and voice actor known professionally as Kurita stars as a stranger of the same name, who drops in to wreak life-changing havoc in the love-lives of three couples.
In the first episode "Natto," nurse Megumi has just left for work when her husband receives a visit from Kurita, an odd little man with a seeming physical disability and an insinuating air of insolence under his obsequiousness. To the husband's astonishment, the visitor spins an increasingly erotic tale of the pleasures he claims to have received at Megumi's hands while her patient. Rage, arousal, a box of Chinese chestnuts, and Megumi's love for the fermented bean dish natto all figure into the husband's response when the guest departs and his hungry wife returns home.
In "Mapo Tofu," Akane, subject to a panic disorder, ventures out in her car, lured by a sale ad in a grocery store flyer. Driving tentatively, she nevertheless hits a pedestrian in an empty street in a moment of distraction. Her victim Kurita appears to recognize her. He gets in the car and gradually reveals a shameful secret from Akane's past, while making an outrageous request. The meek woman's inner tigress is awakened, leading to the film's mouth-watering sequence of the making of the tongue-numbing spicy Chinese dish mapo tofu for her husband.
The film's third episode "Ramen with Extra Beef Fat" finds Momoko, whose married lover has just bailed on their evening's assignation, impulsively entering a grimy working class ramen shop, where the silent all-male clientele slurps noodles. Momoko's libido-heightening experience with the steaming bowl of the title dish is only the beginning. Her lover Ikeyama receives a call on his cell phone from an unknown stranger, who arouses his jealousy with a humiliating but irresistible game in which he is required to follow directions to the ramen shop, where Momoko has left, but a bowl of noodles and his caller Kurita await.
The crown jewel of Rotterdam's three sections is the Tiger Competition, a showcase for emerging talent, with a special affinity for films from developing nations. Female directors are represented in respectable numbers throughout this year's festival, but are especially prominent in the Tiger Competition, in which seven of the 15 competing films are directed by women. An impressively realized standout is "Gritt" from Norway, a first feature directed by Itonje Soimer Guttormsen.
"Gritt" is built on the mercurial performance of Brigitte Larsen as the title character, a charismatic drifter on the fringes of Oslo's theater world. Although in her late thirties and yearningly ambitious, the slim youthful blonde projects the raw inexperience and misplaced enthusiasm of the girl who first transformed her given name Gry-Jeanette into the artsy contraction Gritt. She visits a fortune-teller, who tells her, "Your ancestors are trying to give you messages but you're not listening."
Gritt pins all her hopes for the future on a proposal to the Ministry of Culture for a city-wide, ritual-based performance piece titled "The White Inflammation," but it is rejected. Homeless after an apartment-sitting gig evaporates, she works temporary jobs including as personal assistant to a successful Down syndrome actress, and later, as an interning gofer and floor-sweeping assistant at Oslo's avant-garde Theater of Cruelty. To her chagrin, she remains maddeningly invisible to those she would claim as peers.
Through the film's five chapters, Gritt aims for a transformation that is increasingly sabotaged by her propensity to undermine or betray whatever slight and makeshift support systems she has left in her life. Director Guttormsen makes deft use of a large supporting cast, many characters apparently playing themselves. A realistic glimpse of the milieu of Oslo arts and theater serves to anchor the film, even as Gritt's interior vision of herself becomes more detached from reality, frequently expressed through a seamless use of disorienting cuts and a restlessly moving camera.
Hurtling through misguided adventures that leave serious damage to those who trusted her in her wake, and driven by fantasies, lies and self-invention, Gritt hits bottom. In the final chapter, the film moves into a surreal contemplative mode, with its human wreck of a protagonist landing in a tiny snowbound cabin somewhere in the deep Nordic woods. Through a sequence of seasons in which the landscape itself becomes her pallet, she creates a theater of one, formulating elixirs, improvising a nature-based mythology with accompanying rituals and adornments, until early summer signals a departure.
Guttmorsen does not trivialize her narrative with the implication that Gritt, standing at a rural bus stop, has survived a trial and is now ready for her star-is-born-moment. Rather, Gritt is ready for return to the world as an unknown entity, with the future and her elusive place in it a blank slate.