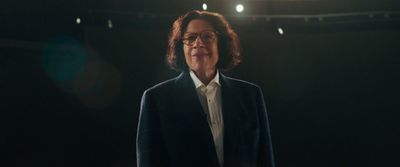 Ten years ago, Martin Scorsese and Fran Lebowitz collaborated on "Public Speaking," a documentary film where the author espoused her philosophies. The Netflix series "Pretend It's A City" reunites the New York duo for more of the same. Across its seven episodes, the director converses with the author about all manner of things that irritate and inspire her. Scorsese sets the jumping off points and Lebowitz leaps with often hilarious, reckless abandon. Each installment runs around 30 minutes, offering up just enough to leave you looking forward to the next. The end credits also provide a closing zinger surrounded by an appropriately chosen piece of music.
The title comes from the advice Lebowitz says she'd give people coming to New York City, a place she moved to from Morristown, New Jersey in 1969. Scorsese grew up in Manhattan, of course, and for much of the film, the two hold court in a few standard locations. The primary one is the Players, a Gramercy Park social club founded in the 19th century by actor (and brother of John Wilkes Booth) Edwin Booth. Another is inside the Queens Museum's Panorama of the City of New York, the gigantic geographical model commissioned by Robert Moses for the 1964 World's Fair. Wearing protective shoe coverings, Lebowitz towers over this massive representation of NYC like Gulliver in Lilliput. Offscreen, Scorsese asks questions while warning her to watch out for the bridges spanning the East River.
Editor Ellen Kuras mixes these one on ones with clips from audience Q&A's, prior Lebowitz interviews with people like David Letterman and scenes of the humorist walking down the street. Occasionally, the film cuts to a still picture or a bit of historical footage of people like former NYC Mayor Abraham Beame, whose time in office coincided with the infamous NY Daily News headline "Ford to City: Drop Dead." It's during this time that Lebowitz plied her trade, writing pieces for Interview Magazine including a review of her co-star's second feature film, 1972's "Boxcar Bertha." "I loved to write," she tells Scorsese, "until the first time I had to write an assignment for money."
Toni Morrison, to whom the series is dedicated, appears in interview footage as does Spike Lee, who grills Lebowitz on her dislike of sports. Seems she loves Muhammad Ali and was at Ali-Frazier I, a fight Lee reveres. Yet despite all this, she's still a sports agnostic. Lee presses her on this, becoming animated as he goes on about Jordan and Lebron and Kobe. While he does, the film shows Lee at that memorable Knicks game where he heckled an unstoppable Reggie Miller from courtside. "You are the only person who argues with me more than my family," Lebowitz tells Lee. Their spirited interplay is a highlight of the series.
Scorsese is the recipient of many of his leading lady's stories and monologues. "I knew what talent was because I saw the lack of it in myself," she says about her childhood days of playing cello poorly. "I could get better, but I'd never be good." We also hear about being voted "class wit" before ultimately getting kicked out of high school. That last event facilitated the move to Manhattan, where Lebowitz lived in a crappy apartment in a more expensive neighborhood than the people she hung out with back then. "Everyone had the idea that New York was cheap," she says in Episode 3, correcting that mistake.
"Pretend It's A City" is full of memorable stories and snapshots of a New York City long past. There's the tale of music legend, Charles Mingus stopping mid-performance to chase Lebowitz down 7th Avenue over a perceived infraction. The punchline there is almost as amusing as her brutal takedown of the most evil of all MTA subway lines, the L train. After hearing that the train line had been shut down for hours due to "a bad smell," Lebowitz asks how much worse could it smell than usual. Health and the wellness racket take a beating in Episode 5 where Lebowitz, a lifelong smoker, points out that everything that is good for you feels or tastes terrible. She's not going to ditch Joe Camel because her main goals in life are "smoking and plotting revenge."
Scorsese is a very amusing co-conspirator, oftentimes letting his visuals serve as humorous accompaniment. When Lebowitz recounts her time as a taxi driver in a profession full of men with cigars who hated her inclusion, the screen cuts to footage of the cab ride in "After Hours." After a story about Leonardo DiCaprio giving Lebowitz a vape pen as a cigarette substitute, Scorsese cuts to an onscreen disclaimer he reads about Leo not endorsing vaping. And there's a great shot of the two stars of this film simultaneously looking through the round windows of two old-fashioned doors, cautious expressions on their faces.
At times, Scorsese laughs so hard at Lebowitz's commentary that I feared he would literally collapse. I thought I was going to pass out from giggling myself. This is a very funny production, though I suspect it will play best amongst the denizens of the city Lebowitz loves. No matter how many pet peeves she has—and there are many—I never tired of hearing them. Your mileage may vary, but one thing that I think will grab everyone's attention is the pre-pandemic world of "Pretend It's A City." People are out and about, and that normalcy struck a very poignant chord. Whether pointing out the irony of art auctions ("people applauded the price" but not the painting) or mocking her horrific luck with real estate, Fran Lebowitz's delivery is masterful. So, if the first episode hooks you, this is worth binge-watching.
Now available on Netflix.