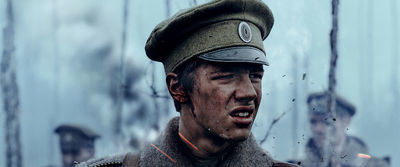 Early 20th century Latvian history is far from common knowledge for most stateside viewers, but rather a topic best suited for an expert-level "Jeopardy" category. Enter "Blizzard of Souls," a Latvian box office hit and also the country's submission for the Best International Feature Film Oscar—the movie ambushes our ignorance with its intense introduction to what was at stake for the Baltic state during World War I.
In his first foray into fiction—and a large-scale one at that—documentary filmmaker Dzintars Dreibergs worked from writer Boris Frumin's adaptation of Aleksandrs Grins' novel based on his first-hand recollections as a rifleman in a Latvian regiment. Opening in 1915, this historical epic with a coming-of-age narrative engine uses 16-year-old rural boy Arturs Vanags (Oto Brantevics) as our emotional vehicle. Forced to vacate their farm under Russian orders and with the Germans approaching, he and his father (Martins Vilsons), a commended shooter, join the army. Arturs' older brother Edgars (Raimonds Celms) has already been deployed.
Thought the choice rarely makes much of an impact, the film tries to ground Arturs' impetus to overachieve during training and in combat in his desire to measure up to his father's legacy. As his superior, dad offers no preferential treatment, but regrets submitting his youngest to the wreckage of war. Sadly, this parent-child relationship goes mostly unexplored beyond a handful of moments, detracting from the characters' development and removing the actors' ability to show off whatever dramatic range they have.
Still, Dreibergs excels with his measured but immersive set pieces—like one that unravels in a snowy landscape at night, best exemplifying his directorial brawn. Far from the bombastic action in Sam Mendes' "1917," the shootouts and explosive-heavy sequences here keep the focus on the Latvian side, hiding the enemy behind fog or darkness as to have more control of the camera's field of vision. Cinematographer Valdis Celmins only captures what's crucial to convey the impending danger without the production having to spend the resources to show a fully fleshed out scene with numerous extras or artillery. From a technical standpoint, it is a grand achievement.
As we shift from one battle to the next, and the Latvians' role in the war becomes less clear in terms of who they are fighting for or against, the only clear notion amidst a bit of a convoluted structure is that they want to be a sovereign people and stop fighting on behalf of others. This becomes more relevant in the plot's final strokes, but it seems almost secondary before that. If Frumin's screenplay had leaned more into the contentious geopolitical dynamics and rise of a national identity as key themes, the overall piece would resonate louder.
Yet even if defense of the homeland is the men's key motivation, "Blizzard of Souls" doesn't uphold empty heroism in its depiction of warfare without critique. The loss of human life left in the wake of each armed confrontation weights heavy on all the surviving participants. Their reactions to the carnage are marked with an emotional unpreparedness expected from teens and young men plucked from civilian life and thrown into the deadly trenches.
When not in active combat, the signs that the story doesn't want to fully give into nationalism feel slightly more pronounced. Briefly away from the chaos near the film's climax, Arturs burns two pieces of propaganda, one Soviet and one German, asserting that his loyalties lie with the hopes of an independent Latvia. But later when his bravery is publicly recognized, a doubtful glance at a mother whose son died in the battlefield hints that there's uncertainty within him about whether it was all worth it.
Clean-shaven and wide-eyed, Brantevics' youthful appearance reaffirms Arturs' boyish mental state that comes through even when violence surrounds him. From the playful moment where his sibling paints a mustache on him to the two of them stuffing their mouths with candy while in full uniform, Arturs' childlike innocence endures despite being forced to kill others to save himself. In that sense, there's not really a strong transition from kid to man in spite of the injuries and painful tragedies he withstands. We witness his arc but we are not affected by it.
Every character in "Blizzard of Souls," including the soldier Arturs befriends and his romantic interest, suffers from a similarly limited construction of their innermost aspirations, patriotic convictions, or even a back-story. This yields a movie with plenty of small portions that communicate thought-provoking ideas and gripping melees but without a substantial human anchor. "Blizzard of Souls" is instead at its most moving when the title manifests in a dreamlike manner, departing momentarily from realism. At least then we can spiritually connect with Arturs' oppressive, self-imposed sense of duty.