The Essential Fellini is a Wonderful Gift for Cinephiles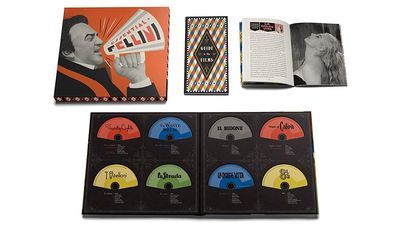 If there's anyone remaining on your holiday shopping list, you should get your hands on Criterion's stunning, lavishly packaged set of the "The Essential Fellini," a collection of notable films by the Italian master, Federico Fellini. Released to coincide with his 100th birthday earlier this year, this 15-disc set is a must-own, another example of a film class in a box much like the Criterion releases for Ingmar Bergman and Agnes Varda. As more and more entertainment shifts to streaming, Criterion seems to be embracing the collector's market with more lavish, exhaustive sets. And this is one of their most impressive.
The main draw, of course, will be the films, 11 of which have been restored in 4K remasters for the first time. There are also digital restorations of the short film "Toby Dammit" from 1968 and a television film from 1969 called "Fellini: A Director's Notebook". And that's just the beginning. There are two feature-length documentaries about Fellini: "Fellini: I'm a Born Liar" and "Marcello Mastroianni: I Remember," which is over three hours long. There's a two-hour interview with Fellini from 1960; four behind-the-scenes documentaries; a 2000 documentary that includes some of the final interviews with Fellini; audio commentaries on six of the films; archive interviews; and much more, including packaging that fits the Fellini aesthetic. In the box, you'll find two illustrated books with hundreds of pages of content, including essays by Michael Almereyda, Kogonada, Bilge Ebiri, Stephanie Zacharek, and more.
What about the movies? Time being as hard to find as it is at the end of the busiest year ever, I haven't had a chance to sample much, but what I have looks incredible. The restorations look incredible, but I thought I'd let Roger Ebert speak to the quality of the films, including four he inducted into the coveted Great Movies collection. Let's start there:
"8 ½"
""8 1/2″ is the best film ever made about filmmaking. It is told from the director's point of view, and its hero, Guido (Marcello Mastroianni), is clearly intended to represent Fellini. It begins with a nightmare of asphyxiation, and a memorable image in which Guido floats off into the sky, only to be yanked back to earth by a rope pulled by his associates, who are hectoring him to organize his plans for his next movie. Much of the film takes place at a spa near Rome, and at the enormous set Guido has constructed nearby for his next film, a science fiction epic he has lost all interest in."
"Amarcord"
"If ever there was a movie made entirely out of nostalgia and joy, by a filmmaker at the heedless height of his powers, that movie is Federico Fellini's "Amarcord." The title means "I remember" in the dialect of Rimini, the seaside town of his youth, but these are memories of memories, transformed by affection and fantasy and much improved in the telling. Here he gathers the legends of his youth, where all of the characters are at once larger and smaller than life — flamboyant players on their own stages."
"The movie is made with boundless energy. Fellini stood here at the dividing point between the neorealism of his earlier films (like "La Strada") and the carnival visuals of his extravagant later ones ("Juliet of the Spirits," "Amarcord"). His autobiographical "8 1/2," made three years after "La Dolce Vita," is a companion-piece, but more knowing: There the hero is already a filmmaker, but here he is a young newspaperman on the make."
"Fellini's roots as a filmmaker are in the postwar Italian Neorealist movement (he worked for Rossellini on "Open City" in 1945), and his early films have a grittiness that is gradually replaced by the dazzling phantasms of the later ones. "Nights of Cabiria" is transitional; it points toward the visual freedom of "La Dolce Vita" while still remaining attentive to the real world of postwar Rome. The scene involving the good samaritan provides a framework to show people living in city caves and under bridges, but even more touching is the scene where Cabiria turns over the keys of her house to the large and desperately poor family that has purchased it."
"The movie is the bridge between the postwar Italian neorealism which shaped Fellini, and the fanciful autobiographical extravaganzas which followed. It is fashionable to call it his best work – to see the rest of his career as a long slide into self-indulgence. I don't see it that way. I think "La Strada" is part of a process of discovery that led to the masterpieces "La Dolce Vita" (1960), "8 1/2" (1963) and "Amarcord" (1974), and to the bewitching films he made in between, like "Juliet of the Spirits" (1965) and "Fellini's Roma" (1972)."
""Intervista" is not a very organized movie, and long stretches seem pointless and uninspired. It would not be of much interest, I imagine, to anyone who was not familiar with Fellini's earlier films. There is a sadness about it, a valedictory, and we cannot help but observe that this film's technique – a pseudo-documentary about Fellini trying to make a film – was used so much more successfully in "8 1/2." Still, that scene with Mastroianni and Ekberg haunts me. It is so poignant, the passage of time."
"What is the sum of all this effort? A film that deals in visual excess like no other, showing a world of amorality, cruelty, self-loathing and passion. Did Fellini see his "Satyricon" as a warning to modern viewers, an object lesson? Not at all, in my opinion. He found an instinctive connection between Petronius and himself–two artists fascinated by deviance and excess–and in the heady days of the late 1960s saw no reason to compromise. "Fellini Satyricon" is always described as a film about ancient Rome, but it may be one of the best films about the Summer of Love–not celebrating it, but displaying the process of its collapse. What is fun for a summer can be hard work for a lifetime."
The other films in "The Essential Fellini" are "Variety Lights," "The White Sheik," "I vitelloni," "Il bidone," "Juliet of the Spirits," "Roma," and "And the Ship Sails On".