The Best Television of 2020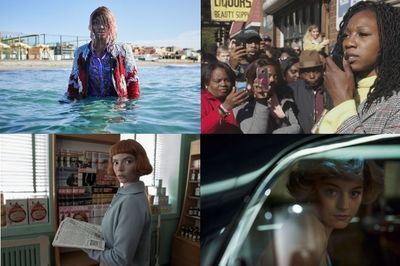 Television felt more essential than ever in 2020, a year in which so many people never left its side. As a new streaming service sprouted up every month, the complaint wasn't that there weren't enough quality shows to watch but that it was impossible to find them all. Just a few years after the conversation about cutting the cable cord, people are now tied to subscriptions to Netflix, HBO Max, Hulu, and more just to keep up with it all. We are here to help. All 20 of our picks for the best shows of 2020 feature links underneath to watch them now. These are the best of the best, determined by Brian Tallerico, Nick Allen, Robert Daniels, Roxana Hadadi, and Allison Shoemaker. The five of us used a collaborative process of suggestions, discussion, short lists, and finally some editorial oversight to come up with a top 20 that really captures the diversity, range, and exceptional quality of the form this year. When the pandemic hit, there was legitimate concern that all the shuttered television productions would lead to a dearth in things to watch. That couldn't have been further from the truth.
Note: Since we qualified individual films in the anthology series "Small Axe" for our Best Films of 2020 feature, you won't find it here, but we all agree it's one of the most essential works of the year, whatever you call it. You can find it on Amazon Prime.
Runner-ups (another 20 for 2020): "Central Park" (Apple TV+), "Dead to Me" (Netflix), "The Flight Attendant" (HBO), "The Good Fight" (CBS All Acces), "Lance" (ESPN), "Love Fraud" (Showtime), "Lovecraft Country" (HBO), "The Mandalorian" (Disney+), "Mrs. America" (Hulu), "Never Have I Ever" (Netflix), "The Outsider" (HBO), "Ozark" (Netflix), "P-Valley" (Starz), "Ramy" (Hulu), "Schitt's Creek" (Pop TV), "Shaun the Sheep: Adventures from Mossy Bottom" (Netflix), "A Teacher" (Hulu), "Ted Lasso" (Apple TV+), "The Third Day" (HBO) and "Unorthodox" (Netflix).
20. "I Know This Much is True" (HBO)
Look: "I Know This Much is True" is horrendously depressing. I cannot lie about this! Steadily crushing misery and devastating heartbreak is very much Derek Cianfrance's thing ("Blue Valentine," "The Place Beyond the Pines," "The Light Between Oceans"), and his adaptation of Wally Lamb's novel is no different. Mark Ruffalo plays twin brothers Dominick and Thomas, the latter of whom suffers from paranoid schizophrenia, in a miniseries that relies on family secrets and sexual abuse to sustain its narrative. It's not easy watching. But Cianfrance handles his characters with such tenderness, and Ruffalo gives such a captivating performance in dual roles, and the supporting cast is so integral (including Rosie O'Donnell, who really steals scenes as Thomas' social worker), that "I Know This Much is True" slowly draws you into its exploration of generational trauma and what it takes to finally break the cycle of such pain, loss, and regret. It helps that "I Know This Much is True" looks beautiful (35mm is unparalleled!), but what matters more is the miniseries' reminder of the compassion and empathy we owe each other, and ourselves. (Roxana Hadadi)
Now streaming on:
19. "Monsterland" (Hulu)
Some of the best fictional American horror stories from 2020 can be found in an anthology that has nothing to do with Ryan Murphy, but all to do with the psychological state of those who rarely get a close-up. Hulu's "Monsterland" examines lives of despondent, complicated people who are haunted by forces greater than what bumps in the night, though ghouls and monsters often do appear. Throughout its eight episodes, these are character studies that look at loss, desperation, trauma, regret, envy and so much more within acute timeframes, as told by some of the best filmmakers working today: Babak Anvari, Desiree Akhavan, Anne Sewitsky, Nicolas Pesce, Craig William Macneill, Eagle Egilsson, Kevin Phillips, and Logan Kibens. The horror that these directors face with their always excellent cast (including Kaitlyn Dever, who pops up in different episodes to highlight just how translucent and anonymous some people can be) proves to be emotionally claustrophobic on a level different than usual horror fare. And yet the compassion that "Monsterland" has for its characters, in part because its structure does not mean it has to always throw them into haunted houses or even give them closure, is wildly breathtaking. (Nick Allen)
Now streaming on:
18. "The Good Place" (NBC)
Michael Schur's philosophitcom may have only aired four new episodes in 2020, but those four episodes constitute the end of one of the best and most ambitious sitcoms in decades, and there was no way we were going to let it walk through the arch and move on without bidding it a proper farewell. (Ditto the wonderful "Schitt's Creek," which ended beautifully but missed our list—apologies, Canadians.) True to forking form, "The Good Place" raced through plot it would take most shows hours and hours to cover, including a Janet(s) revolt/heist in the form of a game of celestial keepaway, the creation of a new afterlife system, admittance to the actual Good Place, a handful of relationship crises, the inevitable Vicky coup, and, naturally, Timothy Olyphant. But the show that brought the twisty sensibility of "Lost" to network comedy pulled the biggest switcheroo of all, and in its hour-long finale, stopped sprinting and simply breathed. If "Whenever You're Ready" were the only episode of "The Good Place" to air this year, it would still be on this list; it's as meditative and moving an hour of television as anything in recent memory, a final rumination on decency, empathy, mortality, and the unknown for the road. Wherever you are, Soul Squad: take it sleazy. (Allison Shoemaker)
Now streaming on:
17. "Euphoria Part 1: Rue" (HBO)
It was only an hour of television but it was arguably the most powerful one of any show this year. After the pandemic destroyed Sam Levinson's plans for the second season of HBO's Emmy-winning hit, he wrote two special episodes to connect the years, one centered on Zendaya's Rue and the other on Hunter Schafer's Jules. The first hour has aired and it's a stunner, an indication of the range this show could have for years to come. A program that could be called hyperactive in its first season in terms of editing and narrative structure settles into a two-hander in a booth in a diner. Over the course of a single conversation between Rue and her sponsor, played beautifully by Colman Domingo, "Euphoria" dissects race, addiction, depression, and suicidal ideation in ways that feel tender and real. There's so much grace and depth to both performances here, and Levinson gives his talented duo time to really breathe life into this conversation, allowing pauses for thought, contemplation, and nuance. Zendaya has never been better, and she won a deserved Emmy for season one. It may not be for this episode, but this hour makes clear that it won't be her last award for acting. (Brian Tallerico).
Now streaming on:
16. "Dave" (FXX)
"Dave" is about the power in thinking you are great. Its season finale includes an extensive whirlwind music video pitch about prison rape that its lead character, slacker rapper Dave Burd (playing a version of himself), has been dreaming up as his magnum opus. It's one of the strangest music videos one could imagine a rapper planning as their big mainstream breakthrough, but the point of this thoughtful and hilarious series is not about proving him right or wrong. It's all about an unflinching ego that is so rich it becomes fascinating to watch, especially as the season takes him from humble beginnings as a freestyling slacker to viral sensation to possibly being the next Kanye West (his words, not mine) And along the way, the show's laid-back tone (which loves other members of the show's cast, like his friend Gata) builds into a modern showbiz comedy, with cameos from mega-producers like Benny Blanco and Justin Bieber casually showing the kooky echelon that game-changing talent gets you into. But does Dave have what it takes? He is dead serious that he does, even if his most popular song to date is called "My D*ck Sucks." (Nick Allen)
Now streaming on:
15. "The Great" (Hulu)
2020 produced a lot of period piece dramas but none like Tony McNamara's acerbic, witty, raunchy take on what happens when the morally corrupt have unimaginable power. (Any parallels between soon-to-depart administrations can be left up to the viewer.) Elle Fanning does arguably career-best work as Catherine the Great, new wife to the idiotically grotesque Peter III of Russia. Excited at the prospect of helping Peter lead the country, she soon discovers that he's the kind of man-child who has had every instinct catered to his entire life, but she turns out to be an unexpected balance to her naughty husband, destroying some of his worst plans. More than a mere battle of partners, McNamara's show is a clever dissection of power, and how often the line between idiot and monster can be hard to distinguish. Perfectly captured by Hoult, Peter is the kind of guy who's never been told no or that he's not smart enough to lead the country. It's an unforgettable performance, hilarious and terrifying at the same time. (Brian Tallerico)
Now streaming on:
14. "The Crown" (Netflix)
How many television shows follow-up their worst season with their best? In season three of "The Crown," Peter Morgan failed to build on the magic of the first two seasons. A spark seemed to be missing with the new cast. The inexperience of Elizabeth, Phillip, and Margaret fueled the first two seasons. But in the third installment, poor glum Charles (Josh O'Connor) didn't provide the intrigue, even with Camilla (Emerald Fennell), needed to keep the show's momentum going. For season four to flourish, Morgan conjured two fresh sparks. He found Gillian Anderson for Margaret Thatcher and Emma Corrin for Princess Diana. In Thatcher's fight against the stodgy British upper class (and the downtrodden working class), Anderson imbues the Iron Lady with a cold calculating will for power. If a computer powering down had a voice it'd be the throaty Anderson as Thatcher. Conversely, Diana first battles to gain Charles and the Windsors' affection, only for a ruthless petulant Charles to psychologically abuse her. The royal family have never been more unlikable than this season. Amid Thatcher attacking the Windsors' very upbringing and Diana and Charles providing tabloid fodder, in its fourth season, Morgan's Netflix palace drama finds its jolt again, and earns the title of the best soap opera on television. (Robert Daniels)
Now streaming on:
13. "I Hate Suzie" (HBO)
Maybe we should blame the fact that "I Hate Suzie" has yet to really take off (in the U.S., at least) on HBO Max and Roku. By all rights, Lucy Prebble and Billie Piper's virtuosic mindf**k of a series should be storming the castle of pop-culture discourse; surely it would have benefitted from being, you know, relatively easy to find and watch. (See also: "The Flight Attendant.") Now that the corporations have got their act together, one hopes that will change. Perhaps now, audiences will get to revel in Piper's frenetic, vulnerable performance, a career-best turn that's utterly devoid of vanity. They'll be ruthlessly yanked into the tornado of a plot, in which former teen star Suzie Pickles (Piper) sees her life fall to pieces when her phone is hacked and explicit photos hit the internet, starring herself and a large penis that is very obviously not her husband's. They'll feel the sting of Prebble's savage storytelling and marvel at the bold visual storytelling (primarily from newcomer Georgi Banks-Davies, in a startlingly assured debut). And they'll get to experience the first season's conclusion, which manages to be somehow depressing and heartbreakingly hopeful. I'd say more about that ending, but let's face it: odds are, you haven't seen it yet. Time for that to change. (Allison Shoemaker)
Now streaming on:
12. "I'll Be Gone in the Dark" (HBO)
True crime as a genre has been popular for decades: kicked off by the smashing success of Truman Capote's 1966 nonfiction work In Cold Blood, sustained by weekly newsmagazines like "Dateline," "48 Hours," and "20/20," and most recently reinvigorated by an uptick in podcasts and online investigations, like "My Favorite Murder" and "Serial." The latter component of this surge has been brought about by a particular demographic shift: Women are the primary consumers of true crime stories, and as Kate Tuttle mused in the New York Times last year, "perhaps our fascination with these stories stems in part from wanting to learn from them. If a woman escaped her attacker in this particular way, we think, perhaps I could too." No show has come closer to grasping that delicate balance of roles women play in true crime—between witness, voyeur, investigator, and vigilante—as HBO's "I'll Be Gone in the Dark," about late writer Michelle McNamara's obsessive hunt to identify and find the serial rapist and murderer she dubbed the Golden State Killer. Guided by McNamara's own blog posts and journal entries, "I'll Be Gone in the Dark" provides a voice not only to the women who were victims of the Golden State Killer, but also to the online sleuths who made it their mission to pore over details of every police report, piece together previously unconnected clues, and take up the mantle of justice when others had let it drop. But the most nuanced, complicated component of "I'll Be Gone in the Dark" is its self-awareness of how all-consuming it can be to try and right a wrong that has evaded others for so long. The suggestion that perhaps our obsessive desire for the truth is its own kind of burden was an unsettling denouement for one of the most harrowing series of the year. (Roxana Hadadi)
Now streaming on:
11. "The Good Lord Bird" (Showtime)
The topic of slavery is one the thinnest tightropes a writer can walk. The height is that much higher. The net is so much smaller. Earlier this year, the creators behind "Antebellum" learned that lesson the hard way. So when creators Ethan Hawke and Mark Richard announced that their Showtime parody "The Good Lord Bird" would take historical slavery and make it into a comedy, it wasn't without major risks. As the crazed abolitionist John Brown, who takes guardianship for a black emancipated teen he calls Onion (Joshua Caleb Johnson) because he's mistaken the boy for a girl, Hawke rains holy scripture as though his voice opened his chest with a switchblade, so his voluminous words might spill out. Though Daveed Diggs provides lighthearted intonations as the self-absorbed playboy Frederick Douglas, "The Good Lord" is a violent series. However, its Tarantino-level carnage is never perpetrated on the black characters. Instead, its comedic weight falls upon the series' white figures. Johnson, the show's narrator for its seven-episode run, plays Onion as the moral barometer of "The Good Lord Bird" by not only illuminating the dangers black women face, but also the ways that Brown, for all his upstanding ideals, fashions himself as a white savior. "The Good Lord" is never not self-aware of the horribleness of antebellum America. Yet somehow the parody finds the bright side, too. (Robert Daniels)
Now streaming on:
10. "Moonbase 8" (Showtime)
Sometimes comedy is bliss when it simply lets us goof off with lovable talent, all in the same room. That's the case with Jonathan Krisel's dry and unabashedly quirky "Moonbase 8," which stars co-creators John C. Reilly, Tim Heidecker, and Fred Armisen as three moon colonizers in training in Arizona, as part of a program used to get Americans acclimated to life on that new planet. As the three each play men who are in over their heads intellectually with such a task, the fun of "Moonbase 8" can be in watching them riff off each other in a simple scenario, as during a quarantine episode that has everyone slowly losing their minds. The comedy seems directly fitted to their impulses, and the series is comforting, if not experimental in its limits. Themes of American superiority, contrasted with the inferiority of the men they're portraying provide a rich subtext, which you can dig into, or not at all. (Nick Allen)
Now streaming on:
9. "Better Call Saul" (AMC)
One of the richest dramas of the last 20 years, AMC's prequel to "Breaking Bad" long ago escaped the shadow of Walter White, even if it seems now unlikely to ever be as culturally resonant as its predecessor. The truth is that it's a more daring and complex show in many ways, a program more willing to take risks and leave its morally complex characters open to interpretation. Saying one is better the the other is fruitless, but it's been remarkable to watch this show become its own rich thing in a less crowd-pleasing way. The writing never strikes a false note. The ensemble is perfect from the regulars to the guest stars. The visual language is unlike anything else on TV in the way it supports the storytelling instead of just conveying the plot. "Better Call Saul" has been praised by critics all over the world and yet it still feels under-appreciated, which could be a product of AMC's diminished audience. As more and more viewers catch up with it on streaming services, Saul Goodman will someday get the credit he so richly deserves. (Brian Tallerico)
Now streaming on:
8. "The Plot Against America" (HBO)
Philip Roth's work has been known to make or break its adapting storytellers, as James Schamus and Ewan McGregor can attest (with the acclaimed "Indignation" and the panned "American Pastoral," respectively). David Simon of "The Wire" tackles Roth's compulsively readable piece of autofiction with this HBO series that imagines a pre-WWII America where Nazi-approved Charles Lindbergh became president, to the tune of fascist, anti-Semitic dogwhistles. Simon's expansion of the novel's point-of-view, to include not just that of young Philip, but his fraying Jewish family in their usually quiet corner of New Jersey, proves to be an excellent choice in showing the expansive damage wrought by Lindbergh's platforms and his supporters like Rabbi Bengelsdorf. "The Plot Against America" also has the rare distinction of being the kind of series you can recommend for just the final scene alone, a sequence about efforts of voting manipulation that Simon adds to the story. It is equal measures haunting and prescient, much like this series that honors the quality of Roth's book. (Nick Allen)
Now streaming on:
7. "Betty" (HBO)
Not a day has passed when I didn't consider the free, vibrant sun-soaked streets seen in Crystal Moselle's HBO skater series "Betty." A television spinoff of Moselle's coming-of-age indie "Skate Kitchen," the six-episode first season revisits the same group of girls found in her film. However, rather than craft a prequel or sequel, Moselle untethered the characters from their prior arcs and reimagines them facing every hurdle a teenage girl might confront. The shy filmmaker Honeybear (Kabrina Adams), for instance, discovers her first love. The fearless stoner Kirt (Nina Moran) learns the extent of her white privilege. Indigo (Ajani Russell) works around the traps of modeling. Janay (Dede Lovelace) realizes that even best friends can still be problematic. And the loner Camille (Rachelle Vinberg) learns to remain true to herself. We're never short of poetic skating montages, and we're always afforded energetic camera play and lived-in performances from the talented young cast. "Betty" is a radiant series about girls finding themselves and each other in a New York City whose streets glisten with crowds, and where the crush of skateboards on the pavement make a symphony. It's a gorgeous, colorful reminder of the lives we once had before, and could soon have again. (Robert Daniels)
Now streaming on:
6. "The Last Dance" (ESPN)
In the awfulness that was this year, at least we had all those Michael Jordan memes. "The Last Dance" was ostensibly a documentary about the Chicago Bulls' legendary double three-peat championships (1991, 1992, and 1993, and 1996, 1997, and 1998), and how fully they dominated the NBA once Jordan, Dennis Rodman, and Scottie Pippen all clicked together. And sure, that was some of what the documentary was about, with extremely insightful talking-head interviews (including Phil Jackson, Carmen Electra, and Steve Kerr), delicious gossip, and explanations of the work of building, coaching, and being the Chicago Bulls. But at its core, the 10-episode documentary series from director Jason Hehir was really a Jordan myth-making opportunity, a chance for the GOAT to air his grievances, indulge in his petty frustrations, and explain the frankly outlandish work ethic that led to so much success. Was the documentary ever, even once, attempting to be objective? Absolutely not. But the collective sense of nostalgia that it provided for viewers who tuned in on ESPN, ABC, and Netflix was a cathartic release of its own. And that gif of MJ full-body laughing at Gary Payton's insistence that he was putting up a fight against No. 23? That is art, and it will endure. (Roxana Hadadi)
Now streaming on:
5. "The Queen's Gambit" (Netflix)
One of the most enjoyable things about covering television is its constant unpredictability. The most high-profile shows can completely fail to connect with critics and audiences. Shows you wouldn't even think you had to cover will become your favorites of the year. No one would have ever guessed that Netflix's biggest show of 2020 would have been a period piece drama about a chess prodigy, but millions of people fell in love with this incredible mini-series. Based on the novel by Walter Tevis, it stars Anya Taylor-Joy as Beth Harmon, an orphan girl who discovers she has a natural talent for the game of chess. Written by the wonderful Scott Frank ("Godless"), it's a riveting character study that weaves themes of sexism, addiction, and depression into its story but never loses its focus on character. Beth Harmon is one of the most unforgettable protagonists of the year, and Taylor-Joy's nuanced performance is assisted by top-notch craft elements. In a year where a lot of television struggled with pace (especially on Netflix), this is a breezy, engaging drama from beginning to end, the best mini-series in a very good year for the form. How wonderfully unpredictable. (Brian Tallerico)
Now streaming on:
4. "What We Do in the Shadows" (FX)
Few things made us laugh harder this year than "What We Do In The Shadows." In its sophomore year, Taika Waititi and Jemaine Clement's spinoff of their film of the same name more than delivered on the promise of its first season. Its bold writing got bolder, its world-building even more robust (so glad to know where those little license plate keychains come from). But the real key is the bone-deep commitment of its cast. Matt Berry, Natasia Demetriou, Kayvan Novak, and Mark Proksch only wink at the cameras when their characters choose to do so, imbuing the show with a kind of casual, absurd verisimilitude; they're aided by one of the most game guest casts in recent memory. (Apologies to "The Sixth Sense," but this is Haley Joel Osment's crowning achievement.) But if there's an MVP this season—the platelets holding the show's lifeblood together, if you will—it's Harvey Guillén as Guillermo. Unbeknownst to Staten Island's hippest vamps, the beleaguered familiar endures an epic internal struggle, hiding his Van Helsing blood and virtuosic vampire-killing skills even as he uses them to protect his masters. It's a sitcom, and yet Guillermo's story could easily be soundtracked by "Carmina Burana," and that gives "Shadows" an internal tension unlike anything else on TV. (Allison Shoemaker)
Now streaming on:
3. "How To with John Wilson" (HBO)
Many TV shows have attempted to answer the greatest philosophical question of them all: What's the point of living? And certainly some of them have succeeded at answering that question within the context of their own fictional worldview: "Six Feet Under," "Lost," "The Leftovers," "Dead to Me." Make room for "How To with John Wilson" among them, and put it near the top. The docu-series from Wilson has some DNA in common with executive producer Nathan Fielder's "Nathan for You"; there's a similar zaniness, and willingness to engage with the absurd, that flows through both shows. But while many of us were trapped inside, gazing at the outside world through bubbles of seclusion, the wandering vibe of Wilson's traipses through New York City (filmed over two years) was particularly poignant. You never know where an episode is going to go, and that unpredictability is the show's constant ace in the hole; how did we get from wondering why people wrap their furniture in plastic to watching a pants-less man doing foreskin-growing exercises while praising Bong Joon-ho's Oscar-winning "Parasite"? Somehow, Wilson provides order to a universe that feels desperately, irreversibly random, and the result is a show that is achingly yearning, beautifully melancholic, and inarguably sincere in its desire for human connection. (Roxana Hadadi)
Now streaming on:
2. "City So Real" (Nat Geo)
Steve James' docuseries "City So Real" finds the "Hoop Dreams" filmmaker capturing the inner workings of Chicago's mayoral campaigns during the 2019 election. Intriguingly, James isn't concerned with who wins. Rather he gravitates toward the process—the legal hullabaloo of challenging petition signatures, the glad handing, the parade appearances, and fundraising—which begins with a spring of hope and ends in the brutal cold of winter. Few filmmakers are as aware as James that the city isn't merely a jeweled skyline on Lake Michigan, but a collection of neighborhoods housing unique identities. James finds local stories to tell: He tours the South Side's now closed Avalon Regal Theater, darts to the several bars watching the Bears playoff game, and finds a charming elderly mixed-race couple who are poll watchers. He records the changing landscape of industry in the city and the departing black population have made a city composed of the very rich and very poor. And by intermingling this reality with the Laquan McDonald murder trial, James not only shows the cycle of violence instigated by the Chicago Police Department, but how inaction by politicians has enabled it. "City So Real" was somehow a vision of the precursors that would lead to 2020's Black Lives Matter protests, and a warning for how, without accountability, the lessons learned might recede into nothingness. (Robert Daniels)
Now streaming on:
1. "I May Destroy You" (HBO)
In a perfect world, we wouldn't need a series like "I May Destroy You." I'm sure Michaela Coel—creator, star, and co-director—would happily trade all the acclaim she's rightly received for this HBO powerhouse to live in a world without rape. But that world doesn't exist, not even in the imagination of Arabella (Coel), an author and influencer who, far overdue on a draft of her second book, forgoes a writing all-nighter to party instead. When she wakes up with no memory of what happened other than flashes of sexual violence, she attempts to draw those memories out of herself even as she struggles to hold the pieces of her life together, an effort that would be difficult under the best of circumstances. Coel's performance, as the title may suggest, just might wreck you. Watching her feels like watching someone slam a glass down on the bar with just a little too much force; it's startling, sharp, lethal, and makes a hell of a mess. But even as Coel turns her shrewd, fearless gaze to the pervasiveness of sexual assault and misconduct in our society, she also finds time for humor, the moment of comedy little shocks to an already-fraught system, and to complex relationships (Weruche Opia and Paapa Essiedu match Coel's bravura turn, pound for pound). It all comes to a head in a dizzying, electric finale in which Arabella claws back just a little of what she's lost, and as saccharine as it may sound, finds her voice in the process. But "I May Destroy You" isn't sweet. It's bitter and bilious, all the better to help expel the poisons we've got inside. (Allison Shoemaker)
Now streaming on: