Mira Nair's Charming A Suitable Boy Miniseries Will Transport You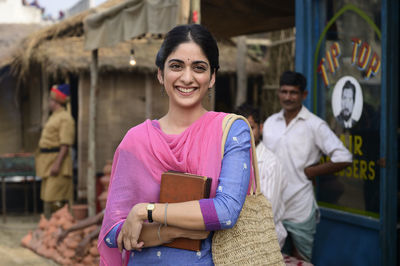 Mira Nair's strengths as a filmmaker are on full, dazzling display in her adaptation of the epic 1993 novel A Suitable Boy, Vikram Seth's rival to War and Peace or Pride and Prejudice. Nair's thoughtful consideration of India's complicated history and vibrant culture, as evidenced in classics like "Monsoon Wedding" and "The Namesake," are as important here as her satirical eye toward romantic scheming, as in her version of "Vanity Fair." Coupled with pleasantly snappy scripts from Andrew Davies, Nair's direction guides this sprawling cast as they shine in a period piece that considers questions of love, religion, and national identity in an India attempting to find its own way after liberation from British rule. Although "A Suitable Boy" takes a bit to get going, the time the six-part miniseries invests in its characters pays off with engrossing arcs, attention-grabbing cliffhangers, and a conclusion that is undeniably conservative but still hopeful in its suggestion about the power of free will.
"A Suitable Boy" begins in 1951 in the fictional north Indian city of Brahmpur, four years after India became independent from British occupation. The end of British rule resulted in the creation of both India and the Muslim-majority country of Pakistan, a division covered in previous films about the subcontinent like Richard Attenborough's 1982 biopic "Gandhi." The aftermath of that separation still stings when "A Suitable Boy" begins: Tensions between Muslims and Hindus run high, with the latter swinging toward nationalist tendencies; marriage between two individuals of the different faiths is practically unheard of; feuding political parties worry that one religious group or another will end up with a majority in the upcoming elections. It is a fraught time on a national scale, and increasingly so on a personal scale for 19-year-old Lata Mehra (Tanya Maniktala). The miniseries opens with her older sister Savita's (Rasika Dugal) wedding to Pran Kapoor (Gagandev Riar), a professor at the university Lata attends, and Lata's widowed mother Rupa (Mahira Kakkar) has her eyes on Lata next.
"A suitable boy" is what Rupa pledges to find for her daughter, with the expectation, of course, that the man will be Rupa's choice primarily, and her eldest son Arun's (Vivek Gomber) secondarily, and then maybe Savita and Rupa's other son Varun (Vivaan Shah) will get a say, but Lata? Lata's opinion on who she will marry doesn't really matter, and neither does Lata's proclamation that she wants to focus on her studies in English literature and enjoy the university experience. It would be unheard of for a young woman of Lata's age to refuse to marry, and it would bring great shame upon the Mehra family, too.
So with Savita barely gone from the family home, Rupa begins her search. Her quest expands "A Suitable Boy," and makes space for other families in the narrative. When Rupa asks her son, the British sympathizer Arun, to find potential matches for Lata, the series introduces his wife, the stunning, dismissive Meenakshi (Shahana Goswami), and her brother, the famous poet Amit (Mikhail Sen). Rupa's in-laws through Savita, the Kapoor family, are also included: patriarch Mahesh (Ram Kapoor), who serves in government as the Home Minister, his wife (Geeta Agrawal Sharma), his hotheaded youngest son Maan (Ishaan Khattar), and his genius grandson Bhaskar (Yusuf Akhtar). Mahesh's closest political ally is the Muslim Nawab Sahib (Aamir Bashir), who worries about increasing animosity toward his fellow believers, and whose son Firoz Ali Khan (Shubham Saraf) is Maan's best friend.
The bond between these two families, and their belief that the country's future should be defined by improved opportunities and expanded rights for religious minorities and the lower classes, is tested over time as the India that Mahesh and Nawab think they know transforms around them. And also connected to both the Kapoor and Sahib families is the courtesan Saeeda Bai (Tabu, working again with Nair after "The Namesake"), who is disrespected by the community for their assumptions about her sex life but revered for her singing prowess.
Brahmpur is a small world, and the interconnected relationships between the families help give "A Suitable Boy" structure so that once the narrative shifts to other locations—bustling epicenter Calcutta, rural village Rudhia—characters' motivations and considerations remain clear. At the center is Lata, who eventually must choose between three suitors. History student Kabir Durrani (Danesh Razvi), for whom Lata feels great passion, but whose religious identity is a nonstarter with her mother Rupa. Amit, who is worldly and sophisticated, but who is automatically disliked by Rupa because of her dislike of his sister Meenakshi. And finally, shoe manufacturer Haresh (Namit Das), Rupa's own choice for Lata, and a complete stranger. He comes from a "nice family," Rupa insists. Why isn't that enough for Lata?
Lata is a heroine along the lines of Elizabeth Bennet or Jo March—opinionated, clever, and desperate to experience as much of the world as possible—but her tight bond with her family, and her eye-rolling tolerance of her mother's antics, maintain her relatability. Maniktala is a natural, likeable actress, and her performance here is warm and sincere, with flashes of youthful spontaneity. Lata's struggle to please her mother while still living her life on her own terms is mirrored in the storyline for Maan, too, who finds himself in love with a woman who would never warrant his parents' approval. Khattar is a Bollywood star, and he handles Maan's emotional swings quite well, making the character's grandiose decisions and fiery temper believable. And those two actors are surrounded by a summarily exceptional cast, in particular Kakkar, who shoulders the satirical treatment of the narrow-minded Rupa (prone to indignant complaints like "Poetry never leads to anything good") and dances right up to the line of making the character an overbearing-Indian-mother caricature without crossing it, and Tabu, who gives nuance to Saeeda's sense of otherness in a community that seems to both treasure and abhor her.
Much of what happens to Lata and her potential romantic partners during the two years or so that pass in "A Suitable Boy" has a sort of gently zany energy, but Lata's experiences or feelings are never treated as a joke. Instead, Davies's scripts are nuanced in how they consider her coming of age—presenting both the dreams that Lata imagines for herself and the threats from a world that might be willing to take advantage of a young woman without a father and without a husband. The series doesn't shy away from depictions of violence (a mob chasing Firoz after a Muharram procession, and threatening to kill him for his Muslim faith; sexual coercion forced upon young women; a lovesick man who takes his own life), but Nair abstains from tipping the story into cultural, religious, or gender-based exploitation. She handles all these contrasting ideologies with an even hand, considering in each subplot the most appropriate path forward for these characters. Could Lata be happy with any of these men? Could an India that destroys the practice of generational land inheritance become more equitable? Could the actions of a child ever not reflect on his or her parents? These are grand questions that "A Suitable Boy" takes the time to build, and although the execution is slightly uneven—the first couple episodes drag, while the final two speed through some plot points—the payoff is satisfying.
It is rare to watch a Western-produced series that has such a deep interest in the myriad opinions and ways of life of South Asian characters, in particular practicing Muslims, and the depth and interiority "A Suitable Boy" provides to characters like Saeeda is a boon. Some of this comes from the source material; Seth served as an executive producer on the series, which closely follows his nearly 1,500-page novel. But credit must be given to Nair, Davies, and the cast who energized this sprawling story and yet maintained an interest in the seemingly small moments that actually capture the richness of life: a glass of chocolate milk shared between two hesitant lovers; a young boy's fascination with a new kite; a floor of cheering factory workers as a man hand crafts a pair of leather brogues. A fascinating period piece that fuses elements of romantic drama and political thriller and wonders to what extent "we can make our own happiness," "A Suitable Boy" is an engrossing achievement.
Full miniseries screened for review.