Happy 102nd Birthday to Iconic Historian Timuel Black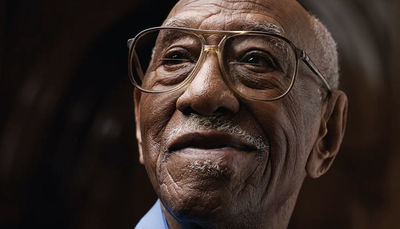 Iconic historian Timuel Black is turning 102 on Monday, December 7th, 2020, and will be celebrated with a special drive-by car parade organized by the University of Chicago Civil Knowledge Project and the Alumni Association. Mr. Black is a true Chicago treasure: historian, veteran, social scientist and political activist, scholar, teacher, civil rights leader and jazz enthusiast. You can find the full digital archive of Mr. Black's interview with The Historymakers here.
Participants and supporters will include Mr. Black's neighbors and friends, colleagues and members of the academy and community, students and residents from the South Side and across the city of Chicago. The COVID-19 conscious event is sponsored by The Timuel D. Black Educational Foundation, The Civic Knowledge Project, The University of Chicago and The University of Chicago Alumni Association. All are welcome, everyone is required to wear a mask, and to watch for proper distancing when they gather. Since this is a gathering of cars, good social distancing is a built-in provision.
From 12:45pm to 1:15pm, birthday balloons, cards and flowers will be collected on the 49th corner of Drexel Parkway. At 1pm, cars will assemble at 50th and Drexel in front of Operation PUSH.
If you would like to mail a birthday card to Mr. Black, send it to 4906 S. Drexel Blvd., Chicago, Illinois, 60615. If you would like to give a gift, please contribute to The Timuel D. Black Educational Foundation. Donations can be made online here or by writing a check to The University of Chicago with the memo, OCE/The Timuel Black Solidarity Scholar Endowment.
And please enjoy this previous interview of Mr. Black on the occasion of his one hundredth birthday by Maudlyne Ihejirika of the Chicago Sun-Times. He gives us all hope about living a life of purpose and joy. Happy Birthday Mr. Timuel D. Black.
Header image caption: Timuel Black on the cover of his book, Sacred Ground: The Chicago Streets of Timuel Black.