Cobra Kai Masters Karate Kid Storytelling in Third Netflix Season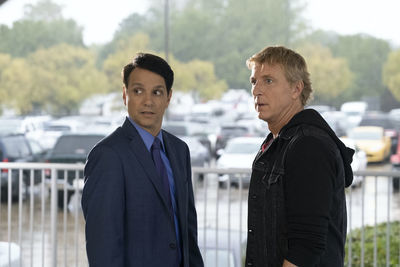 "Cobra Kai" has become a pop culture hit not just because everyone loves "The Karate Kid," but because this series has found a balance between easy-to-watch nostalgic entertainment and excellent dramatic plotting. Now in its third season, and still obsessed with every detail from "The Karate Kid," the series owns its cheesiness while showing the humanity within its original text and its fighters. "Cobra Kai" might be an outlet for karate, but nostalgia is the active battle in this series, while students and teachers alike struggle with being defined by their traumas and past mistakes. In its comparably slower but highly rewarding third season, the show proves that fan service does not have to be an entirely cynical concept—it gives you what you want from "Cobra Kai," in part because it continues to challenge how you see the whole story.
The writing of "Cobra Kai" takes after the tenets of Mr. Miyagi's famous ways of self-defense in that it does not reward its brawls, despite being a show about karate. Major fights lead to consequence, pain, and trauma. All of that applies to where the third season begins, after the high school-wide battle royale that left everyone in a worse state than before. On the side of Miyagi-Do, the dojo lead by original "Karate Kid" hero Daniel LaRusso (Ralph Macchio): his daughter Sam (Mary Mouser) has been traumatized by the event and is fearful of another attack from Tory, (Peyton List) a member of the Cobra Kai dojo run by Daniel's enemy, Johnny Lawrence (William Zabka). The other major member of Miyagi-Do, Robby (Tanner Buchanan), is on the run after paralyzing his impromptu opponent Miguel (Xolo Maridueña) by kicking him over the side of a guard rail, leaving him unable to walk at the beginning of this season. And the usually timid Demetri (Gianni Decenzo) used his Miyagi-Do training to throw his former best friend and current Cobra Kai bully Eli (Jacob Bertrand) through a trophy case.
This battle was like the blockbuster sequel to the original decades-old rivalry between Daniel and Johnny, enflamed by toxic values from Johnny's original sensei Kreese (Martin Kove) and the teens' own personal dramas. Daniel and Johnny are both rocked by what happened, and season three shows them trying to gather themselves, just like their traumatized students. And because Johnny left the Cobra Kai dojo at the end of season two after hearing what happened to Miguel, the dojo has been taken over by Kreese, a wannabe war-lord who has been raising his hot-head students as if they were actual soldiers. In its third season "Cobra Kai" tries to put an end to this rivalry, once and for all, again. It's a blast.
The secret weapon for this brilliant high school karate soap opera/mid-life crisis dramedy has always been pacing, and when the pacing isn't quick on its feet, it's glaringly obvious. That's certainly the case with the first few episodes here, which struggle to match the energy of the previous seasons despite giving viewers another Johnny and Daniel buddy moment, and some more Cobra Kai vs. Miyagi-Do clashes. And it becomes telling that the series has expanded its amount of perspectives—it's no longer only the story of Johnny fighting against the engrained values that lead to failure—but that it can't treat them all with equal immediacy. One major character gets his arm broken in an episode, which you think would be a major development, but the show forgets that thread for a whole episode because it has to juggle other business. You can't help but think that an earlier season would have handled the gruesome arm break differently.
The show's general emphasis on everyone pulling themselves together, and preparing for the next big fight—whatever that may be—is a fair choice but it does make for slower progress of plot. This affects one of the plot threads that is certainly meant for the fans, involving Daniel traveling to Okinawa for some rejuvenating wisdom, like he did as a young man in "The Karate Kid II." Instead of registering as the spectacular reunion that it was likely meant to be, it feels like a way for the story to fill up some time before reverting back to business as usual. And because their thematic explorations are always told in parallel, Johnny's plot-line at the same time has a similar lack of momentum, as he tries to help Miguel recover by using unorthodox methods.
"Cobra Kai" is planning something massive with Robby, but his time in this season suffers for it. After being arrested shortly into this season, Robby spends time in jail getting bullied by inmates until he decides to fight back. Next to a Dee Snider cameo, this feels like the the most gratuitous chunk of plot in the season, finding excuses for him to have a couple of brawls against fellow inmates who are simply villains. It's proof that "Cobra Kai" can be boring when it's so simple-minded about both sides of the fight, and thankfully the story does end up doing more with Robby.
At least the acting is universally strong. The story asks for its young actors to be lovable outsiders and ruthless jocks making some melodramatic decisions, and for its warring adults to put anxious faces on an over-the-top mid-life crisis (Zabka's weary close-ups remain a series highlight). But it's all interesting character work, because the fighting members who do get dialogue all come with clear ideologies and complicated backgrounds. The drama of allegiance is enough; no one has to die for the show to get its stakes-raising gut punches, they just have to (believably) switch sides.
In its earlier two seasons, "Cobra Kai" hooked viewers by giving more background to Johnny, a character who previously been framed as a bully and obstacle to Daniel's victory at the All Valley Karate Championship. That proved to be a mighty effective way to keep us watching this modern-telling of their lives, and "Cobra Kai" tries to repeat that in season three by digging into the backstory of the freakishly fearless Kreese. Credit to the writing team and to how they've clearly plotted this all out, it's not entirely the origin story you'd expect from the cigar-chomping, manipulative, and stoic figure. But it is a stunning background for Cobra Kai and the old motto that Kreese spray painted on the dojo walls when he took it over: "Fear Does Not Exist In This Dojo."
Any of the problems that the show has with pacing earlier on are more or less justified by the incredible last couple episodes of the season. The action-packed finale is a masterpiece in particular of what makes the show so great, in how it can continuously analyze the pivotal championship scene in "The Karate Kid," while the cutaway battle royale shows the current chaos borne from that animosity. And in regards to teasing what's coming next, the show continues to be brilliant at building anticipation—both in how it will continue to recall the earlier movies, and in how the plotting will show us things we never expected to see from a "Karate Kid" story.
And then of course there's the fighting, which, starting from Johnny's first beatdown against Miguel's bullies in season one, has always been proof that "Cobra Kai" wants to contribute something spectacular to "The Karate Kid" and original director John G. Avildsen's excellent visual approach to combat. The adults continue to rule in this season over the teens—they get the smoother, more visceral combat scenes, even if the teens have more total sequences. But for the most part, "Cobra Kai" continues to exemplify how fight scenes can really hook a viewer with clean coverage that doesn't chop up one hit into two shots, especially by using a fluid, one-take style. That war of fists and feet from the end of season two? The finale here recreates that magic with even more intricate choreography and camera work, and it's one of the show's best scenes.
There's so much going on in this third season—we don't even get to properly mourn the absence of Paul Walter Hauser's season two-stealing goofball Stingray—but "Cobra Kai" continues to be crafty and inspired. It used to be about the redemption of one misguided and traumatized second-place winner, who desperately needs to realize that you can be a bad-ass without being an asshole. Now, "Cobra Kai" is far bigger than him, Daniel, and the rivalry that can instantly turn them into a feuding odd couple. But what's happening here feels just as important as the events in the past films. Even with its flaws in season three, "Cobra Kai" hasn't just honored the "Karate Kid" way of storytelling, but mastered it.
All of season three screened for review.