Chicago International Children's Film Festival Offers Virtual Experience in 37th Year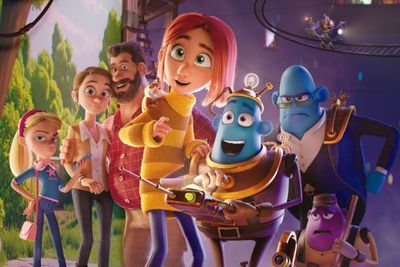 The 37th Annual Chicago International Children's Film Festival will take place entirely online this year, offering 262 films and 242 shorts to families and budding cinephiles in the Chicago area (the screenings are geo-blocked to the Cook, DuPage, and Lake counties).
For more information, including how to screen the films, the press release is below.
WHO/WHAT: FACETS 37th Annual Chicago International Children's Film Festival (CICFF37), one of only two Academy Award-qualifying international children's film festivals in the world, will feature 262 films from 52 countries, with 20 features and 242 shorts in 81 shorts programs, providing Chicago youth, families, and teachers an enriching, entertaining, and safe festival experience. Highlights include the environmental doc 2040, blended family animated feature DREAMBUILDERS, pre-Rwanda genocide narrative feature and Toronto International Film Festival opening film OUR LADY OF THE NILE, and shorts programs that center on themes of empowerment, disabilities, and race. Also presented will be an animated short of the book adaptation THE SNAIL AND THE WHALE, narrated by the late Dame Diana Rigg, and the animated short HIDDEN FIGURES: THE TRUE STORY OF FOUR BLACK WOMEN AND THE SPACE RACE, narrated by Octavia Spencer.

WHEN: Friday, November 13 – Sunday, November 22, 2020.

WHERE: FACETS' ever-popular signature program will be presented virtually in its entirety due to the ongoing COVID-19 pandemic. Programs will be presented as both general public and private school screenings. Visit cicff.eventive.org to attend both public and school screenings. Patrons may view the festival at their convenience as there are no set dates and times. Films in CICFF37 are geo-blocked to Cook, DuPage, and Lake counties.
HOW: The following are ticket prices for the general public and school groups. Visit cicff.eventive.org to purchase tickets.
Regular ticket prices, October 31-November 22:
$15/Single Public Ticket and $14.50/FACETS Member Ticket;
$50/Public Pass and $45/FACETS Member Pass (valid to up to four programs);
$250/Public Super Pass and $225/FACETS Member Super Pass (grants access to the entire festival).
School group tickets prices:
$8 each for groups of 12 to 24 students;
$5 each for groups of 25 to 99 students;
$4.50 each for groups of 100+ students;
$100 per group for synchronous media education; the cost includes a virtual media education facilitated by one of FACETS media educators over Zoom.
* * *
To maintain its longtime standing as one of the top children's film festivals in the world, films presented in CICFF37 will be issued awards at its conclusion by the CICFF Professional Jury, Youth Jury, and Children's Jury, including in the Academy Award-Qualifying Best Animated and Best Live-Action Short Film categories. CICFF juries are comprised of independent filmmakers, film industry professionals, educators, parents, and kids and teens who have graduated from FACETS Film 101 summer camp.
* * *
FACETS CICFF37 is supported by the National Endowment for the Arts, Alphawood Foundation Chicago, Stuart R. Abelson Fund, The Comer Foundation, Kirkland & Ellis LLP, Stuart and Jesse Abelson Foundation, Allstate, Chicago Department of Cultural Affairs and Special Events (DCASE), Academy of Motion Picture Arts and Sciences, the Kenneth F. and Harle G. Montgomery Foundation, Conant Family Foundation, Illinois Arts Council, Art House Convergence, The MacArthur Fund for Culture, Equity, and the Arts at Prince. Media Partners are WBEZ91.5 and WTTW11.
* * *
Mission Statement: FACETS Chicago International Children's Film Festival
Established in 1983, FACETS Chicago International Children's Film Festival strives to support the work of talented and dedicated filmmakers by showcasing international films of the highest quality and awarding prizes in multiple categories of production formats and genres. The film experiences of young viewers are deepened through a broad range of programs which extend Festival film viewing into discussion and learning.

About FACETS
FACETS connects people to independent ideas through transformative film experiences. Founded by the late Milos Stehlik in 1975, FACETS inspires audiences to engage with film not simply as entertainment, but as an exciting tool to bridge cultural divides, promote digital literacy, and expand perspectives through empathy-driven storytelling.
About Chicago International Children's Film Festival
FACETS proudly presents the Chicago International Children's Film Festival, one of only two Oscar-qualifying children's film festivals in the world. The 37th annual festival runs November 13 – 22, 2020. For more information, click here.