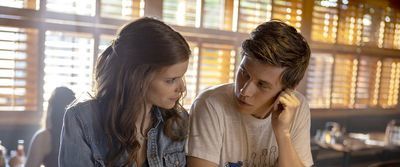 Our culture is rife with double standards spun out of gender identity. It shouldn't be controversial to say that men and women are consistently judged differently for their actions, especially when it comes to heterosexual sex. Who is the pursuer, and who is the pursued? What behaviors do we expect from each party? And how are our preconceived notions complicated by instances of mistreatment or manipulation? Filmmaker Hannah Fidell adapts her breakout 2013 film "A Teacher" into a compulsively watchable same-named miniseries ("A Teacher" airs weekly from November 10 through December 29 on FX on Hulu) that thoughtfully and devastatingly considers the rhythm of predation, the lies abusers tell themselves, and the uphill battle faced by survivors stifled by a narrow definition of victimhood.
In a Texas suburb in 2013, 30-something Claire Wilson (Kate Mara) is introduced by her lips first as she precisely applies demure lip balm; later on, Claire will wipe off that neutral shade to replace it with a bold berry lipstick shoplifted from the grocery store. It's a transition that flirts with cliché but quickly demonstrates the kind of person Claire is: one who has long presented a sort of primness, but whose desire to break the rules is rapidly manifesting in reckless ways. An opportunity for reinvention presents itself when she starts a new job as an English teacher at Westerbrook High School and is immediately labeled by the schools' male seniors as the school's hottest employee. Perhaps it's the confidence boost from that objectification that propels her into a flirtation with her student, Eric Walker (Nick Robinson), the soccer team captain and an aspiring doctor who is hoping for a scholarship to help get him to college. All the 17-year-old senior needs is a better SAT score, and how convenient that Ms. Wilson—he can call her Claire—is available for tutoring.
In its first few episodes, "A Teacher" is deliberate in adding a hint of inappropriateness to what at first seem like innocuous interactions; Fidell, who wrote a handful of episodes and directed nearly all of them, alternates between impropriety and uncertainty to make you wonder if you're overreacting. Claire insults one of Eric's friends in order to praise his intelligence—is she keeping it real, or is she ingratiating herself into his good graces? She plays Frank Ocean's very sensual "Thinkin Bout You" on the car stereo while driving Eric home; she cheekily insults him ("You know how ridiculous you sound?") when he expresses amazement that she has a life outside of being a teacher; and she masturbates to a fantasy involving him after their first meeting. Claire is instantly and fully in the wrong, and "A Teacher" makes the uncomfortable, but ultimately worthwhile, choice of not really giving us an understanding of what compels her to act this way.
To be frank: Is there any explanation that could make Claire's behavior justifiable? In practically every way, Claire seems like a normal, unremarkable woman. She's married to her college sweetheart, Matt (Ashley Zukerman, who gives one of the series' most shattering speeches), and they live in a beautiful, cozy home. She drives a Subaru. She carries a Madewell bag. She spends too much time on her phone, in particular on Instagram, looking at their peers' dogs and kids. She's trying to get pregnant. And she is also profoundly, unrelentingly bored. Mara communicates this malaise with rote pleasantness around Zukerman's Matt and more light-hearted liveliness around Robinson's Eric; it's chilling how well Claire is able to leverage the natural authority afforded to her as a teacher to her advantage. When she lies to her husband about where she's going; when she uses praise for Eric's work in her class as a flirtation device; when she organizes a private tour for him of the college he would like to attend, of which she is an alumna. Mara is clear-eyed in both Claire's narcissism and her refusal to believe that she's doing anything wrong. She's a woman, and Eric is almost a man. She can't be the aggressor—that's not how heteronormative relationships work. And she can't be abusing him; what they have is genuine. As she tells him over and over again, Claire is putting everything on the line for Eric. Of course it's love … isn't it?
"A Teacher" presents Claire's behavior without excusing it, and the miniseries pulls a sort of bait and switch. During its first half, "A Teacher" almost lulls you into accepting Claire and Eric as a "normal" relationship, with the only problem being that Claire is married. Quyen Tran's cinematography is a recurring reminder that we're watching something criminal unfold, with shots that place us as witnesses: spotting through the smeared glass of a gym door Eric following Claire to her car for their first rendezvous; seeing in split screen the increasingly inappropriate text messages they send each other. The interruptions into Claire and Eric's self-perceived romantic bliss are even more jarring, and hence even more valuable—and the latter half of the season, which focuses more on Eric's struggle to understand what he experienced and to cope with the fallout, is exceptional work from Robinson.
Robinson skews younger than his 25 years thanks to a boyish smile that has served him well in a number of teen-focused films ("The Kings of Summer," "Love, Simon," and "Everything, Everything"), and his Eric is hopeful, responsible, and charming. Seeing his flattening into someone molded by Claire's specifications and fixated on pleasing her is a terrible insight into the grooming process, and Robinson gives a spellbindingly heartbreaking performance. His Eric makes plain the insidiousness of this kind of sexual abuse, but like the characterization of Claire, he has a personality and depth outside of their relationship. He is a loving older brother and a jocular best friend, and "A Teacher" builds in time to explore how those characteristics are also infected by Claire in a manifestation of the far-reaching effects of predation.
"She can tell me to do whatever she wants," one of Eric's friends jokes when they first see Ms. Wilson, and "A Teacher" doesn't shirk away from the complicated, contrasting ways Claire and Eric move through their respective social circles. Their experiences raise other questions about what we accept in terms of romance. Eric's fellow seniors date younger teenagers often, insisting "Age is just a number"; is every one of those relationships statutory rape? When Eric begins sleeping with Claire, a lifetime of toxic masculinity convinces him he's the one in charge ("I'm the motherf**king man!"); how can we change conversations about abuse when there is still a stigma attached to male victims? "A Teacher" expands in various directions to probe at how American culture values youth to an obsessive degree and emphasizes personal satisfaction to the detriment of others, and those other considerations expand and improve "A Teacher." Given its content, the miniseries could easily have been superficially scintillating, but instead, it's purposefully disquieting and thoroughly disturbing, anchored by strong performances from Mara and Robinson that underscore how our gendered stereotypes are failing those who need protection most.
Entire series screened for review. It starts on November 10th on FX on Hulu.