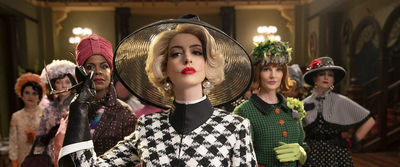 Roald Dahl did not believe in babying children, often forming images in their heads that pushed from childish vision to surreal terror. The same could be said for Guillermo del Toro, a craftsman who does not believe in holding your hand, no matter how old you are, and understands the sheer power of fantasy. Years ago, del Toro started working on a stop-motion film of Dahl's The Witches, already adapted once in 1990 by Nicholas Roeg. That project fell apart but del Toro's love of challenging scares remains in the 2020 version of "The Witches," as he co-produced and co-wrote (with Kenya Barris and the director) this version, now directed by a very different technical master, Robert Zemeckis. A victim of the pandemic, this once-theatrical blockbuster is now landing on HBO Max today, just in time to terrify children into staying up all night on Halloween. To its credit, it has some of the most unapologetically scary imagery in family entertainment in a long time, reminding one of its source material and, at its best, of Zemeckis' work with twisted visions like "Death Becomes Her" and even the darker edge of "Who Framed Roger Rabbit?". Some of the writing gets a bit clunky, the ending is pretty horrible, and there's a performance at the center that kind of sucks in everything around it like a black hole, but most of that won't matter to viewers of "The Witches": They'll be too scared to care.
Chris Rock narrates "The Witches," introducing viewers to the basic foundational truth of the story that follows: "Witches are REAL!" He explains how all those other stories of monsters and legends are nonsense … but not witches. They actually do prowl the shadows of this world, and they hate nothing more than children. Their purpose is to literally destroy as many kids as possible, and our narrator knows this because he had a personal encounter with the Grand High Witch herself, and he's going to tell you about it.
Flashback to our hero Charlie (Jahzir Bruno) as a boy, orphaned by a car accident and sent to live with his grandma Agatha (Octavia Spencer). A major change from the source material here is not only transferring the action across the pond to Alabama in the late 1960s but adding a subtext of Southern race relations in that era. It's sadly underdeveloped as an interesting theme to unpack, but the fact that Charlie and Agatha stand out in the action that later unfolds at a high-priced hotel makes them feel like underdogs in a different way.
That action doesn't really get going until Agatha learns that Charlie saw a witch. She believes him, and goes into further detail about the history of witches, revealing that her childhood friend was turned into a chicken by one of them years earlier—the image of a scared child literally becoming a giant bird for the rest of her life is the first one here that could have your kids waking you up in the middle of the night. She also previews the visual facts of witches—gloves to cover their claws, talons instead of feet, a smile that stretches so far that it turns demonic—that Zemeckis then unloads with typically impressive visual acumen. He may have left his mo-cap films of the '00s behind, but that experience clearly influenced this project, which often has so many visual effects happening at the same time that it feels like a live-action cartoon.
To overcome an illness, Agatha takes Charlie to a fancy hotel, where it just so happens a massive coven of witches have assembled to discuss their plan to rid the world of pesky children. The conference is led by The Grand High Witch, played by a heavily-accented, scenery-chewing Anne Hathaway. There are times when it feels like Hathaway is in an entirely different film from everyone else, going for broad camp more than the rest of the cast, which also includes Stanley Tucci as the hotel manager. At its best, it reminds one of Cruella de Vil, a huge character surrounded by ordinary ones. She preens and prowls through the movie, often stealing it from everything around her.
There's a centerpiece sequence in which Charlie first encounters The Grand High Witch that's easily the film's best. After making clear her intention to turn all children in the world into mice, the witches find a hiding Charlie, and the tension and striking imagery is pure nightmare fuel for anyone under 12 (and most people older than that too). Hathaway drives a fun and yet honestly threatening sequence that the film struggles to match in its second half.
As great as it can be, "The Witches" lacks the best world-building and depth of some other Dahl material, and Zemeckis can't quite figure out how to make this story richer. The back half is incredibly thin in terms of plotting, especially when compared to the revelations and sheer technical excellence of that aforementioned centerpiece sequence. There's a fun bit on a balcony and another in a kitchen, but the movie never achieves that central tension again, even in its final showdowns. And then it kind of peters out to a variation on the same non-ending of the source.
And yet, just like the people who were exactly the right age in 1990, kids won't forget "The Witches." There's still power in the idea that something is out there in the night and wants to hurt you, and it's telling that this force comes into Charlie's life after his parents die, removing that layer of parental protection. Ultimately, this feels like minor work for Zemeckis & del Toro based on a minor work by Dahl, but it could be a major work for a kid who sees it at just the right age.
Now available on HBO Max