A Preview of the 56th Chicago International Film Festival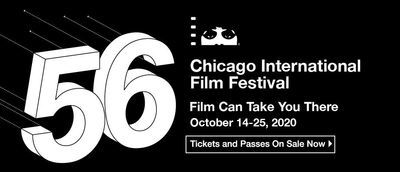 Like every film festival in the wake of the coronavirus pandemic, the 56th edition of the Chicago International Film Festival is going to look markedly different than it has in the past. Instead of the usual array of screenings at local theaters and red carpet galas, nearly all of the screenings will be done online via the festival's virtual cinema and there will even be a selection of films presented on the big screen at the ChiTown Movies drive-in in Pilsen. Beyond those concessions to the realities of today, it's business as usual for the festival, which runs October 14-25—a total of 58 films (including seven world premieres) and nine programs of shorts from 46 countries encompassing virtually all genres, career tributes, live-streamed Q&A's with the filmmakers and the like.
Kicking off the festivities will be the world premiere of "Belushi," R.J. Cutler's documentary on the brilliant work and complicated life of comedian John Belushi as recounted through the voices of friends, family and colleagues who bore witness to his rapid rise and tragic demise. The Closing Night feature will be a drive-in-only presentation of "Nomadland," a drama about a woman who decides to hit the road and live the life of a modern nomad that has already begun to receive Oscar buzz for adapting writer/director Chloé Zhao and star Frances McDormand. Other special presentations will include a tribute to Kate Winslet on the 17th that will include the presentation of the Career Achievement Award, and a drive-in-only screening of her latest, the romantic drama "Ammonite." On the 17th, "An Evening with Rachel Brosnahan" will include a live-streamed conversation with the Highland Park native and award-wining star of "The Marvelous Mrs. Maisel," and a screening of her new film, the dramatic thriller "I'm Your Woman." Gianfranco Rosi, the Oscar-nominated director of "Fire at Sea" will receive the Artistic Achievement Award and screen "Notturno," his new documentary about people struggling to live among the borders between Syria, Iraq, Kurdistan, and Lebanon.
As usual, a number of world-renowned filmmakers are represented at the festival with their latest works. Certain to be one of the high points of this year's festival is a drive-in-only presentation on the 15th of "David Byrne's American Utopia," Spike Lee's exhilarating concert film capturing Byrne and a group of 11 singers, dancers, and musicians as they perform his hit Broadway show featuring performances of songs from his recent album, a number of Talking Heads classics and a powerful version of Janelle Monáe's "Hell You Talmbout." Of course, any concert film involving David Byrne is going to inspire comparisons with the 1984 classic "Stop Making Sense" and in this case, those comparisons are more than earned. Another fascinating documentary is "Fireball: Visitors from Darker Worlds," in which the legendary Werner Herzog and volcanologist Clive Oppenheimer collaborate on a project centered around meteorites and the ways in which they have changed and affected our planet, both literally and symbolically. (If nothing else, it is worth it just to hear Herzog speak the deathless words "I am not made of stardust. I am Bavarian.")
Festival perennial François Ozon, who appeared last year with his great "By the Grace of God," returns with his latest, "Summer of '85," a colorful, energetic but somewhat empty coming-of-age story set in a Normandy beach town in the titular season that chronicles the summer romance between two young men that eventually goes bad. Shot on 16mm film, the movie looks great and Félix Lefebvre and Benjamin Voisin are certainly charismatic as the leads, but there is not much here that Ozon hasn't done before in better films. Set in 1962, Andre Konchalovsky's "Dear Comrades!" tells the story of a dedicated Cold War-era Communist Party official in a small town who finds her sentiments about the government change when the response to a strike at a local factory spirals out of control and leaves her trying to cover up what happened, while at the same time searching for her now-missing daughter. The first half, leading up to the strike crackdown, is electrifying, as is Julia Vysotskaya's performance as the official but it grows less and less sure in the second before arriving at its overly sentimental conclusion. There will also be presentations of Tsai Ming-Liang dialogue-free romantic drama "Days," Christian Petzold's "Undine" and Mohammed Rasoulof's "There is No Evil," an anthology drama that won the Golden Bear at this year's Berlin Film Festival.
Of course, what would a film festival be without at least one entry that is centered around the cinema itself? This year, the Documentary sidebar takes up that cause with "Kubrick by Kubrick," a brief and not-especially-enlightening look at the work of the reclusive and revolutionary director that is notable primarily for using recordings of interviews that he did with favored journalist Michel Ciment to tie together the usual assortment of film clips and archival materials. Another maverick individual, Greta Thunberg, is the focus of "I Am Greta," which follows her on her 13-month-long journey from her first school strike to call attention to environmental concerns to speaking before the UN Climate Action Summit. The offbeat-though-uneven "The Prophet and the Space Aliens" tells the story of Claude Vorilhon, who in the Seventies, following an alleged encounter with aliens, formed a quasi-religious organization and became a modern-day prophet to his followers and a scam artist leading a sex cult to his detractors. Religion also takes front and center in "'Til Kingdom Come," a gripping, eye-opening and occasionally frightening examination of the real meaning behind the seemingly bizarre connection between evangelical Christians in American and Jews in Israel. One of the most affecting of this year's doc crop in "The Reason I Jump," Jerry Rothwell's deeply empathic adaptation of the memoir of 13-year-old author Naoki Higashida that offers an immersive and visually impressive account as to what it is like to be a non-speaking autistic person using subjects from the U.S., Britain, India and Sierra Leone.
The Black Perspectives program includes two films that are already being discussed as prime candidates for end-of-year awards. On October 23, there will be a drive-in screening of "One Night in Miami," in which actress Regina King makes her directorial debut with a fictionalized drama, based on the Kemp Powers play, that speculates on what transpired on one night in 1964 when four African-American icons—Cassius Clay (Eli Goree), Malcolm X (Kingsley Ben-Adir), Sam Cooke (Leslie Odom Jr.) and Jim Brown (Aldis Hodge)—came together following Clay's upset win over Sonny Liston. Another icon, Martin Luther King Jr., is at the center of "MLK/FBI," a documentary by Sam Pollard that examines in startling lengths that the Feds went to in spying on King in an effort to discredit him as his power and influence grew. On a more macabre note, there will be a drive-in-only screening on Oct. 16 of "Bad Hair," Justin Simien's decidedly uneven follow-up to his impressive debut film "Dear White People." It is a 1989-set horror comedy about a young African-American woman (Elle Lorraine, who is quite good) who is inspired to get an expensive and painful weave in the hopes of getting ahead at the music video network where she works and where image is everything—alas, the weave seems to have both a mind of its own and an ever-growing taste for blood. Essentially a variation on "Little Shop of Horrors" blended with the kind of high-concept social satire and lurid genre beats that Larry Cohen used to specialize in, the film does have some funny moments, good ideas and a game cast (including Vanessa Williams, Lena Waithe, Usher, Laverne Cox, Kelly Rowland and, perhaps inevitably, James Van Der Beek) but Simien cannot quite figure out how to pull them all together and lets a story that might have made for a killer episode of "Creepshow" run on for nearly two solid hours that start dragging pretty heavily after a while.
The City & State sidebar, dedicated to films made in and about the area, is anchored this year by a quartet of documentaries. In terms of sheer size and scope, nothing in this year's lineup beats "City So Real," Steve James' sprawling and absolutely compelling five-part documentary series on current-day Chicago that spends most of its time focusing on the tensions brought about by the aftermath of the killing of Laquan McDonald and the 2019 mayoral election, jumping ahead a year in the final episode to show how the city responded to everything from the killing of George Floyd to the arrival of COVID-19. Filmmaker Jiayan "Jenny" Shi's "Finding Yingying" has her investigating the mysterious 2017 disappearance of Yingying Zhang, a former classmate of hers in China, who went to the University of Illinois in Urban-Champaign in 2017 to study agriculture and disappeared six weeks later. Sort of a companion piece to the "Belushi" documentary, Heather Ross' "For Madmen Only" offers a look at the tumultuous life and groundbreaking work of Del Close, another Chicago comedic icon who helped to revolutionize the world of improvisational comedy but who never broke through in the way that his students did. Although the results will most likely be manna to comedy nerds, it seems strange to see the life of someone who changed the rules of entertainment forever treated in such a by-the-numbers manner. On the other hand, "The Road Up," co-directed by Greg Jacobs and Jon Siskel, is a powerful look at CARA, a Chicago-based job-training program run by Jesse Teverbaugh and, by extension, the difficulties that those who have gone through incarceration, addiction, and homelessness face as they try to find their way to gaining and keeping a steady job.
Another Chicago-set documentary is one of the key elements of this year's Out-Look program, which is dedicated to films with LGBTQ+ themes. That would be "Mama Gloria," Luchina Fisher's fascinating look at Gloria Allen, an icon in the city's transgender community who has founded a charm school aimed at transgender youth. Her story, which she recounts in detail that is both moving and entertaining, serves as an effective way to see how the community as a whole has grown and developed since she first emerged in the Sixties. Another documentary that tackles a potentially fraught subject with a welcome sense of empathy and restraint is "Little Girl," a film by Sébastien Lifshitz that quietly observes the life of Sasha, a seven-year-old who has always identified as a girl, as she and her supportive family attempt to have her recognized as who she is by the rest of the local community, especially among the people in charge at her school. Although the film maintains a light and quiet touch for most of its duration, it nevertheless culminates in moments of great emotional power without ever tripping over into sentimentalization or exploitation.
A number of the films cited earlier in this piece have been directed by women and are a part of the festival's section dedicated to Women in Cinema. Joining them in the line-up is "Charlatan," the latest effort from Agnieszka Holland, a look at the life and work of Jan Mikolášek (Ivan Trojan), a Czech herbalist and faith healer who treated everyone who came to seek his service—ranging from the president to the indigent to members of the occupying Nazi forces—only to see his entire existence put on trial by the subsequent Communist ruling regime. Newcomer writer/director Stefanie Klemm offers up "Of Fish and Men," a fairly gripping crime drama about a single mother who is laboring to raise her young daughter and run her family's fish farm when disaster comes in the form of the surprise arrival of her brother. One of my favorite films of the entire lineup this year is "Spring Blossom," a quirky French charmer from debuting writer/director Suzanne Lindon in which she stars as a bored and slightly awkward 16-year-old girl who develops an instant and mutual attraction to Raphael (Arnaud Valois), an actor nearly 20 years older. Lindon handles the potentially fraught material in a manner that is always surprising and intelligent.
And finally, if your taste in cinema tends to lean towards the weirder and wilder, the fest has you covered with the After Dark sidebar dedicated to more outre entries. Among them is "The Columnist," a jet-black (when it isn't bright red) comedy from the Netherlands in which controversial columnist Femke (Katja Herbers) is helplessly drawn to social media, where even a column on the most innocuous of subjects regularly inspires a litany of hateful comments. When she discovers that one of her tormentors is a neighbor, she snaps and kills him, a move that inspires her to go on a hunt to gruesomely dispatch all of her online bullies. Yes, the concept is fairly over-the-top but it keeps from sailing into pure cartoonishness thanks to the fierce and grounded performance by Herbers. Screening only at the drive-in on Oct. 15, "The Dark and the Wicked," the latest from genre veteran Bryan Bertino, tells an altogether darker tale of a pair of adult siblings (Marin Ireland and Michael Abbott Jr.) who return to the remote farmhouse where they grew up to help their aging and visibly frazzled mother care for their father in his dying days. Suffice it to say, things do not go well as they soon find themselves under siege from a mysterious force seemingly hellbent on destroying them all. Granted, Bertino's script is not exactly bursting with originality (it basically plays as a rural "Hereditary" with bits from any number of other classics thrown in for good measure) but his direction is stylish and creepy. On top of that, the performances by Ireland and Abbott help further the sense of menace that can be felt in practically every scene.
Read our coverage of several of these films that played TIFF and NYFF here.
For more information on these and other films screening at the 56th Chicago International Film Festival, including purchasing tickets and Virtual Cinema access, go to the festival's website at www.chicagofilmfestival.com or call them at (312)332-3456