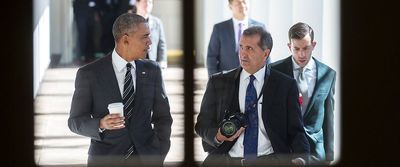 If you were to take a wild guess on the greatest moment Barack Obama had in the White House, what momentous achievement would you pick? Despite all that he accomplished, according to photographer Pete Souza, the 44th President of the United States never had a day much better than when he coached a basketball game for his daughter Sasha.
Souza is exactly the person who would know a detail this personal and intimate, having spent eight years working as the chief official White House photographer, following Obama's every move with unprecedented access to all facets of the man's life as a father, husband and president. It's an intense, passionate—and seen nearly four years into the disastrous Trump administration—deeply emotional period filmmaker Dawn Porter lovingly captures with the rousing "The Way I See It," a time-stopping, nostalgia inducing, big-hearted documentary that does for a presidency what "Bill Cunningham New York" did for an era of Big Apple fashion. Expect to be moved to tears during this reflective film as clear-eyed as Souza's photo books, reliving the memories of dignity that once piloted the country and often pondering, "How could we have gone from this to Trump?"
Having authored the bestselling 2018 photo-book, Shade: A Tale of Two Presidents, which juxtaposes Donald Trump's appalling tweets against Obama's graceful photographs that Souza himself had captured, the photojournalist must have asked this question to himself countless times, starting all the way from Trump's inauguration day in January 2017. Ironically, he didn't know what "shade" meant then, when he decided to break a fourth-wall of sorts on his personal Instagram account (now with 2.3 million followers) and post an iconic image of the 44th President in the Oval Office, with a simple but telling caption regarding the chamber's old, pre-Trump curtains: "I like these drapes better than the new ones, don't you?" Souza's intentions with his post were abundantly clear: to ridicule the gilded taste and bankrupt character of Obama's successor. When a random commenter helpfully informed Souza that he was "dropping shade," that's when the photographer's transformation from a voiceless, fly-on-the-wall documenter to an outspoken photo-activist started in earnest.
With escalating poignancy, Porter patiently unfolds both this fearless, later-life conversion in mission for Souza and his career in general, finding major inspiration in two of the artist's bestsellers: Obama: An Intimate Portrait as well as Shade. Still, the filmmaker, who recently directed the civil rights documentary "John Lewis: Good Trouble," goes further back in time and dedicates a slice of her film to Souza's years with Republican President Ronald Reagan. While this segment ultimately makes for a smaller portion of the narrative, it crystallizes both Souza's apolitical beginnings in his field and what it was like to have a president whose humanity one could see and feel even behind his disagreeable, sometimes harmful policies. "Ultimately, I thought he was a decent man," Souza says about Reagan, while noting his major failings as president, such as his lackluster response to the AIDS crisis and role in the Iran-Contra affair. And he comes at us with concrete evidence to back his claim up. Photograph after photograph, at times paired with amiable behind-the-scenes footage, we see Reagan's dedication to his wife Nancy, especially during her major health crisis.
Still, it's the photographer's relationship with Obama that lends "The Way I See It" its heart and soul. A tidy and entertaining encapsulation of their eight eventful years together, the film follows Souza around as he participates in talks and seminars tied to his promotion for Shade, embellishing these first-person anecdotes with talking-heads of historians and members of Souza's family alike. At the center of it all is a priceless collection of pictures—of the president, his family and various high-ranking members of the Executive branch—Souza had immortalized while staying true to his creative instincts. Like Lyndon B. Johnson's photographer Yoichi Okamoto whom Souza idolizes, he craved authenticity, chased truthful mood, emotion and context, aimed his lens at fleeting moments big and small, ultimately yearning for lasting images that would preserve history in some sense. "It is like sipping from a fire hose that never shuts off," Souza says, giving his best shot to describing the experience of constantly having to keep one finger on the shutter release, and the other, on a Blackberry.
And what a wealth of stills these ambitions and a 24/7 commitment yielded. Souza was there for all of it, everything between Obama's first inauguration in 2009 and eventual exit in 2017. He snapped a room of nervous executives during the Osama bin Laden raid. Similarly, he was present when Obama shed genuine tears after the Sandy Hook mass shooting—a painful recollection that makes for the most gut-wrenching moment of "The Way I See It"—and sang "Amazing Grace" during the eulogy for Rev. Clementa Pinckney, who was killed at the Charleston church shooting. Equally importantly, Souza had front-row seats through his aperture to watch Obama, the family man; playing with his daughters in the snow and cherishing First Lady Michelle Obama with love and respect. In Souza's words, he witnessed this family grow up together. Meanwhile, he didn't neglect to shoot the world that surrounded the Obamas, recording countless awe-struck, tear-stained, joyful faces around the globe that responded to the US leader with utmost amazement and admiration. Adorning the power of these images are no other than Souza's own remembrances—his marriage in the Rose Garden, his own observations of Obama's inspiring demeanor and sense of humor, his mother's meeting with The President and so on.
While "The Way I See It" isn't at all about Donald Trump, the contrast between him and President Obama is so severe that Porter's film can't help but be about what Trump isn't and can never become. Which is why it feels redundant when Porter doubles down on her film's inherent advantage and spells out the present-day administration's wrongdoings and evil deeds in the last act, including an undisciplined coronavirus postscript that doesn't mesh well with the rest of her film—a bug of excess that also hampers her recent John Lewis documentary. Thankfully, this minor, late false step doesn't diminish the joyous and deeply moving film that comes before it. "We're going to have some fun," Obama apparently said to Souza when they first started working together. That's a firm promise to anyone who will watch "The Way I See It," too, even though the good time here comes with a generous side of well-earned tears.
This review was filed as a part of the Toronto Film Festival. The film will be available virtually on September 18th.