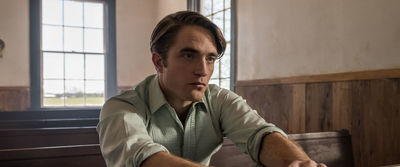 Antonio Campos' adaptation of Donald Ray Pollock's "The Devil All the Time" is an ambitious, sprawling drama with so much rippling under its surface and so many characters to keep track of that it's tempting to say it would have worked better as a mini-series. Some characters and themes get minimized more than they should because of the film's broad scope, but give me a movie that bites off more than it can chew any time over one that doesn't bite at all. The various praiseworthy elements of "The Devil All the Time" ultimately override the feeling that they aren't quite cohering into a great movie overall.
"The Devil All the Time" is a story of multiple generations impacted by violence in the heartland of America. It chronicles how faith and evil often intertwine through the years as men of the cloth commit heinous crimes and their allegedly loyal flock confuse issues of life and death. Shot on film—which was one of Campos' smartest decisions—it has a dirty, tactile sense about it, and will be several shades too grim and grotesque for some viewers. This is dark, dark stuff—the story of various families impacted by murder and tragedy.
It is also a story of fathers and sons. Willard Russell (Bill Skarsgård) returns home to Knockemstiff, Ohio from World War II, carrying the heavy weight of PTSD. His particular trauma has been melded with faith in part because of the day he came upon a man in the Pacific theater of the war who had literally been crucified, his bloody body still barely alive on a cross. When Willard looks up at the cross in the woods outside his house, one senses he can still see horror in an image of faith.
Willard's son is Arvin (Michael Banks Repeta), and the first section of the film takes place when Arvin is nine. Arvin's mother Charlotte (Haley Bennett) gets sick and themes of the line between life and death and the rituals of faith work into the narrative even more distinctly. Willard teaches Arvin to respond to violence with violence, and even to believe that sacrifice may be the answer.
Clearly, that's a lot of story right there for a whole movie, but it's merely a fraction of the 140 minutes of "The Devil All the Time." From those promising early scenes, Campos' script (co-written with his brother Paolo) spirals out into multiple other stories of people connected to the Russell family, including a corrupt cop named Lee Bodecker (Sebastian Stan) and his sister Sandy (Riley Keough), who is married to a serial killer named Carl (Jason Clarke). And then they jump forward to an older Arvin (Tom Holland), still in Knockemstiff and trying to protect his half-sister Lenora (Eliza Scanlen), whose mother (Mia Wasikowska) was murdered by a preacher (Harry Melling). Got that? And then another corrupt preacher named Preston Teagardin (Robert Pattinson) enters the narrative and Alvin has to decide if he can stop the cycles of violence.
Whew. When I first saw the preview for "The Devil All the Time," I turned to my wife and said, "That looks like a LOT of movie." And it is even more than the trailer, or this review, can capture. Every scene feels weighted with thematic or narrative importance. Sometimes I just wanted the movie to breathe, to capture life instead of pushing forward through so much death. It's a lot, and it sometimes struggles to overcome its misery.
And yet there's so much to like within that struggle. There are strong performances throughout, even ones that aren't allowed a lot of screen time. Skarsgård captures the PTSD of a man who worries God can't hear him anymore; Holland shows his range in a role he may not be expected to carry; Keough & Clarke are disturbing partners in crime. And then there's Pattinson, who will be the divisive performance of the movie in that he seems to be approaching the whole project more from a camp perspective than the rest of the ensemble. However, this broad take fits a man who has to hide his hollow soul in front of his parishioners. It works for me.
"The Devil All the Time" is a stark collection of vignettes about violence and religion in the heart of the country. It is vicious and cruel in ways that will turn off a lot of viewers. I found Campos' skill with ensemble and willingness to dig into the darkest aspects of the human condition dramatically rewarding enough, even if it doesn't work, well, all the time.
Available on Netflix today.