Jimmy Carter Rock & Roll President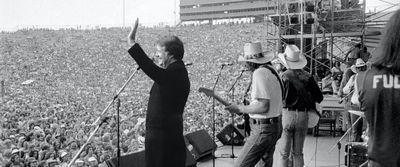 On first blush, peanut farmer and former president Jimmy Carter doesn't inspire the spirit of rock 'n' roll rebelliousness. More than anything, for Americans of an older generation, the mild-mannered politician conjures images of the 1978 Camp David Accords and the American hostage crisis in Iran. For younger viewers, he summons a legacy of building homes for the needy—during the autumn and winter of his life—with his dedicated wife Rosalynn Carter. But rarely do his friendships with the Allman Brothers, Bob Dylan, or Bono spring forth.
Carter was not the first office-seeker to closely align himself with musical artists. In decades past, politicians, while running for office, often relied on kitschy campaign jingles and theme songs. Most famously, John F. Kennedy utilized Frank Sinatra's "High Hopes" as his campaign's signature tune. But in "Jimmy Carter Rock & Roll President," director Mary Wharton makes the case for how Carter was the first mainstream politician to heavily, genuinely align himself with rock 'n' roll, the music of the counterculture. Wharton's wholesome documentary reimagines the peaceful southerner from misunderstood policymaker to musical connoisseur in a brisk yet charming fashion.
For Wharton, much of the filming—barring the various interviews with talking heads—takes place in Plains, Georgia, an idyllic town that still bears signs of its favorite son reading: "Home of the 39th President" and "Presidential Campaign Headquarters." A montage of a tiny church and his childhood home paint the former-president as totemic of small-town America. When Carter sits for his interview, the only extravagance he flashes is his belt buckle, emblemed with the initials "J.C." His genteel drawl masquerades even his heaviest of name-drops as delightful yarns.
The future statesman grew up in an area where Black people constituted 80% of the population, in a liberal household, without running water or electricity. A battery-powered radio entertained his family for much of his childhood, and to her credit, Wharton ably connects musical artists to Carter's personhood. For instance, his love of gospel sprung from his unyielding faith—Wharton provides fantastic archival footage of Mahalia Jackson performing "Down by the Riverside"—while his fascination with Bob Dylan helped him communicate with his son Chip when the pair were at odds. Other stories, such as his first meeting with the Allman Brothers—which as recalled by Gregg Allman included Carter shirtless on a porch, brandishing a bottle of J&B scotch—not only point toward Carter's genuine love for music, but why he attracted the attention of these famous players. They saw the beacon of the everyman.
That fact is indispensable. Because when Carter is shown hosting fundraising concerts with his music pals like Charlie Daniels and the Marshall Tucker Band, a hint of cynicism could easily invade the viewer. Is Carter friends with these musicians because, pragmatically, they connect him to younger voters and create troves of money for his campaign? If we look at later examples of Bill Clinton's saxophone performance on the "Arsenio Hall Show" or Barack Obama's end of the year playlists, the answer might be "yes." But the thought of any calculated motives flee from our minds because of the illuminating testimonials from artists like Willie Nelson, Jimmy Buffett, Niles Rodgers, Dylan, and Roseanne Cash. Many of whom helped Carter rise from an outsider to the head of the Democratic Party, when the country was left shaken post-Watergate.
But if Carter is the star of this film, the archival footage deserves co-billing. Carter and others often explain how music can bring disparate individuals together, and the buoyant, diverse concerts held on the White House's South Lawn during his presidency do exactly that. Joyous performances from Dizzy Gillespie, Sarah Vaughan, and Herbie Hancock—among the first Black jazz artists who were invited to the White House in large numbers—provide jaunty highlights. Just as jubilant in these clips is Carter, whose brand of "Soft Power"—the use of the arts or culture to politically bargain—swayed congressmen under the guise of hypnotic melodies.
Wharton posits Carter as a believer in diplomacy and self-sacrifice. His mission for bipartisan support—as evident in Republican actor John Wayne speaking at his inaugural concert, the 1978 Camp David Accords between Egypt and Israel, and the visitation by Ambassador Chai Tse-Min and Chairman Deng Xiaoping—makes his core morals evident. His undaunted demeanor, mixed with lighthearted recountings of his light drinking habits and run-ins with Hunter S. Thompson, keep the picture bouncy even when the events recounted soon turn dour.
While Wharton doesn't shy away from the Iran Hostage Crisis or the many other stumbling blocks during Carter's presidency, the documentary does attempt to rehabilitate his response to those catastrophes under the auspices of him as a man of conscience. But the gambit, delivered by his close political friends, like Madeleine Albright, doesn't work compared to the music-laden portions of the film. Produced by Not Just Peanuts, which bears the slogan of Carter's presidential run, a cynic would interpret Wharton's film as a legacy builder for Carter, even while the affability of the ebullient Georgian takes hold.
The picture finds its footing again when interlocking artists to Carter's achievements, namely his devotion to Habitats for Humanity—a love shared by Trisha Yearwood & Garth Brooks—and the eradication of Guinea Worm and HIV/AIDs from Africa, a passion also held by Bono. If only Rosalynn Carter, his just-as-fascinating wife, were interviewed. Learning of the former president through his son helps, but it feels like we're missing the entire conception of Carter as a husband and father, without her. Instead, affecting poetry written by Carter, and narrated by a few talking heads, is meant to fill the void. Even so, Wharton's "Jimmy Carter: Rock & Roll President" is fresh water in the middle of a desert. It's a fun soulful documentary that's rarely ever invasive, depicting the type of statesman we're sorely missing today.
Now available in theaters and virtual cinemas.