HBO's The Third Day is Ambitious Psychological Horror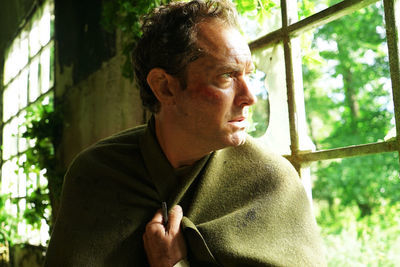 HBO's new miniseries "The Third Day" sucks you into its tale of a British cult by ways small and massive—you instantly feel for the anguish of its impulsive, naive outsiders, played by Jude Law and later by Naomie Harris. But they're merely the point-of-view for an overwhelming landscape that seems built from sinister secrets, a breeding ground for nightmares. Both of these focuses are brought to life by a project that leads with its overall ambition, and while "The Third Day" still has a few narrative missteps to try to hold your attention, it makes for gripping, standout television.
Co-created by Dennis Kelly and Felix Barrett, the series unfolds in sections dedicated to two different seasons, "Summer" and then "Winter." In its first three episodes for "Summer," Sam comes to the island of Osea after saving a young girl named Epona (Jessie Ross) from a suicide attempt in the forest out in the mainland. He brings her back home to this place that celebrates the Christianity in its own special way, and is isolated from the rest of the world. This moment comes with odd timing in Sam's life—he was only in the woods to let out emotions regarding a young son who was recently murdered, having sent a piece of the boy's clothing down a river while crying his eyes out to Florence + The Machine's "Dog Days Are Over." Sam is also having problems with money, regarding missing cash that he was going to use as a bribe to start a business. He's clearly in a bad place in his own life—maybe it's Epona who saved him?
The island of Osea is referred to by some of its residents as the center of the world, an important part of its balance. Sam experiences a bit of that tranquility as he decides to stay on the island overnight, befriending another outsider named Jess (Katherine Waterston), an expert in the bizarre traditions of the island, including a music festival based in letting criminals experience unmitigated catharsis. The two start an emotional connection that makes Osea seem all the more inviting to Sam, if not escapist. And as much as Sam worries initially about Epona's suicide attempt, he still finds comfort in the wonky explanations by hotel owners Mr. and Mrs. Martin (an affable Paddy Considine and a guarded Emma Watson). But anxiety is a corrosive force, and, like Sam, we feel like something is off. That nervousness is amplified when Sam starts chasing after a mirage of a young boy, desperately running through unknown fields. And because Sam chooses to stay a little longer on the island, he starts being hunted by people wearing sacks on their heads.
The main spectacle in the series is Law's face and all of the anguish packed behind it, as the actor makes this his own type of "The Revenant" ordeal when the walls start to close in, and the vicious intent of the islanders starts to become real. He's bruised, bloodied, and beaten as he loses his sense of reality. His eyes becoming progressively sunken, a parallel to the grief inside of him, his nightmarish ordeal supplanted by the baggage he's already brought to Osea. It's brutal physical and emotional work for something that only starts with the impulse of Sam choosing his own adventure, and Law creates an excellent through-line. By the time that his character reaches a definitive third day on the island, the series' ambitions and his own work create a powerful unity. There's even some emotional release when Sam, after all that he goes through and has to fight for, finally gets to change his clothes on the third day.
Director Marc Munden initially sets an immersive, distinct atmosphere with how he portrays the off-kilter environment that surrounds Law—the greens in this mysterious, woodsy story are extra bright, and the grays and whites are rendered especially pale, sickly. It's an abrasive life or death visual juxtaposition, trapping Sam in a type of hallucination from the start when he wanders the woods trying to grieve in peace. With that constant approach to color, Munden's camera sometimes has a very tenuous focus, turning the background of Law's numerous tormented close-ups essentially into watercolors, making for moments that are all the more gorgeous and unsettling. And every time that the series shows the causeway in a god's eye view—a road connecting Osea with the mainland, as cleared by daily tides—it has a disturbing sense of otherworldliness.
The series aims to construct its world with a grandiose type of psychological horror, so when its plotting or imagery runs familiar or overheated, it can lose some of its edge. For starters, this feels like a sibling to any cult story that was inspired by "The Wicker Man"—"Midsommar" in particular, in numerous ways—and that reduces the impact of some of its wilder moments. And when it comes to the horror, Sam has a few hallucinations that look like they're straight out of an early 2000s psychological thriller, with screaming and over-the-top gore from sporadically in-your-face storytelling. Pair that with some very obviously sinister glares from the locals that the story uses to add to the tension, and a couple too many times of Law being chased through the island by mysterious figures, and "The Third Day" sometimes has a clunky way to achieve ominous thrills.
Instead it's the more subtle details that go into the world building that make the series so effective, like the imagery that shows how the group has a warped, violent idea of Christianity that involves hearts being ripped out. Even the salt that covers the bathroom floor in Sam's hotel room is eerie, later replaced with leaves. There's a logic at work underneath the story, and just as the residents often take part in various degrees of gaslighting, or say that everything is either salt or soil while claiming to be the balance of the entire world. You're not entirely sure what it means, but you'll wish "The Third Day" offered a bit more.
Later on, without spoilers, Naomie Harris plays a mother of two daughters who comes to the island hoping to have an AirBnB getaway during the "Winter" section, directed by Philippa Lowthorpe. Harris' Helen is insistent on making this trip happen, despite weary Osea residents trying to push her away, and all of the ominous images that the trio see as they drive around town. In these passages "The Third Day" returns to its slower burn, but Harris compelling as a new piece to the puzzle, especially someone who has little idea of what she's getting into. She plays forceful and desperate with an even hand, and her episodes have their own nervous energy.
This is a show in which you're hardly ever sure what the endgame is, or what is even actually going on. But you stick with it all the same, because you hear the residents murmur "the darkness is coming," and the overall filmmaking has your hungry mind reeling at what that could ultimately mean. This proves to be a vital quality to the show, as I have no idea how this miniseries is going to end (they didn't screen the final, sixth episode), and there's a pivotal episode in the middle of it all that doesn't exist yet, because it's going to be a live theatrical production. If all goes according to plan, the series will put on an episode for "Autumn" in October, and according to the Punchdrunk theatrical company (founded by co-creator Felix Barrett), "viewers will follow the events of a single day in real time broadcast as live from the island, in one continuous and cinematic take." For a lot of shows, that might sound overzealous, or sound impossible. But for "The Third Day," such a ground-breaking choice feels to be of character with its overall artistic dreams, and its drive to uniquely immerse us in such an unsettling world.
Five episodes screened for review.