The Complete Works of Agnès Varda is Essential Viewing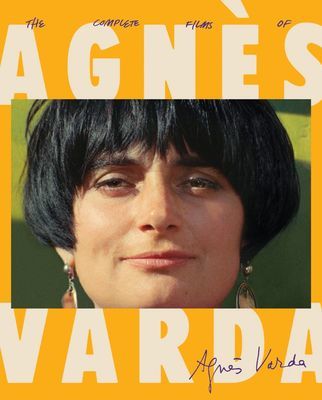 With "The Complete Works of Agnès Varda," Criterion has once again delivered a comprehensive collection for a filmmaker in much the same way they did for Ingmar Bergman in 2018. One of the joys of that set was in its curation, set up more like a film festival in a box than a traditional collection. Chronological order is the standard for most Blu-ray box sets, but Criterion approaches the work of an artist like they're programming a retrospective, with each disc serving as a night at the theater. Films may be chronologically sorted, but they're more likely to be arranged thematically. For example, this set opens with Varda's wonderful last film, "Varda by Agnès." Her California films are all one disc, of course, and so are films that emerged from one another like "Jane B. Par Agnès V." and "Kung-fu Master!," but the set also moves away from chronology at times such as with a disc called Visual Artist that includes both 1982's "Ulysse" and 2017's "Faces Places." And, of course, each disc comes with copious special features that enhance and enrich appreciation instead of just providing supplemental material. It is a glorious set, the best of the year to date, and essential for any cinephile. It's something I plan to return to again and again throughout the year.
One of the reasons for that is that I couldn't possibly watch or re-watch 39 films before writing this feature. So I sampled different films and features in the set to get an overall sense of its quality. Varda is fascinating in that I find my appreciation for her work grows every year. I think as I get older myself I'm increasingly drawn to her genuine curiosity about other people. Roger wrote in his review of "The Gleaners and I," that Varda was writing the "story of herself, a woman whose life has consisted of moving through the world with the tools of her trade, finding what is worth treasuring." Watching her pick up those treasures through her art moves me more as the collection grows. Being able to catch up with a few blind spots in my personal viewing history of Varda with this set felt like an oasis in the chaos of 2020. I will certainly return to the films I had seen and loved like "Vagabond," "Faces, Places," and, of course, "Cleo from 5 to 7," and I'm eager to see the supplemental material on those, but I chose to start my personal Vardafest with titles I hadn't seen before. Here are brief thoughts on four of them.
My journey began with 1976's "Daguerréotypes," a documentary that Varda filmed for TV almost as a challenge after taking time off after the birth of her son Mathieu. Varda was interested in directing again but couldn't be far from her child, and so she literally crafted a filmmaking challenge to fit both needs—making a documentary about the people and the businesses on Rue Daguerre, where she lived. The entire film takes place within 300 feet of Varda's home as she visits a quaint perfumery, salon, driving school, and even a magic show. The result is an absolute delight. It may lead one to believe that there are enough stories on any block to make an interesting documentary, but that would undervalue what Varda is doing here. She's not just an observer. Her empathy and interest comes through her camera, and she puts it in the viewer. I was increasingly fascinated by these people, most of whom go through daily routines that don't change much, but many of whom also seem to be remarkably content. She gets them to open up about where they came from and even their dreams, but she also carefully watches her subjects, just as captivated by the longing looks out the window of the perfumer's wife as she is the magician.
They're not on the same disc but "Daguerréotypes" fit perfectly with my second film, 1980's "Mur Murs," in that both films not only display Varda's bottomless empathy but her belief that neighborhoods are defined and shaped by the people who live there. While shooting "Documenteur" in L.A., Varda became interested in the city's elaborate, gorgeous murals. This documentary features interviews with many of the artists, most of them Chicano, and often in front of their own work. The result is mesmerizing, watching how human stories manifest into art, which is obviously another way to look at Varda's entire career. Through all of her work, there's a genuine interest in other people, and so her desire to see how experiences have been shaped into these murals, something of which will outlive us all, is contagious. "Mur Murs" blew me away. It's a gorgeous meditation on the human need to express artistically, which then becomes a part of one of the biggest cities in the world. Art is literally shaping the landscape here.
I watched part of "Documenteur," which I had seen years ago but didn't know that it opens with literally the same shot that closes "Mur Murs." I then moved on to another relatively unheralded film, 1989's "Kung-fu Master!" Again, one film grew out of another in Varda's life. While making the documentary about Jane Birkin, the two artists had the idea for this film and co-wrote it. Birkin plays a woman who falls in love with a 15-year-old boy, played by Varda's own son Mathieu. Clearly, it's delicate, disturbing subject matter, and it feels like Varda wanted to take on the challenge of presenting something so inappropriate in an empathetic way. Roger wrote, "What redeems this movie and allows it to work is that it is about feelings, not actions. Varda draws an invisible line at physical frankness in the film, so there is never a moment when we feel embarrassment for the characters (or the actors). The film really is about the phenomenon of the romantic crush—about how another person suddenly can seem to embody an ideal for us, especially if that person is distant enough or different enough so that we do not have to deal with their real-life situation." I couldn't possibly say it any better. "Kung-fu Master!" may not be top-tier Varda, but it's still an impressive drama, and includes a great performance from Birkin.
Finally, I spent some time with the stunning "Jacquot de Nantes," a film that Roger said was "a film about a boy lucky enough to discover how he wanted to spend his life, and to spend it that way." Of course, that boy was Jacques Demy, who collaborated on this unique biopic with Varda in the final days of his life after being diagnosed with a brain tumor. It may be about him, but it's her film through and through, a gorgeous cinematic love poem to a dying partner, a movie that distills everything about what makes both of their work so impressive into something altogether new. It contains equal parts Demy's optimistic wonder and Varda's radical empathy. Weaving together Demy's childhood memories with his own films, it's a magical blend of fiction and history. Varda is often at her best when she blurs the line between documentary and fiction storytelling, and "Jacquot" is one of the best examples of this—it's a history lesson about a major filmmaker, but it's also a loving embrace from the person who cared most about him.
Over the rest of the year, I look forward to digging into the few remaining movies I haven't seen, including "One Hundred and One Nights," and then revisiting several of the works I've already seen (I haven't seen "Vagabond" in over two decades, for example). And I've barely scratched the surface of the special features. Once again, Criterion has released something that feels like so much more than a mere collection—like the work of its subject, it's a gift that keeps giving.
Get your copy of "The Complete Agnès Varda" here.