The Art Takes You Out of This: RZA on Cut Throat City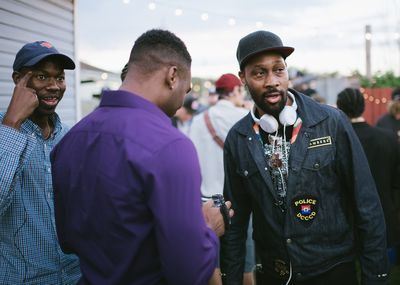 As a director, RZA is coming into his own. A founding member of the legendary hip-hop group, Wu-Tang Clan, RZA first studied filmmaking by shadowing Quentin Tarantino while composing the music for Tarantino's "Kill Bill Vol. 1." Since then, he's directed two features: the Kung-fu flick "The Man with the Iron Fists" and the musical "Love Beats Rhymes." Both produced encouraging signs of a maturing voice and eye. But his latest film, "Cut Throat City," represents a new high.
A heist-thriller set in New Orleans' Ninth Ward, the film follows a group of friends whose post-Katrina career prospects were swept away by the unforgivable storm. Cheated by FEMA, and misunderstood by white power brokers, Blink (Shameik Moore), Miracle (Demetrius Shipp Jr.), Andre (Denzel Whitaker), and Junior (Keean Johnson) turn to robbing casinos. Their actions make them the targets of the vicious drug dealer 'Cousin' Bass (T.I.); cops like Cowboy Courtney (Rob Morgan) and Lucinda Valencia (Eiza González); and shadowy figures in Jackson Symms (Ethan Hawke) and The Saint (Terrance Howard). Wesley Snipes and Kat Graham also provide stellar supporting performances in RZA's large ensemble piece. Compellingly shot, "Cut Throat City" unflinchingly explores socioeconomic disparity and institutional racism in gritty fashion.
RogerEbert.com spoke with RZA about the movies he's watching during quarantine, the benefits of filming in New Orleans' Ninth Ward, and the violence in his filmmaking
Obviously we're in a different world now, but because "Cut Throat City" was supposed to premiere at South by Southwest, and had its release date rescheduled several times since, what have the last few months been like for you?
Wow. The last few months have been unique. On the business side, of course, the challenge of getting the film out into the world has been big. On the personal side, I haven't had this much time to be home with my family in years. So this is a great thing for us. Me and my wife have been watching movies together. We used to watch movies once a week because I was so busy. And now, it's like, four times a week. That's a blessing.
And then creatively, I've had more time to also play with my drum machines and be in my home studio a little bit more. I can't complain. I haven't been able to travel with my Wu-Tang brothers or pop up somewhere and do a concert. But most importantly, with this film, I put so much work into it—and the cast and crew put so much hard work into it—and we haven't gotten a chance to share it with the world or even share it with each other. Like there was no premiere. So, you know, it's good and bad. But more good than bad.
What movies have you been watching lately?
It's too many to name, but I've been through the whole Frank Sinatra collection. I wanted to go to his collection because I watched one of his movies—"A Hole in the Head"—and I realized something about the script. It was really well-written, and then I watched a second movie and I said, "Wait a minute … this is also well-written." And I realized that Frank would not get involved with a bad movie. I ain't sayin' every performance was great, and every set was great, but he would not get involved with a bad story. And so I just ended up watching the whole collection that he put out into the world.
Of course, I went back to my whole Kurosawa collection because I have the time. I actually introduced Kurosawa to my son. I also introduced Chang Chen's filmography to him, too. My son takes a film class so his film teacher was putting films in front of him from "Groundhog Day" to "Minority Report" to "Once Upon a Time in the West." Which is a great template for a young mind to go through. But my son is a young teenager, so I let him watch Spike Lee's "Malcolm X." My niece, she goes to Howard University, and she came to my house during spring break and got stuck in quarantine. So she's been watching these movies with us as well.
You mentioned your son's film class. Your film school was more like on-the-job training. You first shadowed Quentin Tarantino, and your style grew from there, into something that I think is so freeform. What's the overall arc of your directorial growth been like?
I think I'm evolving on the right path. I think I'm getting better. I think somebody, one day, is gonna tell me I'm good. And if I keep striving, maybe one day, somebody's gonna tell me I'm great. I'm trying to respect the craft. I didn't go to college for it, so my study had to be self-study. I pay homage to so many different films and I study the masters. And that's what Quentin did. And that's what John [Woo] told me to do.
I was blessed when I was working on my second film—"Love Beats Rhymes"—I had a producer by the name of Paul Hall. He produced a lot of films for Lionsgate, and worked alongside John Singleton. Because of that, me and John Singleton had a lot of time to spend together during "Love Beats Rhymes." Before I started filming, Paul gave me a book by Sidney Lumet called Making Movies. It was like, "Wow." I'm sure that's a book you get in film school. It's probably a recommended reading if you go to a college like NYU. But at least I had a producer around me that saw me improving in the craft, and then gave me the literature that I needed to improve even more. I hope with this film, for people who've been watching me, they see that I'm evolving into my own.
This film looks great, especially the way you shot New Orleans. I've watched a lot of films set in New Orleans and they're always shot in the touristy wards. But you filmed in the lower Ninth Ward, the portion of the city that people don't usually get to see.
We had two options, right. We could've fabricated it, or run somewhere else to get a bigger tax break, but I was adamant about shooting in the Ninth Ward. When I scouted, I felt like it was part of the story. And then secondly, I felt like, "Yo. We have to come into the community with something that's beneficial to the community." A film crew does that. I remember being on a set one day—as an actor—in a small town in North Carolina. It was for a film called "Gospel Hill." I noticed how quiet that town was until the film crew got there and how we turnt it up. The businesses were doing well. The bars were happy on the weekend, and the cafes were happy during the weekday. [laughs] It was because the production filled an economic void.
So to me, we had a location that was real to the story, which meant that I didn't have to build all these sets. We did build a shack—the home of Wesley Snipes' character—but we built it in the Ninth Ward. I wanted to use that realism. We used people's homes. And we at least, left them with an opportunity to refurbish those homes based on some of the economics that was left behind. So if it's positive all around, you can't lose. Then everybody's happy. It's a bad analogy, but it's like sex, everybody gets an orgasm. [laughs]
You've talked about New Orleans not changing much, in terms of the devastation. With regards to Black Lives Matter spotlighting racial inequalities, New Orleans is a city that's kind of a microcosm of America's problems.
Of course, the city has its own unique things that can't be found anywhere, but in New Orleans, I bet that when you look at it on a social level, it can be a microcosm. I've been using this analogy a lot, but in the '50s there was lead inside all of the paint. They painted the schools with it. They painted houses with it. And they didn't know that it was killing people. But now they know, and so it's been removed. And now you can buy paint with no lead in it. I hope that our country, with New Orleans as a foundational place, realizes that somebody else is getting our exhaust pipe. Just turn it off for a minute, and let them get beside us—instead of behind us—where they're stuck sucking up all of this shit, man. And if anything, we have the ability to do it. It would be different if we couldn't. But there is something we can do, so let's do it.
With regards to Terrence Howard's character The Saint, and his inhabiting a church, the way you juxtapose his religiosity against his sins as a drug dealer, which is happening in the same space, feels like a greater commentary on everyone's binary morality in the film.
It was so funny. When I was scouting, the scout would take me to different places. One was a big high-rise with a giant loft. He told me, "We're thinking about this as the Saint's lair." I was like, "Naw. This ain't working for me." And then they showed me this church. They said, "We can actually convert this into maybe a police station." I said, "Naw. This is his lair. Trust me."
But the reason why I chose it, is like what you just said, in places like this, there's so much other stuff going on than what it's built for. The same goes in a political sense, too. If you look at a capitol building, with its great structure and marble, and all of a sudden, there's nothing but corruption going on. You look at the justice system, and it's injustice going on. Then you go to a church, and they're collecting money, but it's going right into the priest's pockets. And he might be looking at your woman. [laughs]
I thought, artistically, I could express all of that. And this character, at the end of the day, he reads from the Bible before he commences with his craziness, but I do believe there's a part of him that sees and believes what he's reading. If he didn't have that in him, then he wouldn't have made the decision he made with Blink.
One thing I couldn't get out of my mind after watching "Cut Throat City," is the "walk the plank" punishment that T.I.'s Cousin Bass uses. Earlier in the film, when one of the characters comments on Blink's comic, he says he wants realness rather than Quentin Tarantino violence. Considering how vicious the walk the plank scene is [which includes a rabid raccoon and a man dropping his pants] what are your views on violence in film?
Violence can be entertaining. Watching something happen to somebody else, for whatever reason, can entertain us. So I don't mind violence in films, but I don't like it to be too gratuitous. And I'm glad you noticed that scene because it was written way worse than it was filmed. It wasn't originally called "walk the plank" in the script. But as a student of Tarantino, I thought it would be funny. When I talked to T.I., and I told him what it was going to be, I told him it was going to be funny because it's going to seem like that's something he does all the time. When the screenwriter Paul [Cuschieri] first wrote it, he wrote the animal not as a raccoon but as a New Orleans rodent: a nutria. But they couldn't train those motherf**kers. The wrangler was like, "Man, I can't. And nor would the city allow it." So we had to go with the raccoons. The producers wanted to lose the scene, but I said, "Nah, nah, nah. This is character development." [laughs]
Apart from the violence, the four main characters are living an inescapable life in an inescapable city. Their brotherhood helps them cope, but "Cut Throat City," feels like a commentary on escapism.
It's a thing I tried to fit into the film, and I'm glad you noticed it, but Lucinda tries to tell Blink that a pen will take him further than a gun. You know, that sounds like a f**king line, but I'm a living example of it. You know what I mean? And even if the pen doesn't take you out, meaning economically out, the art itself takes you out of this. That's why we watch "Star Wars" and we fall in love. Because it's happening in a galaxy far, far, far away. Escapism, for those who can't do it physically because of their economics, they can at least do so spiritually and mentally.
So I hope that when people are seeing this film, that they see that "Cut Throat City" is really about when aspirations turn into desperations. And I believe that you can beat desperation with determination and imagination. I was watching "The 36th Chamber of Shaolin," and I was imagining I was in China. I was imagining I was at the Shaolin temple. It was imagination that allowed me to escape; it was the action of images. That's what a film is also: It's images in action. That's the escape.
Available this week in select theaters.