Sojourner Truth and the Other Monumental Suffragettes Immortalized in Central Park Sculpture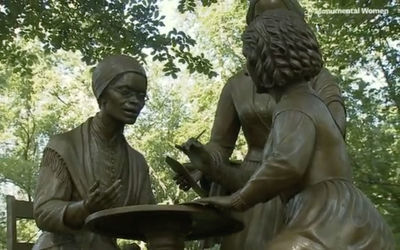 The first statue in a public space of New York City that depicts not only real-life women but a Black woman was unveiled this morning. Women's suffrage icons Sojourner Truth, Susan B. Anthony and Elizabeth Cady Stanton have now been immortalized in Central Park, where the only prior sculpted representations of women were of fictional characters like Alice in Wonderland and Mother Goose. It's no coincidence that this momentous occasion coincides with the 100th anniversary of the ratification of the 19th Amendment giving women the right to vote. We honor the phenomenal contributions of these women even though they themselves never got to properly exercise that right. They paved the way for us all. This year, 2020, has been dubbed the "Year of the Woman," and our right to vote is still one of the duties I consider sacred and hold dear.
In the video embedded below, NBC's Morgan Radford provides exclusive footage of today's unveiling, where "Hamilton" star Renée Elise Goldsberry recites words from Sojourner Truth's speeches. Goldsberry's voice is so very beautiful. The video also contains interviews with Brenda Berkman of Monumental Women, the organization that made this statue possible, and concludes with the unveiling itself.
In another video from "The Today Show," news anchor Hoda Kotb spoke with Coline Jenkins, the great-great-granddaughter of Elizabeth Cady Stanton, and Marika McLiechey, a descendant of Sojourner Truth, who believes her ancestor would say that the great work she began is far from finished today. You can watch their full conversation in the video embedded below.
Last year, a significant step was taken to add Sojourner Truth to this first-ever statue of women suffragettes in New York City. Sculptor Meredith Bergmann, working with the non-profit organization Monumental Women Statue Fund originally envisioned her statue to include American suffragettes Elizabeth Cady Stanton and Susan B. Anthony. This decision was rightly criticized for its failure to feature the African American activists who fought for women's right to vote, women such as Ida B. Wells, Mary Church-Terrell and of course, Sojourner Truth.
A longtime heroine of mine, Ms. Truth had somehow been relegated to a "hidden figure" status in contemporary history. She was a suffragette, abolitionist, speaker, mother, consultant to presidents, leader of a land ownership movement and is one of the most iconic characters in human history. And yet, until recently, there were no plans to include her in the Central Park statue honoring champions of women's rights. It's as if we heard Sojourner Truth's plaintive call from the grave, "Ain't I a woman?"
"It's amazing and fitting that both the state and city will recognize Sojourner's place in New York history," said Burl McLiechey, the 6th generation grandson of Sojourner Truth, who resides near her final resting place in Battle Creek, Michigan. "I found out that I was a descendant of Sojourner's when I was 8 years old. I've been trying to spread the word about her strength and wisdom ever since."
Sojourner Truth is such a seminal figure in history that even Norway selected her to be the first American female and first Black icon to be featured as a "tailfin hero" for their commercial planes. In 2009, the first year of Barack Obama's presidency, she became the first Black woman honored with a bust in the U.S. Capitol, sculpted by Artis Lane, and on display in Emancipation Hall of the U.S. Capitol Visitor Center. New York Governor Andrew Cuomo was an advocate for a second Sojourner monument soon to be unveiled that will be located at the Walkway Over the Hudson State Historic Park along the Empire State Trail in Ulster County, Sojourner's home county.
"When the two new statues are complete, there will be three public statues honoring Sojourner Truth in New York State," affirmed filmmaker Lateef Calloway, referring to the current New York statue of Sojourner in Port Ewen, near her birthplace, which was sculpted by Trina Greene and dedicated in 2013. "I recently visited the Ulster County statue that shows Sojourner, then called Isabella Baumfree, as a slave girl of 11 carrying a jug bound for the local tavern. It's a touching statue of the young girl. Now we need to see Sojourner as a strong adult on her way to making positive inroads for women, people of color and other disenfranchised groups."
Mere days before the lockdown in March, I was privileged to attend the preview unveiling of a sculpture of Sojourner Truth by acclaimed artist Vinnie Bagwell at her loft. You can see the image of Ms. Bagwell's sculpture in the video below…
You can find the full three-hour livestream of this morning's unveiling of the new Central Park statue at the official site of Monumental Women.