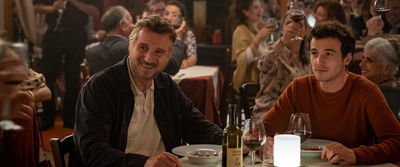 The sad subtext of "Made in Italy" is more intriguing and poignant than what we see on screen.
Father and son Liam Neeson and Micheál Richardson play a father and son who finally force themselves to open up and grieve the loss of their wife/mother, who died in a car accident about two decades earlier. In real life, the actors suffered a similar tragedy when Neeson's wife and Richardson's mother, Natasha Richardson, died in a skiing accident in 2009.
The parallel is inescapable, giving "Made in Italy" an undercurrent of sorrow, despite the sun-dappled Tuscan scenery and the ill-advised attempts at wacky physical hijinks. But in making his feature writing and directing debut, longtime actor James D'Arcy has come up with a visually appealing yet emotionally inconsistent film. His story is filled with contrivances and arbitrary deadlines to get big things done, and his supporting female characters are little more than one-dimensional props to help move the story along. And while D'Arcy fares far better with the dramatic moments than the comedic ones, that's mainly because the veteran and venerable Neeson is up to the task of heavy lifting; Richardson, unfortunately, can't quite keep up and weirdly seems miscast, despite the resemblance to his famous father. (Richardson also played Neeson's son last year in the revenge thriller remake "Cold Pursuit.")
We meet Richardson's Jack first. He runs a tony London art gallery and seems to be quite good at his job. So when his partner in the endeavor—who also happens to be his wife, who's divorcing him—announces her family is selling the gallery, he comes up with a plan to find the money to buy it from her. He'll sell the Tuscan villa that's been in his late mother's family for generations. It's just sitting there, empty, except for some packed-away furniture and all those painful memories. But he'll need help from his estranged father to fix the place up and get it ready to list.
Neeson's Robert is a once-promising artist who's lost his creative spark. We know this because the camera pans around Robert's mess of a studio to the helpfully tacked-up newspaper articles on the wall with headlines announcing him as the future of the art world. D'Arcy's script features a lot of that kind of exposition and hand-holding. On their road trip to Italy, the two quickly fall into the same kind of banter they've always had, which is to say, none at all. Even awkward small talk quickly dissipates.
But in no time, jaunty music accompanies their journey into the sunny Italian countryside. As they loosen up and get reacquainted with each other, Robert reveals himself as gruff and randy, while Jack is sweet and romantic. The extremely watered-down shtick Neeson and Richardson are stuck doing is vaguely reminiscent of (and inferior to) the fun friction Sean Connery and Harrison Ford perfected in "Indiana Jones and the Last Crusade."
Naturally, the house is in a far worse state of disrepair than they'd expected when they arrive. (The great Lindsay Duncan has some amusing moments as the uptight real estate agent who gives them tips on whipping it into shape.) But the nearby town is beyond adorable—the kind of place you'd expect to see Elio and Oliver blissfully riding their bicycles and calling each other by their names—which might put the seed of an idea in your mind that, hmm, maybe these guys won't end up selling the house after all. Everybody knows everybody, and at night they all gather in the square to drink red wine and watch old, black-and-white movies under the stars.
At the center of this little slice of paradise is the conveniently single Natalia (Valeria Bilello), a chef who runs a quaint restaurant that's the neighborhood hot spot. Natalia is impossibly beautiful and charming as well as a playful and warmhearted mom to an eight-year-old girl. And yet her entire raison d'etre in "Made in Italy" is to make Jack face his long-suppressed feelings about his own mother and his childhood in this magical place.
"I don't think I know how to grieve," Jack says, his brow furrowed, Richardson's go-to device. But when the eventual breakthrough comes for both father and son—when they finally hug and cry and release years of pent-up despair—there's enough inherent emotion in that moment that D'Arcy didn't have to smother it with a dramatic score and needless edits. This scene in particular highlights that while Richardson may have a fine screen presence, he's not nearly up to Neeson's level of technique and experience, and the disparity is distracting. Then again, Richardson doesn't have a lot to work with because there's not much to his character.
Still, if you're stuck at home and in need of an escape (or even a quick cry), "Made in Italy" might work just fine. The rolling hills and radiant sunsets of Montalcino, where the film was shot, will make you want to pack your bags and hop on a plane—now more than ever.
Now available in select theaters and on digital platforms.