Sing Along with the Endearing Little Voice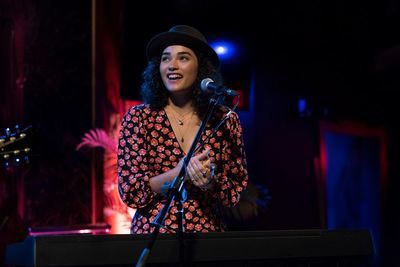 A struggling singer-songwriter navigating New York City's Indie music scene, Bess King (Brittany O'Grady) tirelessly composes songs in a makeshift recording studio. Adjacent to her creative space, a converted storage unit, is a pining British filmmaker named Ethan (Sean Teale). Bess balances Ethan with her other love interest, her guitarist Samuel (Colton Ryan), while safeguarding her autistic brother Louie (Kevin Valdez) during his transition to adulthood. With nine half-hour episodes, the Sara Bareilles and Jessie Nelson produced Apple TV+ series "Little Voice," is a melodramatic romantic-comedy featuring earworm music and narratives so sweet they're endearing.
As an underdog story about hungry artists craving their big break, "Little Voice" often mirrors "The High Note" and "Begin Again." Like the protagonists in those films, Bess possesses raw natural talent, but needs more seasoning. In the meantime, to make ends meet, Bess works several jobs. She's a dog walker, a piano teacher, and a server. Musicians play nightly at the nightclub she bartends, which allows plenty of opportunities for established artists to make musical cameos in "Little Voice." A prolific songwriter herself, the only thing holding Bess back is her crippling stage fright, which stems from the night a group of guys laughed her off the stage.
Nevertheless, she forms a musical duo with the soft-spoken and unflinchingly supportive Samuel. And though Ethan is a triflin' interloper who neglected to tell Bess about his girlfriend the first night they met, the singer-songwriter wrestles between which man to choose. The competing wooers offer almost no dramatic tension, mostly because Samuel is diplomatic to a fault. However, the maneuvering of a slimy music producer—a character clearly inspired by Dr. Luke—pushes Bess to confront a sexual predator, and allows the series to explore the issue of sexual harassment in the music industry.
"Little Voice" tackles other serious subjects. For instance, Bess' father Percy (Chuck Cooper)—a once revered singer now busking with a soul-a capella quartet—struggles with alcoholism. There's also Bess' best friend and roommate Prisha (Shalini Bathina), a guitarist in an all-female mariachi band, who is fearful of coming out as gay to her dogmatic Indian family. Neither theme is given the required nuance, especially Prisha's homosexuality. And while Prisha's parents are like a second family to Bess, in actuality, their characterizations are stereotypical. Their dialogue undulates between persistent warnings to their daughter to marry and jokes about doctors. Consequently, Prisha's narrative lacks the requisite space to confront the conflicts between religiosity and sexuality.
Of the subplots, the one concerning Bess' older brother Louie, an autistic man adapting to adulthood and his new roommates, is by far the strongest. For much of "Little Voice," Louie navigates the job market with increasing difficulty. He's often misjudged by impatient ableist employers, and shunned by those around him. Yet he perseveres. Played by Kevin Valdez, a 21-year-old autistic actor, Louie loves showtunes and exhibits an encyclopedic knowledge of every Broadway musical. He wears t-shirts celebrating "The Phantom of the Opera" and adores "Hamilton," and makes his own Broadway vlog to share his factoids. His arc illuminates the challenges autistic men and women face when entering adulthood. Moreover, the conflicts between himself and his fellow autistic roommates in their group home, especially his fraught friendship with Phil (Sam Lazarus), are so genuine, I almost wish the series revolved exclusively around them. Louie and Bess provide the best male-female dynamic in the series; one formed by unwavering support for the other. And throughout, Valdez displays incredible range and laser focus, delivering show-stopping singing, sobering emotion, and a wellspring of joy. He is the lifeblood of the series.
Even so, "Little Voice" often depends upon major coincidences to spur melodramatic scenes: By accident, these characters perpetually find each other on the streets of New York without cause. The editing in almost every episode is rife with over-cutting, often trying to manufacture an emotional power that's already present in the scene. Imitating a journal entry, each episode of "Little Voice" opens with an achingly cliché hand-written title sequence. And without much character motivation, Bess' manager and cheerleader Benny (Phillip Johnson Richardson) is often relegated to a narrative spare part, while Oscar nominee June Squibb finds little to do as a quiet resident of a retirement home.
But oh, does this series have earworms to spare. With its shots of Washington Square Park that capture the vibrant artists of New York City, much of "Little Voice" is a love note to street musicians, buskers, and musical theater. Moreover, Bareilles has written an assemblage of stand-out tunes. The title track "Little Voice" is an endearing piano-based ballad about fearless expression, while episode four's "King of the Lost Boys" is an uplifting and thunderous pop confection. O'Grady offers soulful vocals and even more passionate acting, holding together an all-too ambitious series that swings wildly between keys. But while it often crosses the line into saccharine, "Little Voice" is an engine of joy, driven by great music and even catchier, unforgettable characters.
Whole season screened for review.