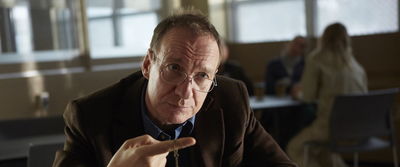 For a long time, the latest movie from Cairo-born Canadian director Atom Egoyan would be an eagerly anticipated showcase piece at the Toronto International Film Festival. His early pictures such as "The Adjuster" and "Exotica" were bold, exploratory dramas with heavy art-film accents. 1997's "The Sweet Hereafter," based on a Russell Banks novel, told a harrowing tale of tragedy with a distinctive voice that leaned just far enough into the realm of the mainstream to make the movie an indie hit and a two-category Oscar nominee.
Anyone who attended that Toronto festival in 2005 will remember an almost palpable "what the hell did I just see?" feeling that followed press screenings of "Where The Truth Lies," Egoyan's adaptation of a Rupert Holmes novel (don't laugh) about showbiz sexual depredations in the 1950s. The strangely robotic performances, the on-the-nose dialogue, the nearly amateur-hour period trappings had me thinking "has this guy forgotten how to direct a film?" a question I have only ever asked concerning Dario Argento.
Since then, in any event, critics have looked toward each new Egoyan picture with a combination of anticipation and trepidation, looking for what they call a "return to form." "Guest of Honour," a knotty memory play and character study that, not unsurprisingly, screened at last fall's Toronto fest, is a gratifyingly solid work that benefits from first-rate performers and a knowing location nose for the scruffier corners of Hamilton, Ontario.
After a few establishing shots, the significance of which will be fleshed out as the picture goes on, "Guest of Honour" opens proper with a convention begun perhaps by Preston Sturges, in his screenplay for 1933's "The Power And the Glory," that is, with two people talking about a dead man. They are Vanessa, a composed and beautiful young woman, and Father Greg, a priest, played by Laysla De Oliveira and Luke Wilson respectfully. The dead man is Veronica's dad, Jim.
Played by David Thewlis, Jim is a restaurant health and safety inspector who takes his job very seriously. He's on duty even when he's off duty, as we see when we first meet him, and he finds a hair in the rice he's eating at a food court during his leisure time. He's specific, strict, and very observant, but he's not without compassion. As it happens, his compassion will backfire on him.
Vanessa tells Father Greg of the rabbit Jim got for her as a girl, a bunny she named Benjamin. Benjamin lived for quite some time, almost setting a record for bunny longevity, and Vanessa recounts to Greg how kind her dad was to look after the bunny while she was in prison.
Well, there's a real "what you say?" moment, for Greg and for the audience. And things get even weirder. Vanessa, once a music teacher at a high school, went to prison for a crime of sexual abuse she didn't commit. Almost everyone knows she didn't commit it. A codicil of Canadian law enabled her to avoid trial, plead guilty, and request the maximum sentence. To anyone who'll listen she'll say she deserved prison. But for a different crime, or let's say sin, which goes back to her teen years and was based on a complete misapprehension of a situation involving her father. A situation she was both right and wrong about.
I mentioned this was knotty. But Egoyan keeps all the temporal balls he's juggling aloft and plainly visible, so the porous borders between Vanessa's perception and a reality that deviated from that perception by a tiny but crucial degree are painfully known to the viewer. In Vanessa the writer/director creates a nearly Bressonian figure of quixotic moral conviction, and De Oliveira realizes her beautifully. And Thewlis, as a father whose devotion to his daughter compels him to discard his own ethics in a way that, unfortunately, other simply can't help but notice, is spectacular. He's a character who would be easy to caricature, but Thewlis never goes broad. Egoyan himself can get a little on-the-nose here: the portrait of a dual Jim in a distorted mirror, coming directly after a revelation of one of his breaches, is a solid, Bacon-style image but a bit overstated. Nevertheless, "Guest of Honour" is the director's sturdiest creation in a while.
Now playing in virtual cinemas.