An Unheard Tale: Chris Foggin on Fisherman's Friends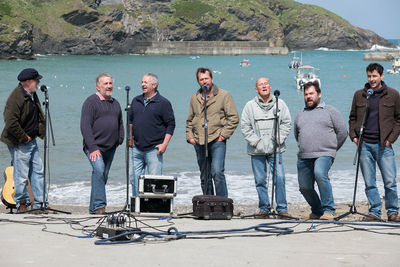 Director Chris Foggin had to find a way to keep some suspense in a feel-good story based on the unexpected UK top ten hit songs from a bunch of Cornwall fishermen. So, the screenplay of "Fisherman's Friends" by Piers Ashworth, Meg Leonard, and Nick Moorcroft adds in a love story and some professional conflict for the A&R man played by Daniel Mays. But Foggin understood that the sustaining forces of the film were the songs themselves, the community of the men who sing them, and the beauty of the Cornwall cost. In an interview, Foggin talked about "going back" to the actors he most likes to work with and how, like the character played by Mays, he also found himself captivated by the landscape, the fishermen, and the history they cherish through music.
You have a gift for casting. Everyone in the film is so good.
Thanks so much. I'm really pleased. I just kind of get a feeling early on. And then I tend to, if I've got a relationship with the actor before, I rely on that and I definitely had it with "Fisherman's." I'd worked with Daniel Mays before and with James Purefoy, and it was just that kind of feeling is when I've been with them on jobs before and seen what they brought to the set and the production and how lovely they were and nice to the crew, everything like that. That meant so much to me. So that's why, you know, I'd always go back to those people.
In a movie like this, based on a true story, we know where it's going. How do you build in suspense?
It's based on a true story but we added to the stakes by bringing in a love element to it as well. And the beauty of this film, I always found is, and even for me personally, is not very many people knew about it as a story. I remember researching the script myself and thinking, "Oh my God," and falling in love with it.
So, we thought when making it that people would not know too much about it. It was kind of an unheard tale.
What is it that sea shanties and and films have in common in terms of storytelling?
It's the feeling of connecting each evokes when experiencing it for the first time. As soon as I heard the fishermen I started falling in love with them, and I just think that their music has a heartwarming feeling that helps the movie.
The landscape of Cornwall and the sense of community are really at the heart of the film.
The joy of that film was just down to that community. I'm from the north of England, which is like about six, seven hours north in the car. And I'd been there one or two times, but without spending time in the community, without the people around. I just love everything about what they brought and give us for that film. In terms of representation, that was the key for us, everyone across the film from the writers, the producers, we just wanted to make them happy and proud of the story we were telling. And they were so welcoming.
Is the music in the film the original music?
It's a mixture of both. So whenever you're watching it, you see the actors singing on closeups, that's all the actors singing. And then we would use the real fishermen when dropping our wide shot and all that, we would use all the original tracks.
And some of the real singers are in the film?
Yes, in the bar or they walk pass one another on the flat, but none of them feature in the band.
You've worked with a lot of different directors as an assistant director on a lot of very high profile productions. What are some of the things that you've learned from them that you brought to this film?
I've been very fortunate and being on films with all the amazing directors just taught me so much like just how to deal with actors or deal with the crew. I began as a set PA and I do think that experience of working on that job helped me absolutely massively. The little things like watching how a director works with actors or speaks to actors or speaks to crew. If anybody asks me now how to begin in this business, if you can gain a feeling of being on the set and just watching people work, and then you begin to know what the other roles on the set entail or you get to know what that person does and what that person does and that definitely helped me understand how every person on the crew has something important to contribute.
One of the main reasons I'm in this industry, is because of the collaboration. I love the idea of collaboration and working with everybody. I just hope that doesn't change as we come out of this pandemic. I just hope that people can still build relationships and not have to worry about keeping the distance anymore. So, we'll see.
Do you have a favorite of the songs in the film?
"South Australia" is probably my favorite one. We had so many amazing experiences, sitting in the pub where it was all filmed in Port Isaac. We were all living in the same bubble, all staying right there together. If you're filming in London, for example, everyone has to travel home, but for this everyone was living in houses within that village. So, we would finish in the nighttime and it was a lovely crew, a lovely team of people and we would be straight to that pub and the fishermen would be there and they would just break out into song and "South Australia" reminds me of that lovely experience.