McHenry Outdoor Theater Keeps the Communal Moviegoing Experience Alive and Safe During COVID-19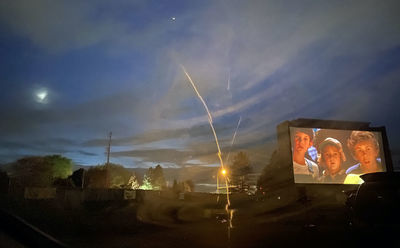 In the northeast corner of Illinois, on the outskirts of unincorporated McHenry, resides a majestic moviegoing venue where countless formative experiences have taken place. I was only a year old during my first trip to the McHenry Outdoor Theater, where my parents spent the entirety of 1987's spoof "Dragnet" lulling me to sleep. As soon as the film ended, I was promptly woken up by the sound of cars honking in approval, the vehicular equivalent of applause. By the time I reached the age of eight, I was able to fully appreciate the theater's immersive magic, as I watched Scar leap through the flames at Simba during the climax of Disney's original and unmatched 1994 version of "The Lion King." The lack of major ambient lighting in the surrounding area makes the visuals of any given film pop all the more when they are projected upon the towering outdoor screen, which can be glimpsed for miles during a late night drive through the countryside.
Since the coronavirus pandemic resulted in theaters being shut down this past March, the McHenry Outdoor's projector light has emerged as a shining beacon attracting cinephiles from around the country who are eager to share in the communal experience of cinema from the comfort of their cars. Though the venue was deemed a nonessential business in late April, a ruling from government officials that prohibited the theater's planned reopening, things changed once State Representative Tom Weber got a subcategory added in Governor Pritzker's Executive Order 2020-32. It enabled drive-in theaters to once again supply essential escapism, provided they follow the required social distancing guidelines. Since 2012, Scott Dehn has owned the McHenry Outdoor Theater as CEO of Golden Age Cinemas, and he has always prioritized the well-being of his staff and customers over all else.
"Movies are great, but they're not worth risking your health or your safety," stressed Dehn during our recent chat on the phone. "My employees are my family and I love my customers. As bad as I would want to be open, I wasn't going to do it unless I was 100 percent sure that everyone was going to be safe. I have family working there too, and I wouldn't put them at the frontlines of something that would be bad for them. Right now, we're not able to sell at capacity, and that's okay. I put all the precautionary measures in place as directed by the Illinois Department of Commerce and Economic Opportunity, and I also added a few more directives that are admittedly a little overkill in some areas. But when it comes to combating this virus, airing on the side of caution is not a bad thing to do."
The current social distancing regulations require only one car to be parked between two sets of speaker poles, many of which are still operational, though passengers are encouraged to tune their car radio to the station providing the film's soundtrack. Audience members must wear masks and maintain a six-foot distance from each other when outside of their vehicle or at the concession stand, while the restrooms onsite are disinfected by employees after every usage. None of these measures deterred film buffs from flocking to the McHenry Outdoor Theater when it reopened on the weekend of May 8th with a prehistoric double bill of 1994's kid-friendly lark, "The Flintstones," and Spielberg's 1993 thrill ride, "Jurassic Park." The screenings quickly sold out, while numerous other cars lined up along a nearby road to catch a glimpse of the nostalgic spectacle. This caused Dehn to recall what it felt like for him to view the drive-in screen for the first time.
"As a child, it's bigger than life," said Dehn. "Among my earliest memories is the first time I went to the drive-in with my family. My sister, my grandma, my mom, my dad and I all piled into our station wagon for a double bill of 'Star Trek III: The Search for Spock' and 'Indiana Jones and the Temple of Doom.' When we pulled into our spot, I looked at the screen and thought, 'That's the biggest television I've ever seen!' Even as an adult, that thrill never gets old. When 'Grease' plays, I could mute the sound and the audience wouldn't miss a thing because everybody is singing along. They don't even know each other, but they're singing together. It's a true communal experience. In May, everybody gets reacquainted, and then by June, it's a block party."
2020 marks Dehn's twentieth year of working at the McHenry Outdoor, where he initially had the security job of "trunk-checker," rooting out customers who snuck in to avoid the reasonable cost of admission. It's characteristic of Dehn's genial nature that he would refuse to kick them out—"I've been there," he explains—while still insisting that they pay. As a teenager, I had the great pleasure of working for Dehn at his McHenry Downtown Theater, which was across the street from my high school. We immediately bonded over our shared love of cinema, which one can sense in every facet of how Dehn presents his films at the drive-in, from the classic trailers preceding each feature to the vintage intermission reel dating back to 1963 that features dancing candy.
Dehn recently purchased the McHenry Drive-In to prevent it from being torn down, which is not the first time he's come to its rescue. Ever since the venue first opened, which Dehn believes was in 1947 according to his research, films had been projected there through the use of a 35mm platter system. When theaters were forced to switch to digital technology in 2014, Dehn entered into Honda's Project Drive-In content, in which the top five vote-getters would receive their mandatory and enormously expensive digital projector for free.
"I actually entered it a week late," recalled Dehn. "Three theaters had been named as winners, and there were going to be two left. I looked at the map and there were theaters in contention that were located in places like San Francisco and Orlando—much bigger cities than McHenry. So I was really down on myself. I was supposed to do an interview at the drive-in with a news group of some kind on a Saturday at 10 in the morning. I had worked at the drive-in the night before, so I was tired and ended up arriving 45 minutes late. I explained the whole situation to them about our need to go digital, and then the interviewer asks me, 'What's it like to have digital equipment now?' They ripped this sticker off their van to reveal that they were actually from the contest and that I had won. The emotions came out after that. It saved the theater, it saved history, it saved memories."
The equipment that Dehn received from Honda is still being used by the venue today to project films sent by studios via hard drives. Disney being onboard to share its archive with drive-ins had previously been unheard of until the coronavirus altered everyone's plans. The studio's purchase of the "Star Wars" franchise has made it possible for the McHenry Outdoor Theater to book 1980's sci-fi masterpiece "The Empire Strikes Back" for later this summer. "It took a pandemic, but we got it," Dehn quipped. Chicago Tribune critic Michael Phillips recently praised Dehn for veering away from the expected drive-in titles by selecting "more surprising and enticing fare," such as this month's darkly comic double bill of Joe Dante's 1989 cult gem "The 'Burbs" and the Coen Brothers' uproarious 1998 crowd-pleaser, "The Big Lebowski." Having audiences eager to see virtually any movie on his screen has prompted Dehn to embrace his platform much like Roger Ebert did with Ebertfest, the annual festival held at his alma mater in Champaign, Illinois, where the revered critic introduced moviegoers to cinematic marvels they may not have otherwise sought out.
"People are showing up no matter what because they want to be outside, so now I feel like a teacher," laughed Dehn. "I'm like, 'Okay, guys, tonight we're going to watch 'The 'Burbs. You've probably never seen it, but you're going to enjoy it.' It's cool because it's almost like you're educating them by picking these movies that you know they will like and they might not have seen. There's starting to be this weird and cool trust factor going on, and I am absolutely loving the opportunity to play movies that I never thought I'd be able to show. I love 'The 'Burbs,' but it's not exactly a film that everyone is rushing out to Wal-Mart to buy so that they can have it in their collection. I also reached out to employees and customers for recommendations, so I can't take all the credit for what we've chosen to screen."
The events Dehn has recently booked are not limited solely to movies. The McHenry Outdoor Theater has hosted various graduation ceremonies for students stuck at home, and on Saturday, June 27th, it will screen a Garth Brooks concert that has been recorded exclusively for drive-in theaters. Prior to the pandemic, I always preferred attending the McHenry Drive-In during its fall flashback series, since it offered less bugs, cooler temperatures and such enticing rarities as a triple bill of the Universal horror landmarks "Dracula," "The Wolf Man" and "The Mummy." I'll never forget catching a Hitchcockian double bill there of "The Birds" and "Psycho" where it began drizzling during the latter film's infamous shower scene.
The unpredictable beauty of nature becomes an intrinsic part of the show, and last weekend's glorious screening of "The Wizard of Oz" was no exception. It was preceded by a rainbow—which my cherished RogerEbert.com colleague Collin Souter captured with his phone—and then a radiant sunset that burst through the sepia-toned clouds in all its technicolor splendor. The first screening I caught at the venue this year happened to be my favorite Spielberg film, 1982's "E.T. The Extra-Terrestrial," and it proved to be an even more emotional experience, considering its masterful cinematographer, Allen Daviau, is one of the many souls we have lost to COVID-19. His indelible images continue to bring us home during periods of isolation, and getting the chance to experience them with an appreciative crowd—even at a six-foot distance—is a profound gift.
"There's a magic to just being in a theater with like-minded movie fans who want to be entertained and who want to be challenged," said Dehn. "That's a glaring omission in life right now, and it has been since March. The customer base here is like nothing I've had at any other theater, and what it does for me is it increases my responsibility to keep the place nice. The employees and customers take ownership of the venue, so I have to keep improving upon it. That's the handshake deal that I have with my audience. You keep showing up, and I'll keep making it better. It's simple, but it works."
The McHenry Outdoor Theater is located at 1510 Chapel Hill Road in McHenry, Illinois, and tickets are sold at the box office on a first come, first serve basis. Next up at the venue is a pleasingly offbeat Schwarzenegger double bill of "Kindergarten Cop" and "Twins" kicking off tonight, June 26th. For showtimes and other information, visit the theater's official site and Facebook page.