Elevating the Underdog: Loren Bouchard on Central Park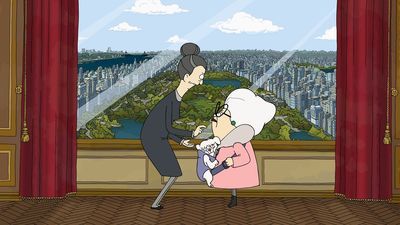 One of the most difficult challenges in show business is a Broadway musical, with original songs that illuminate the characters and move the storyline forward. But Tony-nominated Josh Gad ("The Book of Mormon"), best known to families as Olaf in the "Frozen" movies and LeFou in the live action "Beauty and the Beast," pitched an idea to Loren Bouchard, of "Bob's Burgers": Why not create an animated television series with an all-star cast and make each episode a full-on Broadway-style musical with different composers for each one? And include themes not just about families and growing up but about civic engagement?
That is the story behind "Central Park" which debuted May 29 on AppleTV+.
Birdie, Josh Gad's character, is a narrator and commentator in the story, which takes place in and around the title location. "Hamilton" star Leslie Odom Jr. plays the park manager, Owen Tillerman, married to Paige (Kathryn Hahn), a journalist who wants to write more important stories. Their children are Molly (Kristen Bell), who feels like a dork and wants to be a superhero, and and Cole (Titus Burgess), who has a crush on a lost dog he returned to her owner, an ultra-wealthy woman named Bitsy Brandenham, who is plotting to take over Central Park and turn it into a real estate development. Bitsy has an assistant named Helen, and both characters are voiced by male actors: Stanley Tucci and "Hamilton's" Daveed Diggs.
In an interview with a small group of reporters, producer Loren Bouchard talked about creating the show.
What was the idea behind casting Stanley Tucci as a tiny little old evil rich lady?
Our entire cast came from our connection to Josh. He has a really impressive set of friends. Stanley Tucci said yes and so it was on us to figure out the best way to use a voice like that. For us there is something so nice about our villain, who is this little tiny old lady, have a voice like Stanley's coming out of her mouth. He goes so low but he also goes way up high and he threatens to steal every scene. He is incredibly talented.
One of my favorite songs in the show is "Weirdos Make Great Superheroes" by Sara Bareilles. Why did you choose to focus on the underdogs?
Elevating the underdog feels worthwhile. We could just keep on making "Bob's Burgers." We love making it and it would keep the lights on. But if we're going to expand and do more work and take on other projects there has to be some reason. It can't just be to make a few people laugh and put some bright color on the screen and call it a day. We came to this trying to make sure this thing has a reason to exist. The characters are underdogs to some extent and the park itself is fragile and needs to be protected and we approached every episode from that point of view.
Tell us about capturing the look and spirit of Central Park.
You want to draw the trees and the flowers and all that but you also want to draw the cracks in the sidewalk. You want to tell a story where you feel the spot where there's gum on the sidewalk. You can't make it too pretty; it has to have the flaws on it, too. And the sounds, too. In the middle of the park you know you're in New York, but it's filtered through the trees. We spent a lot of time on the small things you don't notice right away but we hope let you know you are there.
Central Park is a place we all feel we know, even if we've never been there. But it is big enough that you can tell a lot of stories in that space. Once we figured out that it would be the caretaker and his family it really crystalized. They are worried about the sprinkler heads and the garbage pick-up and all of the threats to this place. It did pick up a lot of momentum pretty fast. It felt like a unique place to tell stories. We could have made it any park but because this is a unique park, iconic. People come from all over the world to see it and take pictures of it.
What made Apple the right partner for this project?
We had this almost blessed experience. We made a few minutes of animation and there was emotion in the room. It was thrilling. They do a good job of being the audience, really terrific.
The focus on the caretaker seems especially timely these days.
I like thinking about this stuff even on "Bob's Burgers." Even with "Bob's Burgers," you think it's just about keeping the restaurant open and then you realize what the restaurant means to the street, what the street means to the town, what does the town mean. Central Park means so many things to so many people. Because we get to invent our own reality we wanted to make it in danger, to make it more fragile. That was the kind of existential threat we wanted our characters up against, not just to the park but to the idea of preserving public space. And now it seems to be even more relevant as everything is more fragile than we thought. There are so many things we take for granted. It seems like a good story to tell even in the best of times, to remind us that there are people who are truly heroic because they are taking care of public space. Those are people it is fun to tell a story about.