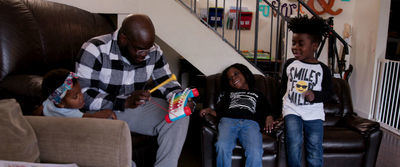 "Dads" is so earnest and likable that you might feel bad for not loving it more. A celebration of fatherhood and the changing role of men, it's directed by Bryce Dallas Howard, and costars her father, actor-director Ron Howard, plus at least a dozen other famous showbiz dads, including Will Smith, Hasan Minhaj, Patton Oswalt, and seemingly every major American late night TV host save for CBS' Stephen Colbert. The celebrity dads hold forth on what it's like to deal with a crying kid or clean up poop or worry about their kids' health and safety. A lot of this is figuratively and literally standup material, with the interview subjects framed head-to-toe in front of bright, primary-colored backdrops, and keeping things as light as possible.
The film also includes short profiles, in the manner of a heartstring-tugging TV newsmagazine, of fathers who at first read as "regular folks," but turn out to be media stars who have transformed the narrative of their own fatherhood into a source of income as well as public inspiration. These include the founder of Brazil's Paizinho, a resource for dads that led to the site's founder reuniting with his own father, a non-presence in his life for decades; and Bob Scheer, who overcame an abusive childhood to become a foster parent to four kids, and found a nonprofit that gives free supplies to foster children so that they won't have to carry their belongings in a trash bag, as Scheer did when he was their age.
As typified by Scheer's story, "Dads" is largely devoid of unpleasantness that doesn't end by reassuring us that the person telling the story overcame the bad times. ABC's Jimmy Kimmel briefly alludes the agony of nearly losing his newborn son to a heart defect, and physician turned actor-comedian Ken Jeong gets a few sentences about his wife's breast cancer, the subject of an entire standup special elsewhere. It can be frustrating to watch the documentary skip across the rough parts, including acknowledgments that some of these dads were driven to be better fathers because their own fathers were absent or inadequate.
But that approach seems baked into the mission statement of "Dads," essentially an advertisement for modern, evolved fatherhood, co-produced by Dove, one of the world's largest soap manufacturers (which says it's making donations the global fatherhood nonprofit Men+Care in conjunction with the movie). "Dads" was released on Apple TV two days before Father's Day, and is pretty clearly intended as a movie that extended families can watch together after a cookout wherein dad or grandad presides over the grill, leaping past anything that might ruin the mood by forcing people to confront the things they've decided not to talk about. The editing, by Andrew Morreale, jams caught-on-video slapstick and wry observations together rapid-fire, reality TV style, and slows down when the sad parts arrive, with composer Sami Jano italicizing moods to make sure you feel what you're supposed to be feeling at any given moment.
Some of the most intriguing stretches clear everybody else out of the movie and concentrate on the relationship between the director, her father, and his own dad, the late Rance Howard, who was his caretaker on the set of "The Andy Griffith Show," and still serves as Ron Howard's model for what a good father should be. An early adopter of home video journaling, Ron Howard seemingly recorded many of the highlights of his family's life even when it wasn't always easy to do so. It's a treat seeing him grow up and grow old onscreen, the generations aging to eventually become parents themselves. There could have been a whole movie devoted just to the Howards, or to any one of the self-contained stories that "Dads" offers up in the manner of seven-minute, self contained newsmagazine segments.
This is a good natured, short documentary that does what it (apparently) set out to do: highlight the evolving role of fatherhood while emphasizing the inspirational and healing aspects of the job, as if to say to impending or potential fathers, "Come on in, the water's fine." But it leaves a lot of potentially fascinating avenues unexplored, including the cultural complexities of mixed-race households, and the challenge of overcoming childhood abuse in order to be a good dad to your own children. There's a deeper work hiding in here somewhere, but it stays mostly hidden because, it appears, "Dads" doesn't want to kill the good vibrations.